Honda HR-V: Adjusting the Mirrors
Interior Rearview Mirror
Adjust the angle of the rearview mirror when you are sitting in the correct driving position.
■Rearview Mirror with Day and Night Positions
Flip the tab to switch the position.
The night position will help to reduce the glare from headlights behind you when driving after dark.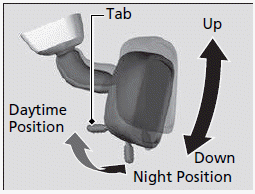 Keep the inside and outside mirrors clean and adjusted for best visibility.
Adjust the mirrors before you start driving.
■Automatic Dimming Rearview Mirror
When driving after dark, the automatic dimming rearview mirror reduces the glare from headlights behind you. Press the auto button to turn this function on and off. When activated, the auto indicator comes on.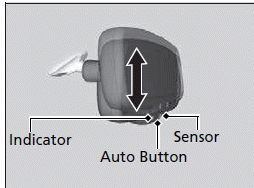 The auto dimming function cancels when the shift lever is in (R).
Power Door Mirrors
You can adjust the door mirrors when the ignition switch is in ON (II)*1.
■ Mirror position adjustment
L/R selector switch: Select the left or right mirror. After adjusting the mirror, return the switch to the center position.
Mirror position adjustment switch: Press the switch left, right, up, or down to move the mirror.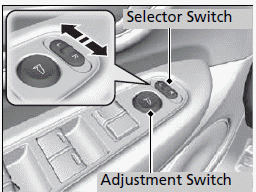 ■Expanded View Driver's Mirror
The driver side door mirror has outer and inner segments.
The outer segment is slightly curved to provide a wider angle view than a standard flat mirror.
This wider view may help you check areas that are not visible using a standard door mirror.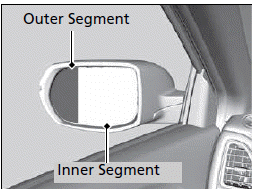 Objects visible in the outer segment of the driver side door mirror appear smaller than objects in the rest of the mirror. But in fact, they are closer than they appear.
Do not rely on your mirrors. Always look to the side and behind your vehicle before changing lanes.
*1: Models with the smart entry system have an ENGINE START/STOP button instead of an ignition switch.
READ NEXT:
Adjust the driver's seat as far back as possible while allowing you to maintain full control of the vehicle. You should be able to sit upright, well back in the seat and be able to adequately press th
■Adjusting the Rear Seat-Backs Pull the lever on the right to change the angle of the right half of the seat-back, and left for the left half. ■Folding Down the Rear Seats The rear seats can be f
SEE MORE:
Removal & Installation 1. Intake Manifold - Remove 2. Knock Sensor - Remove Fig. 28: Knock Sensor Location With Torque Specifications Disconnect the connector (A) Remove the knock sensor (B). 3. All Removed Parts - Install Install the parts in the reverse order of removal. NOTE: When ins
NOTE: This is GENERAL information. This article is not intended to be specific to any unique situation or individual vehicle configuration. For model-specific information see appropriate articles where available. EXAMPLE #1 - VOLTAGE CONTROLLED DRIVER These two known-good waveform patterns are from