Honda HR-V: Rear Seats
■Adjusting the Rear Seat-Backs
Pull the lever on the right to change the angle of the right half of the seat-back, and left for the left half.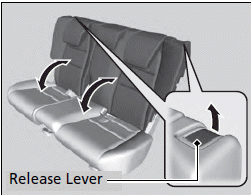 ■Folding Down the Rear Seats
The rear seats can be folded down separately to allow for additional storage space.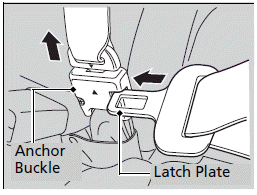 ■ To fold down the seat
1. Store the center seat belt first. Insert the latch plate into the slot on the side of the anchor buckle.
2. Retract the seat belt into the holder on the ceiling.
3. Lower the head restraint to its lowest position.
4. Pull the release lever and fold down the seat-back.
To return the seat to the original position, pull up the seat-back in the upright position.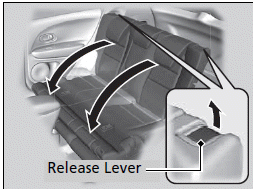 Make sure all items in the cargo area or items extending to the rear seats are properly secured. Loose items can fly forward if you have to brake hard.
Remove any items from the rear seat cushion and floor before you fold down the rear seat.
To lock the seat-back upright, push it backwards until it locks.
Make sure the seat-back, head restraints and seat cushion are securely latched back into place before driving. Also, make sure all rear shoulder belts are positioned in front of the seat-back, and the center shoulder belt is re-positioned in the holding slot.
Make sure that the folded seat-back does not press against the front passenger seat, as this can cause the weight sensors in the front passenger seat to work improperly.
■Folding the Rear Seat Up
Separately lift up the left and right halves of the rear seat cushions to make room for cargo area.
■ Lifting up the seat cushion
1. Make sure the seat belt buckles are in their loops on the seat.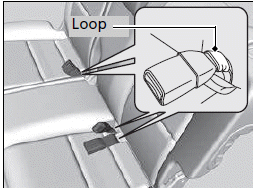 2. Pull up the rear seat cushion.
3. Fold the seat leg down while pushing the seat cushion firmly against the seat-back to lock it.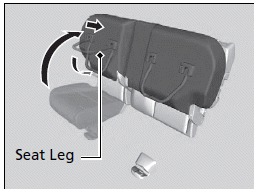 ■ Putting the seat in the original position
1. Hold the seat cushion in the upright position, and pull up the seat leg fully.
The seat cushion can abruptly fall down once you pull up the seat leg.
2. Slowly put down the seat cushion and set the seat leg in the floor guide.
A latch comes out when the leg is set properly.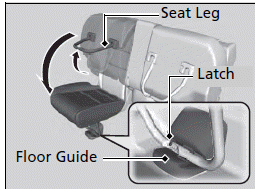 After you fold the seat up, or put it back in the original position, make sure the seat is firmly secured by rocking it forward and back.
Check if there are any items on the seat before you pull the seat cushion up. Check if there are any obstacles around the floor guide before you put the seat back in the original position.
Armrest
■Using the Front Seat Armrest
The console lid can be used as an armrest.
To adjust:
Slide the armrest to the desired position.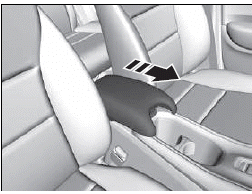 ■Using the Rear Seat Armrest*
Pull down the armrest in the center seat-back.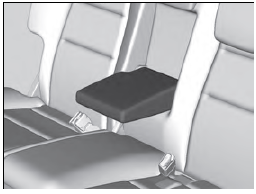 READ NEXT:
■Interior Light Switches ■ ON The interior lights come on regardless of whether the doors are open or closed. ■ Door activated The interior lights come on in the following situations: When any
■Glove Box Pull the handle to open the glove box. WARNING An open glove box can cause serious injury to your passenger in a crash, even if the passenger is wearing the seat belt. Always keep the g
SEE MORE:
Disassembly/Reassembly The fuel filter should be replaced whenever the fuel pressure drops below the specified value, after making sure that the fuel pump and the fuel pressure regulator are OK. NOTE: Unless otherwise indicated, illustrations used in the procedure are for USA and Canada models Fue
General Information Your vehicle has been designed primarily for use on pavement, however, its higher ground clearance allows you to occasionally travel on unpaved roads. It is not designed for trail-blazing, or other challenging off-road activities. If you decide to drive on unpaved roads, you wi