Honda HR-V: Cruise Control
Maintains a constant vehicle speed without having to keep your foot on the accelerator. Use cruise control on freeways or open roads where you can travel at a constant speed with little acceleration or deceleration.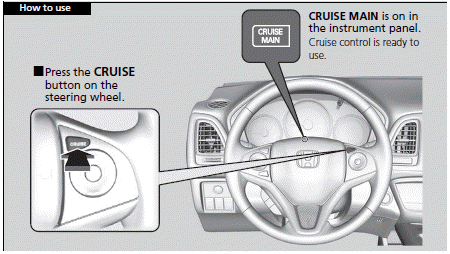 WARNING
Improper use of the cruise control can lead to a crash.
Use the cruise control only when traveling on open highways in good weather.
It may not be possible to maintain a constant speed when driving uphill or downhill.
When not using cruise control: Turn off cruise control by pressing the CRUISE button.
Models with ECON button
While in ECON mode, it may take relatively more time to accelerate to maintain the set speed.
Manual transmission models
When the engine speed slows down, try to downshift.
You can maintain the set speed if you change gear within five seconds.
■To Set the Vehicle Speed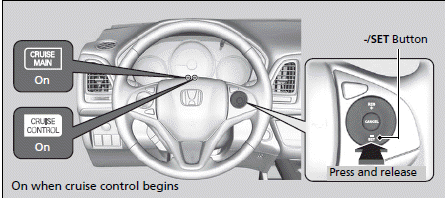 Take your foot off the pedal and press the -/SET button when you reach the desired speed.
The moment you release the -/SET button, the set speed is fixed, and cruise control begins. The CRUISE CONTROL indicator comes on.
■To Adjust the Vehicle Speed
Increase or decrease the vehicle speed using the RES/+ or -/SET buttons on the steering wheel.

Each time you press the button, the vehicle speed is increased or decreased by about 1 mph (1.6 km/h).
If you keep the button pressed, the vehicle speed increases or decreases until you release it. This speed is then set.
You can set the vehicle speed using the -/SET button on the steering wheel when adjusting the speed with the accelerator and brake pedals.
■To Cancel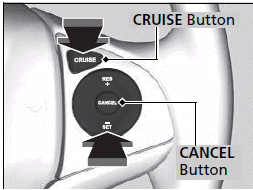 To cancel cruise control, do any of the following:
Press the CANCEL button.
Press the CRUISE button.
Depress the brake pedal.
Manual transmission models
Depress the clutch pedal for five seconds or more.
The CRUISE CONTROL indicator goes off.
Resuming the prior set speed:
After cruise control has been canceled, you can still resume the prior set speed by pressing the RES/+ button while driving at a speed of at least 25 mph (40 km/h) or more.
You cannot set or resume in the following situations:
When vehicle speed is less than 25 mph (40 km/h)
When the CRUISE button is turned off
At vehicle speeds of 22 mph (35 km/h) or less, cruise control is canceled automatically.
READ NEXT:
Canadian models Alerts you when it determines there is a possibility of your vehicle colliding with the vehicle detected in front of yours. If the system determines a collision is possible, it gives
Alerts you when the system determines it is possible of your vehicle unintentionally crossing over detected left or right side lane markings. ■How the System Works If your vehicle is getting too cl
Helps to stabilize the vehicle during cornering if the vehicle turns more or less than what was intended. It also assists in maintaining traction on slippery surfaces. It does so by regulating engin
SEE MORE:
TRACTION CONTROL DISABLE WARNING: Placing a non-compatible vehicle on a single-axle dynamometer could result in a safety hazard to technicians and damage to vehicle. Vehicles which use All- Wheel Drive (AWD) or traction control may not be clearly marked. Use common sense and take all necessary prec
Special Tools Required Valve Spring Compressor Attachment 07757-PJ1010A Stem Seal Driver 07PAD-0010000 Removal NOTE: Identify the valves and the valve springs as they are removed so that each item can be reinstalled in its original position. 1. Cylinder Head - Remove 2. Camshaft - Remove 3. Sprin