Honda HR-V: DTC Troubleshooting 71-11, 71-12, 71-13, 71-14, 71-15, 71-16: Different Diameter Tire Malfunction
NOTE:
The DTC will be indicated when the vehicle has a different diameter tire(s) compared to the other tires.
Before you troubleshoot, review the general troubleshooting information.


1. Problem verification:
Check the tires for proper inflation and the correct size.
Turn the vehicle to the ON mode.
Clear the DTC with the HDS.
Turn the vehicle to the OFF (LOCK) mode.
Test-drive the vehicle at 19 mph (30 km/h) or more, and go a distance of 328 ft (100 m) or more.
NOTE: Drive the vehicle on the road, not on a lift.
Check for DTCs with the HDS.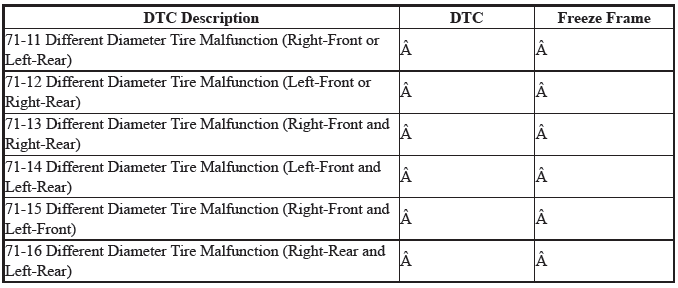 Is DTC 71-11, 71-12, 71-13, 71-14, 71-15 or 71-16 indicated?
YES
The failure is duplicated. Replace tires as needed until all their diameters match.
NO
Intermittent failure, the system is OK at this time. Refer to intermittent failures troubleshooting.
READ NEXT:
NOTE: Before you troubleshoot, review the general troubleshooting information. 1. Problem verification: Turn the vehicle to the ON mode. Clear the DTC with the HDS. Turn the vehicle to the OFF (
NOTE: Before you troubleshoot, review the general troubleshooting information. 1. Problem verification: Turn the vehicle to the ON mode. Clear the DTC with the HDS. Turn the vehicle to the OFF (
NOTE: Before you troubleshoot, review the general troubleshooting information. The yaw rate-acceleration sensor is built into the VSA modulator-control unit. Before troubleshooting, check the VS
SEE MORE:
When the low beam headlights are on, turn the fog light switch on to use the fog lights. When the fog lights are on, the indicator in the instrument panel will be on. The fog lights go off when the headlights turn off, or when the daytime running lights are on. Daytime Running Lights The headlights
NOTE: Before you troubleshoot, review the General Troubleshooting Information for the AWD with intelligent control system. 1. Problem verification: Turn the vehicle to the ON mode. Check the parameter(s) below with the HDS. Do the current condition(s) match the threshold? YES The failure is d