Honda HR-V: Tire and Wheel Replacement
Replace your tires with radials of the same size, load range, speed rating, and maximum cold tire pressure rating (as shown on the tire's sidewall). Using tires of a different size or construction can cause the ABS, vehicle stability assist (VSA) system, hill start assist, and the AWD* system to work incorrectly.
It is best to replace all four tires at the same time. If that isn't possible, replace the front or rear tires in pairs.
Make sure that the wheel's specifications match those of the original wheels.
WARNING
Installing improper tires on your vehicle can affect handling and stability. This can cause a crash in which you can be seriously hurt or killed.
Always use the size and type of tires recommended in this owner's manual.
Tire Rotation
Rotating tires according to the Maintenance Minder message on the information display helps to distribute wear more evenly and increase tire life.
■ Tires without rotation marks
Rotate the tires as shown here.
■ Tires with rotation marks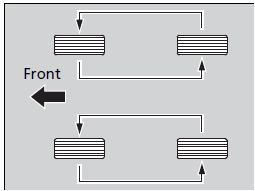 Rotate the tires as shown here.
Tires with directional tread patterns should only be rotated front to back (not from one side to the other).
Directional tires should be mounted with the rotation indication mark facing forward, as shown below.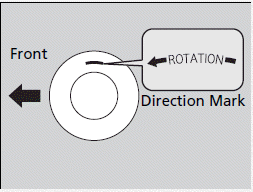 U.S. models
Whenever tires are rotated, you must calibrate the TPMS.
Winter Tires
If driving on snowy or frozen roads, mount all season marked M+S tires, snow tires, or tire chains; reduce speed; and maintain sufficient distance between vehicles when driving.
Be particularly careful when operating the steering wheel or brakes to prevent skidding.
Use tire chains, snow tires, or all season tires when necessary or according to the law.
When mounting, refer to the following points.
For winter tires:
Select the size and load ranges that are the same as the original tires.
Mount the tires to all four wheels.
For tire chains:
Install them on the front tires only.
Because your vehicle has limited tire clearance, we strongly recommend using the chains listed below:
Cable-type: SCC Radial Chain SC1034
Follow the chain manufacturer's instruction when installing. Mount them as tightly as you can.
Check that the chains do not touch the brake lines or suspension.
Drive slowly.
WARNING
Using the wrong chains, or not properly installing chains, can damage the brake lines and cause a crash in which you can be seriously injured or killed.
Follow all instructions in this owner's manual regarding the selection and use of tire chains.
NOTICE
Traction devices that are the wrong size or improperly installed can damage your vehicle's brake lines, suspension, body, and wheels. Stop driving if they are hitting any part of the vehicle.
When tire chains are mounted, follow the chain manufacturer's instructions regarding vehicle operational limits.
If your vehicle is equipped with summer tires, be aware that these tires are not designed for winter driving conditions. For more information, contact a dealer.
READ NEXT:
Checking the Battery The battery condition is being monitored by the sensor on the negative terminal. If there is a problem with the sensor, the warning message on the information display will let y
Replacing the Button Battery If the indicator does not come on when the button is pressed, replace the battery. ■Keys with Remote Transmitter Battery type: CR1620 1. Unscrew the cover with a small
SEE MORE:
Removal and Installation Rear Left/Right Seat Belt 1. Rear Side Trim Panel - Remove - Refer to: Interior Trim Removal and Installation - Door Areas, or Interior Trim Removal and Installation - Tailgate Areas, or Interior Trim Removal and Installation - Rear Side Area, or Interior Trim Removal and
Special Tools Required Ball Joint Remover, 28 mm 07MAC-SL00202 Removal Do not use a hammer or impact tools (pneumatic or electric). Be careful not to damage the threads of the wheel bolts. Front 1. Vehicle - Lift 2. Front Wheel - Remove 3. Front Hub - Remove 4. Wheel Bolt - Remove Separate