Honda HR-V: Brake Hose and Line Inspection
Inspection
1. Brake Hose and Line - Inspect
Check the brake lines for damage, rusting, and leaks. Also check for bent brake lines
Check for leaks at hose and line joints and connections, and retighten if necessary
Check the master cylinder and the VSA modulator-control unit for damage and leaks.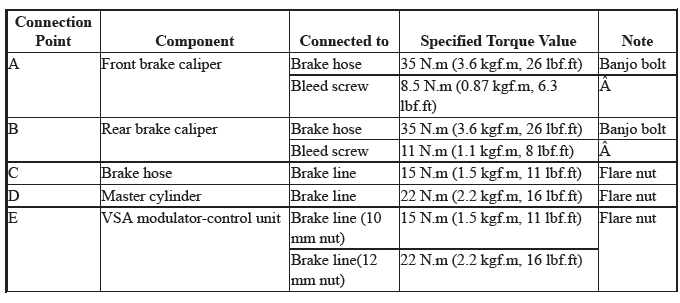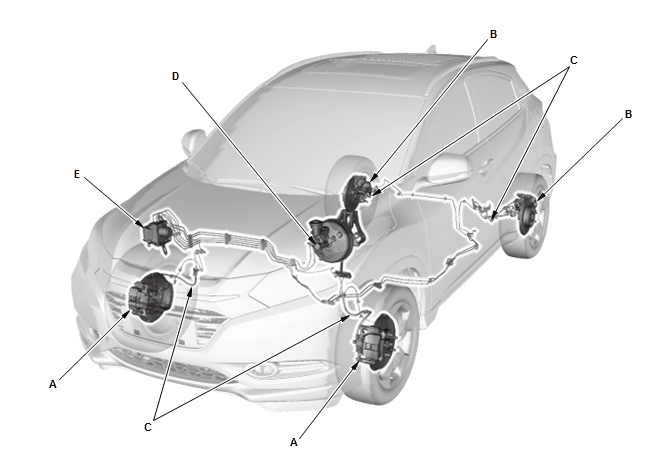 BRAKE MASTER CYLINDER INSPECTION (KA/KC)
Inspection
1. Master Cylinder - Inspect
NOTE:
Before reassembling, check that all the parts are free of dirt and other foreign particles.
Do not try to disassemble the master cylinder assembly. Replace the master cylinder assembly with a new part if necessary.
Do not allow dirt or foreign matter to contaminate the brake fluid.
Use only new Honda DOT 3 Brake Fluid from an unopened container. Using a non-Honda brake fluid can cause corrosion and shorten the life of the system.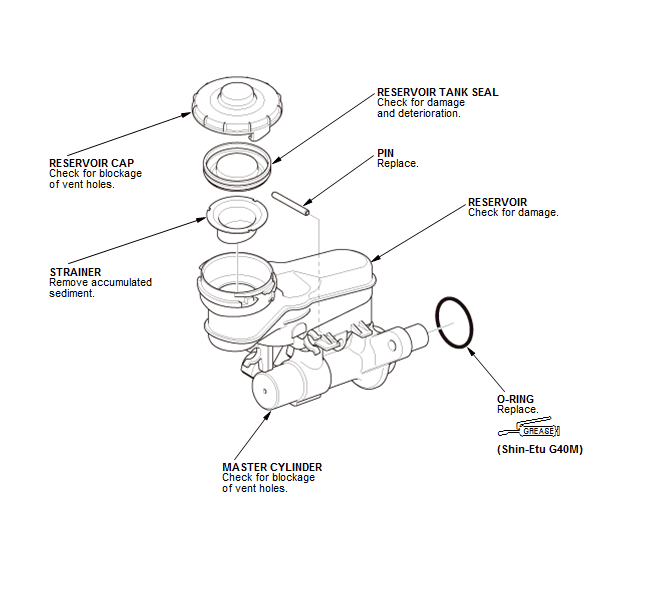 READ NEXT:
Adjustment 1. Steering Joint Cover - Remove 2. Driver's Side Front Door Sill Trim - Remove - Refer to: Interior Trim Removal and Installation - Door Areas, or Interior Trim Removal and Installation -
Front Brake Disc Inspection Inspection 1. Vehicle - Lift 2. Front Wheels - Remove 3. Brake Pad - Remove 4. Brake Disc Thickness and Parallelism - Inspect Using a micrometer (A), measure the brake d
Inspection NOTE: Unless otherwise indicated, illustrations used in the procedure are for 2WD model. 1. Vehicle - Lift 2. Rear Wheels - Remove 3. Brake Pad - Remove 4. Brake Disc Thickness and Paralle
SEE MORE:
Exploded View NOTE: When attaching the reservoir hose, align the yellow mark on the hose to the connector rib on the reservoir connection area. When attaching the reservoir hose, align the blue mark on the hose to the connector rib on the clutch master cylinder connection area. 1. Clutch Mas
* PLEASE READ THIS FIRST * NOTE: Examples used in this article are general in nature and do not necessarily relate to a specific engine or system. Illustrations and procedures have been chosen to guide mechanic through engine overhaul process. Descriptions of processes of cleaning, inspection, asse