Honda HR-V: Checking Tires
To safely operate your vehicle, your tires must be of the proper type and size, in good condition with adequate tread, and properly inflated.
■ Inflation guidelines
Properly inflated tires provide the best combination of handling, tread life, and comfort.
Refer to the driver's doorjamb label or specification's page for the specified pressure.
Underinflated tires wear unevenly, adversely affect handling and fuel economy, and are more likely to fail from overheating.
Overinflated tires make your vehicle ride harshly, are more prone to road hazards, and wear unevenly.
Every day before you drive, look at each of the tires. If one looks lower than the others, check the pressure with a tire gauge.
At least once a month or before long trips, use a gauge to measure the pressure in all tires, including the spare. Even tires in good condition can lose 1 to 2 psi (10 to 20 kPa, 0.1 to 0.2 kgf/cm2) per month.
■ Inspection guidelines
Every time you check inflation, also examine the tires and valve stems.
Look for:
Bumps or bulges on the side or in the tread. Replace the tire if you find any cuts, splits, or cracks in the side of the tire. Replace it if you see fabric or cord.
Remove any foreign objects and inspect for air leaks.
Uneven tread wear. Have a dealer check the wheel alignment.
Excessive tread wear.
Cracks or other damage around valve stem.
WARNING
Using tires that are excessively worn or improperly inflated can cause a crash in which you can be seriously hurt or killed.
Follow all instructions in this owner's manual regarding tire inflation and maintenance.
Measure the air pressure when tires are cold. This means the vehicle has been parked for at least three hours, or driven less than 1 mile (1.6 km). If necessary, add or release air until the specified pressure is reached.
If checked when hot, tire pressure can be as much as 4-6 psi (30-40 kPa, 0.3-0.4 kgf/cm2) higher than if checked when cold.
Have a dealer check the tires if you feel a consistent vibration while driving. New tires and any that have been removed and reinstalled should be properly balanced.
U.S. models
Whenever tire pressure is adjusted, you must calibrate the TPMS.
Tire and Loading Information Label
The label attached to the driver's doorjamb provides necessary tire and loading information.

The tire and loading information label attached to the driver's doorjamb contains:
The number of people your vehicle can carry.
The total weight your vehicle can carry. Do not exceed this weight.
The original tire sizes for front, rear, and spare.
The proper cold tire pressure for front, rear, and spare.
Tire Labeling
The tires that came on your vehicle have a number of markings. Those you should be aware of are described below.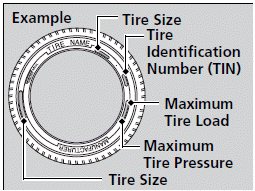 Following is an example of tire size with an explanation of what each component means.
215/55R17 94V
215: Tire width in millimeters.
55: Aspect ratio (the tire's section height as a percentage of its width).
R: Tire construction code (R indicates radial).
17: Rim diameter in inches.
94: Load index (a numerical code associated with the maximum load the tire can carry).
V: Speed symbol (an alphabetical code indicating the maximum speed rating).
■Tire Sizes
Whenever tires are replaced, they should be replaced with tires of the same size.
■Tire Identification Number (TIN)
The tire identification number (TIN) is a group of numbers and letters that look like the example in the side column. TIN is located on the sidewall of the tire.
DOT B97R FW6X 2209
DOT: This indicates that the tire meets all requirements of the U.S. Department of Transportation.
B97R: Manufacturer's identification mark.
FW6X: Tire type code.
22 09: Date of manufacture. (Year...Week)
■Glossary of Tire Terminology
Cold Tire Pressure - The tire air pressure when the vehicle has been parked for at least three hours or driven less than 1 mile (1.6 km).
Load Rating - Means the maximum load that a tire is rated to carry for a given inflation pressure.
Maximum Inflation Pressure - The maximum tire air pressure that the tire can hold.
Maximum Load Rating - Means the load rating for a tire at the maximum permissible inflation pressure for that tire.
Recommended Inflation Pressure - The cold tire inflation pressure recommended by the manufacturer.
Treadwear Indicators (TWI) - Means the projections within the principal grooves designed to give a visual indication of the degrees of wear of the tread.
READ NEXT:
The tires on your vehicle meet all U.S. Federal Safety Requirements. All tires are also graded for treadwear, traction, and temperature performance according to Department of Transportation (DOT) stan
Replace your tires with radials of the same size, load range, speed rating, and maximum cold tire pressure rating (as shown on the tire's sidewall). Using tires of a different size or construction c
Checking the Battery The battery condition is being monitored by the sensor on the negative terminal. If there is a problem with the sensor, the warning message on the information display will let y
SEE MORE:
DANGER/WARNING/CAUTION LABEL LOCATIONS (KA/KC MODELS) Front Passenger's Compartment: Steering Wheel: Driver's Compartment: Engine Compartment: Driver's Doorjamb: Passenger's Doorjamb: EMERGENCY TOWING If the vehicle needs to be towed, call a professional towing service. Improper towing prep
Call a professional towing service if you need to tow your vehicle. All models ■ Flat bed equipment The operator loads your vehicle on the back of a truck. This is the best way to transport your vehicle. 2WD models ■ Wheel lift equipment The tow truck uses two pivoting arms that go under the fr