Honda HR-V: DOT Tire Quality Grading (U.S. Vehicles)
The tires on your vehicle meet all U.S. Federal Safety Requirements. All tires are also graded for treadwear, traction, and temperature performance according to Department of Transportation (DOT) standards. The following explains these gradings.
■Uniform Tire Quality Grading
Quality grades can be found where applicable on the tire sidewall between tread shoulder and maximum section width.
For example:
Treadwear 200 Traction AA
Temperature A
All passenger car tires must conform to Federal Safety Requirements in addition to these grades.
■Treadwear
The treadwear grade is a comparative rating based on the wear rate of the tire when tested under controlled conditions on a specified government test course. For example, a tire graded 150 would wear one and one-half (1 1/2) times as well on the government course as a tire graded 100. The relative performance of tires depends upon the actual conditions of their use, however, and may depart significantly from the norm due to variations in driving habits, service practices and differences in road characteristics and climate.
■Traction
The traction grades, from highest to lowest, are AA, A, B, and C.
Those grades represent the tire's ability to stop on wet pavement as measured under controlled conditions on specified government test surfaces of asphalt and concrete. A tire marked C may have poor traction performance.
Warning: The traction grade assigned to this tire is based on straight-ahead braking traction tests, and does not include acceleration, cornering, hydroplaning, or peak traction characteristics.
■Temperature
The temperature grades are A (the highest), B, and C, representing the tire's resistance to the generation of heat and its ability to dissipate heat when tested under controlled conditions on a specified indoor laboratory test wheel. Sustained high temperature can cause the material of the tire to degenerate and reduce tire life, and excessive temperature can lead to sudden tire failure. The grade C corresponds to a level of performance which all passenger car tires must meet under the Federal Motor Vehicle Safety Standard No. 109. Grades B and A represent higher levels of performance on the laboratory test wheel than the minimum required by law.
Warning: The temperature grade for this tire is established for a tire that is properly inflated and not overloaded. Excessive speed, underinflation, or excessive loading, either separately or in combination, can cause heat buildup and possible tire failure.
Wear Indicators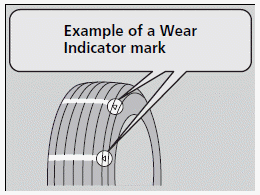 The groove where the wear indicator is located is 1/16 inch (1.6 mm) shallower than elsewhere on the tire. If the tread has worn so that the indicator is exposed, replace the tire.
Worn out tires have poor traction on wet roads.
Tire Service Life
The life of your tires is dependent on many factors, including driving habits, road conditions, vehicle loading, inflation pressure, maintenance history, speed, and environmental conditions (even when the tires are not in use).
In addition to regular inspections and inflation pressure maintenance, it is recommended that you have annual inspections performed once the tires reach five years old. All tires, including the spare, should be removed from service after 10 years from the date of manufacture, regardless of their condition or state of wear.
READ NEXT:
Replace your tires with radials of the same size, load range, speed rating, and maximum cold tire pressure rating (as shown on the tire's sidewall). Using tires of a different size or construction c
Checking the Battery The battery condition is being monitored by the sensor on the negative terminal. If there is a problem with the sensor, the warning message on the information display will let y
Replacing the Button Battery If the indicator does not come on when the button is pressed, replace the battery. ■Keys with Remote Transmitter Battery type: CR1620 1. Unscrew the cover with a small
SEE MORE:
DLC ELECTRONIC WIRING DIAGRAM Refer to the appropriate Diagram System Wiring Diagrams EGR SYSTEM ELECTRONIC WIRING DIAGRAM Refer to the appropriate Diagram System Wiring Diagrams ETCS (ELECTRONIC THROTTLE CONTROL SYSTEM) ELECTRONIC WIRING DIAGRAM Refer to the appropriate Diagram System Wiring Diagra
Removal NOTE: Make sure the HDS or the MVCI has the latest HDS software version. If you are replacing the PCM after substituting a known-good PCM, reinstall the original PCM, then do this procedure. If you are removing or substituting the PCM, skip the procedures of READ DATA (Engine Oil Li