Honda HR-V: Inputs and Outputs
VSA MODULATOR-CONTROL UNIT CONNECTOR FOR INPUTS AND OUTPUTS
VSA Modulator-Control Unit Inputs and Outputs for 21P Connector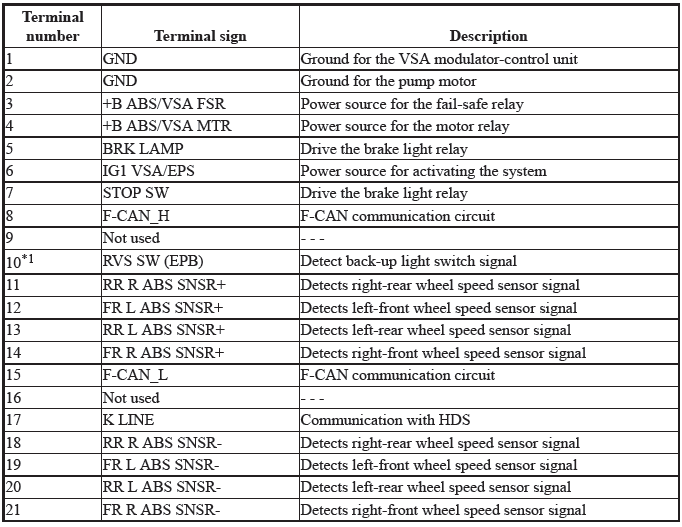 *1: M/T
VSA SENSOR NEUTRAL POSITION MEMORIZATION
Procedure
1. HDS - Connect
Turn the vehicle to the OFF (LOCK) mode.
Connect the HDS to the DLC.
Turn the vehicle to the ON mode.
Make sure the HDS communicates with the vehicle. If it does not communicate, go to the DLC circuit troubleshooting.
2. VSA Sensor Neutral Position - Memorize
NOTE: Do not press the brake pedal during this procedure.
Park the vehicle on a flat and level surface, with the steering wheel in the straight ahead position
Select VSA ADJUSTMENT, then select ALL SENSORS with the HDS, and follow the screen prompts.

NOTE : See the HDS Help menu for specific instructions.
VSA/TPMS (TIRE PRESSURE MONITORING SYSTEM) ELECTRONIC WIRING DIAGRAM
Refer to appropriate wiring diagram. System Wiring Diagrams
COMPONENT LOCATION INDEX
VSA SYSTEM COMPONENT LOCATION INDEX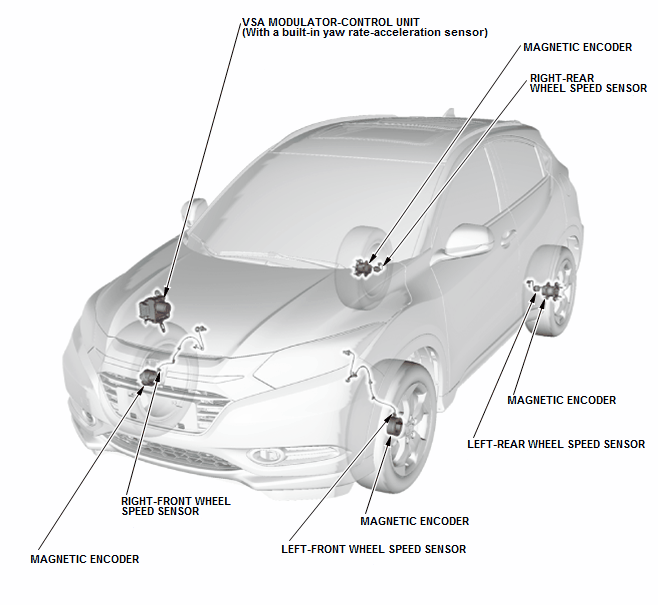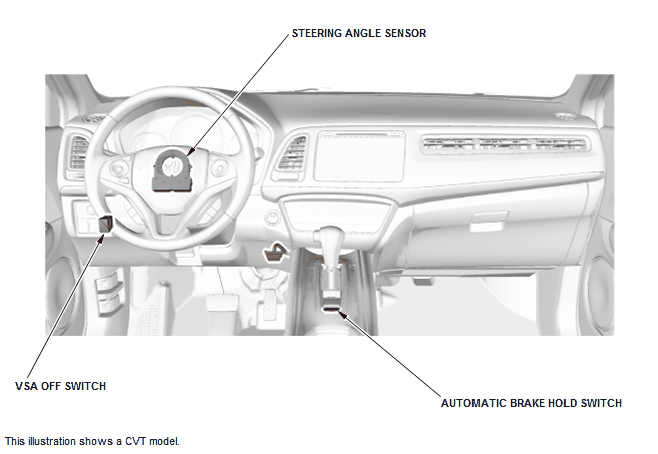 READ NEXT:
HOW TO TROUBLESHOOT THE VSA SYSTEM System Indicator This system has four indicators: ABS indicator (A) VSA indicator (B) VSA OFF indicator (C) Automatic brake hold system indicator (D) Automatic
DTC TROUBLESHOOTING DTC TROUBLESHOOTING C0077-78: LOW TIRE AIR PRESSURE NOTE: Before troubleshooting, check the outside air temperature sensor. If outside air temperature sensor is failed, the VS
SEE MORE:
Using Vents, Heating and A/C ■Passenger Side Vents Three separate front passenger side air vents allow for different air flow rates through the vehicle. Passengers can separately: Adjust each vent to optimize airflow throughout the vehicle. Close individual vents to adjust passenger comf
AWD Control Unit Inputs and Outputs for 24P Connector (Connector Disconnected) AWD SYSTEM BLEEDING (AWD) Procedure NOTE: Whenever the rear differential assembly is disassembled, the AWD with intelligent control system must be bled. 1. HDS - Connect 2. AWD System - Air Bleed Select the ADJUSTME