Honda HR-V: Oil Check
We recommend that you check the engine oil level every time you refuel.
Park the vehicle on level ground.
Wait approximately three minutes after turning the engine off before you check the oil.
1. Remove the dipstick (orange).
2. Wipe the dipstick with a clean cloth or paper towel.
3. Insert the dipstick back all the way into its hole.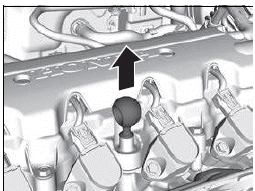 4. Remove the dipstick again, and check the level. It should be between the upper and lower marks. Add oil if necessary.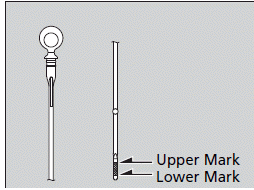 If the oil level is near or below the lower mark, slowly add oil being careful not to overfill.
Adding Engine Oil
1. Unscrew and remove the engine oil fill cap.
2. Add oil slowly.
3. Reinstall the engine oil fill cap, and tighten it securely.
4. Wait for three minutes and recheck the engine oil dipstick.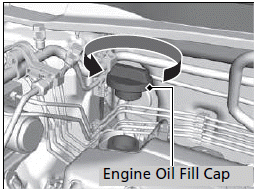 If any oil spills, wipe it away immediately. Spilled oil may damage the engine compartment components.
NOTICE
Do not fill the engine oil above the upper mark.
Overfilling the engine oil can result in leaks and engine damage.
READ NEXT:
You must change the engine oil and oil filter regularly in order to maintain the engine's lubrication. The engine may be damaged if they are not changed regularly. Change the oil and filter in acco
Specified coolant: Honda Long Life Antifreeze/Coolant Type 2 This coolant is premixed with 50% antifreeze and 50% water. Do not add any straight antifreeze or water. We recommend you check the engine
Continuously variable transmission models ■Continuously Variable Transmission Fluid Specified fluid: Honda HCF-2 Transmission Fluid Have a dealer check the fluid level and replace if necessary. NOTI
SEE MORE:
Models without smart entry system Manual transmission models WARNING Removing the key from the ignition switch while driving locks the steering. This can cause you to lose control of the vehicle. Remove the key from the ignition switch only when parked. Continuously variable transmission models Yo
■Opening/Closing the Moonroof You can only operate the moonroof when the ignition switch is in ON (II)*1. Use the switch in the front of the ceiling to open and close the moonroof. ■ Automatic operation To open: Pull the switch back firmly. To close: Push the switch forward firmly. The moonr