Honda HR-V: Opening and Closing the Tailgate
Precautions for Opening/Closing the Tailgate
Always make sure individuals and objects are clear of the tailgate before opening or closing it.
Be careful not to hit your head on the tailgate or to put your hands between the tailgate and the cargo area when closing the tailgate.
When you are storing or picking up luggage from the cargo area while the engine is idling, do not stand in front of the exhaust pipe. You may get burned.
Do not allow any passenger in the cargo space. They may get hurt during hard braking, a sudden acceleration, or a crash.
■ Opening the tailgate
Open the tailgate all the way.

If it is not fully opened, the tailgate may come down accidentally by its own weight.

Be careful when it is windy. The wind may cause the tailgate to close.
■ Closing the tailgate
Keep the tailgate closed while driving to:
Avoid possible damage.
Prevent exhaust gas from leaking into the vehicle.
Using the Tailgate Release Button
When all the doors are unlocked or you press the tailgate unlock button on the remote transmitter, the tailgate is unlocked. Press the tailgate release button and lift open the tailgate.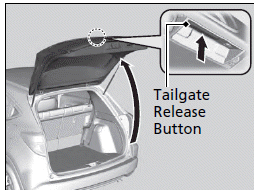 Models with smart entry system
Even if the tailgate is locked, you can open the tailgate if you carry the smart entry remote.
To close the tailgate, grab the inner handle, pull the tailgate down, and push it closed from outside.
If you close the tailgate when all the doors are locked, the tailgate locks automatically.
Some exterior lights flash.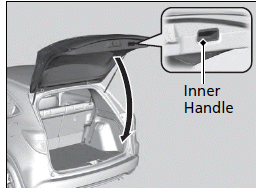 Models with smart entry system
Do not leave the smart entry remote in the vehicle when you get out. Carry it with you.
Even if you are not carrying the smart entry remote, you can unlock the tailgate while someone else is with the remote is within range.
■Remote Transmitter
Press the tailgate unlock button to unlock the tailgate.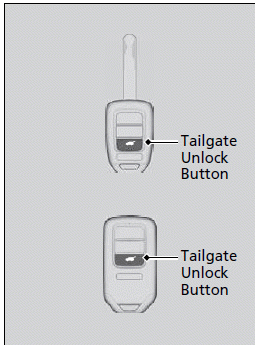 If you have unlocked and opened the tailgate using the remote transmitter, or smart entry remote, when closing, the tailgate locks automatically.
READ NEXT:
Immobilizer System The immobilizer system prevents a key that has not been pre-registered from starting the engine. Each key contains electronic transmitters that use electronic signals to verify the
Opening/Closing the Power Windows The power windows can be opened and closed when the ignition switch is in ON (II)*1, using the switches on the doors. The driver's side switches can be used to open
■Opening/Closing the Moonroof You can only operate the moonroof when the ignition switch is in ON (II)*1. Use the switch in the front of the ceiling to open and close the moonroof. ■ Automatic o
SEE MORE:
1. Fuse check. Check the following fuses. Are the fuses OK? YES Reinstall the fuses, then go to step 2. NO Replace the fuse(s), and recheck. If the fuse(s) blows again, repair the short to ground on the No. B12 (30 A), the No. B31 (7.5 A), and/or the No. C24 (7.5 A) fuse circuit(s). 2. Radiator
Removal NOTE: Before you work on the fuel lines and fittings, read the Fuel Line/Quick-Connect Fitting Precautions. 1. Fuel Line/Quick-Connect Fitting - Remove If equipped, remove the quick-connect fitting cover Check the fuel quick-connect fittings (A) for dirt, and clean it if needed. Pl