Honda HR-V: Rear Axle Beam Removal and Installation (AWD)
Removal & Installation
1. Vehicle - Lift
2. Rear Wheels - Remove
3. Parking Brake - Release
4. Rear Wheel Speed Sensor - Remove
5. Rear Brake Calliper - Remove
6. Rear Brake Disc - Remove
7. Hub Bearing Unit - Remove - Refer to: Rear Hub Bearing Unit Removal and Installation (2WD), or Rear Hub Bearing Unit Removal and Installation (AWD)
8. Electric Parking Brake Wire - Remove (Left Side)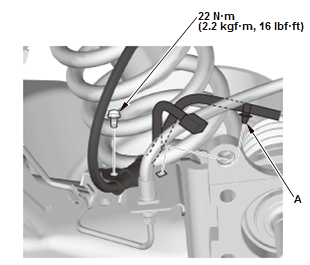 Remove the harness clip (A).
9. Brake Line - Remove (Left Side)

Fig. 19: Rear Brake Line Torque Specifications

Do not spill brake fluid on the vehicle; it may damage the paint. If brake fluid gets on the paint, wash it off immediately with water.
NOTE: After removal, plug the ends of the hoses and joints to prevent spilling brake fluid.
Disconnect the brake line (A) from the brake hose (B)
Remove the clip (C).

NOTE : Use the new clip during reassembly.
10.Brake Hose Mounting Bracket - Remove (Right Side)

Fig. 20: Brake Hose Mounting Bracket Torque Specifications
11.Propeller Shaft - Remove
12.Rear Differential Assembly - Remove
13.Muffler - Remove
14.Spring - Remove - Refer to: Rear Spring Removal and Installation (2WD), or Rear Spring Removal and Installation (AWD)
15.Axle Beam - Remove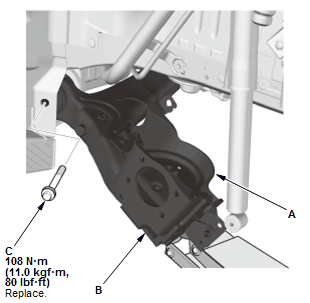 Fig. 21: Axle Beam Mounting Bolt WIth Torque Specifications
Place a floor jack under the lower spring seat (A) on both sides of the axle beam (B), and support it by raising the floor jack. Do not place the floor jack under the center of the axle beam
Remove the bolts (C)
Lower the jack slowly, then remove the axle beam.NOTE : Use the new axle beam mounting bolt during reassembly.
16.All Removed Parts - Install
Install the axle beam in the reverse order of removal, and note these items:

Loosely install nuts and/or bolts to install the bushings, load the suspension with the vehicle's weight, and then tighten the nuts and/or bolts to the specified torque.
After installing the brake hose, the brake line, and the electric parking brake wire, check interference and twisting to other parts.
Before installing the rear brake disc, clean the mating surfaces of the hub bearing unit and the inside of the brake disc.
Check the brake hose and line joint for leaks, and tighten if necessary.
17.Brake System - Bleed
18.Wheel Alignment - Check
READ NEXT:
Exploded View 1. Rear Damper - Exploded View Exploded View Removal NOTE: Unless otherwise indicated, illustrations used in the procedure are for 2WD model. 1. Vehicle - Lift 2. Rear Wheel - Remove 3
Exploded View 1. Hub Bearing Unit - Exploded View Exploded View Fig. 24: Rear Hub bearing Exploded View With Torque Specifications Removal & Installation NOTE: Refer to the Exploded View as neede
Exploded View 1. Hub Bearing Unit - Exploded View Exploded View Fig. 26: Rear Hub Bearing Exploded View WIth Torque Specifications Removal & Installation NOTE: Refer to the Exploded View as neede
SEE MORE:
Removal Do not spill brake fluid on the vehicle; it may damage the paint. If brake fluid does contact the paint, wash it off immediately with water. NOTE: After removal, plug the ends of the hoses and the joints to prevent spilling brake fluid. 1. Vehicle - Lift 2. Front Wheels - Remove 3. Brake
Removal & Installation NOTE: If the A/C compressor relief valve released refrigerant to the atmosphere, determine and correct the cause of the excessive system pressure, then replace the relief valve. 1. A/C Refrigerant - Recover 2. Vehicle - Lift 3. Engine Undercover - Remove 4. A/C Compressor