Honda HR-V: Rear Hub Bearing Unit Removal and Installation (2WD)
Exploded View
1. Hub Bearing Unit - Exploded View
Exploded View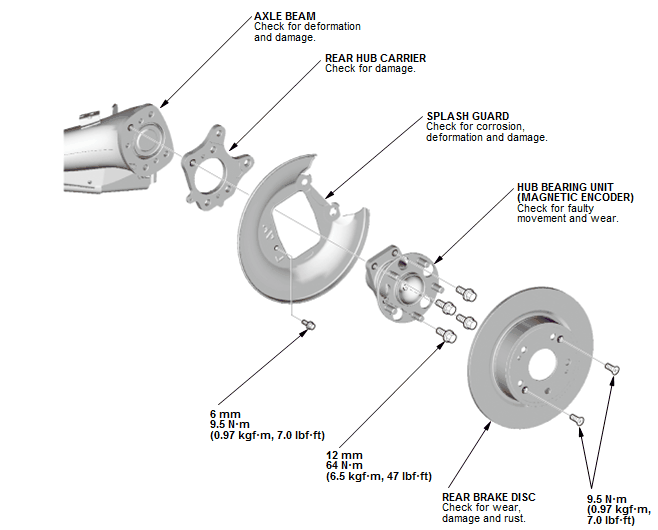 Fig. 24: Rear Hub bearing Exploded View With Torque Specifications
Removal & Installation
NOTE: Refer to the Exploded View as needed during the following procedures.
1. Vehicle - Lift
2. Rear Wheel - Remove
3. Parking Brake - Release
4. Rear Brake Calliper - Remove
5. Rear Brake Disc - Remove
6. Connector (Wheel Speed Sensor) - Disconnect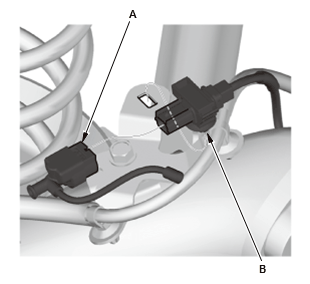 Disconnect the connector (A)
Remove the connector clamp (B).
7. Hub Bearing Unit - Remove

Fig. 25: Rear Hub Bearing Mounting Bolts Torque Specifications
Remove the hub bearing unit (A) and the splash guard/rear hub carrier (B).

NOTE:

Be careful not to damage the rear wheel speed sensor harness.
Keep the wheel bearing/encoder away from any magnetic field. The encoder can be damaged or erased.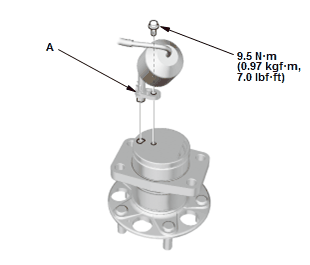 Remove the wheel speed sensor (A).
8. All Removed Parts - Install
Install the hub bearing unit in the reverse order of removal.
READ NEXT:
Exploded View 1. Hub Bearing Unit - Exploded View Exploded View Fig. 26: Rear Hub Bearing Exploded View WIth Torque Specifications Removal & Installation NOTE: Refer to the Exploded View as neede
Removal 1. Vehicle - Lift 2. Rear Wheels - Remove 3. Wheel Speed Sensor Wire Bracket - Remove (Left Side) 4. Brake Hose - Remove (Right Side) 5. Muffler - Remove 6. Propeller Shaft - Remove 7. Breat
Removal 1. Vehicle - Lift 2. Stabilizer Bushing - Remove Installation 1. Stabilizer Bushing - Install Apply silicone spray (P/N 08209-0001) to the new stabilizer bushing. This will ease installa
SEE MORE:
Removal Do not insert your fingers into the installed throttle body when you turn the vehicle to the ON mode, or while the vehicle is in ON mode. If you do, you will seriously injure your fingers if the throttle valve is activated. NOTE: If you are replacing the throttle body, start at 1st proced
Special Tools Required SRS Inflator Simulator 07SAZ-TB4011A SRS Simulator Lead M 070AZ-SNA0400 NOTE: Before doing this troubleshooting procedure, find out if the vehicle was in a collision. If so, verify that all the required components were replaced with new components of the correct par