Honda HR-V: Symptom Troubleshooting
BOTH THE RADIATOR FAN AND THE A/C CONDENSER FAN DO NOT RUN AT LOW SPEED
Diagnostic Procedure
1. Radiator and A/C Condenser Fan Low Speed Circuit Troubleshooting
Also check for
Check the connectors are properly connected and the terminals are making good contact
COOLING FAN CONTROLS SYMPTOM TROUBLESHOOTING INDEX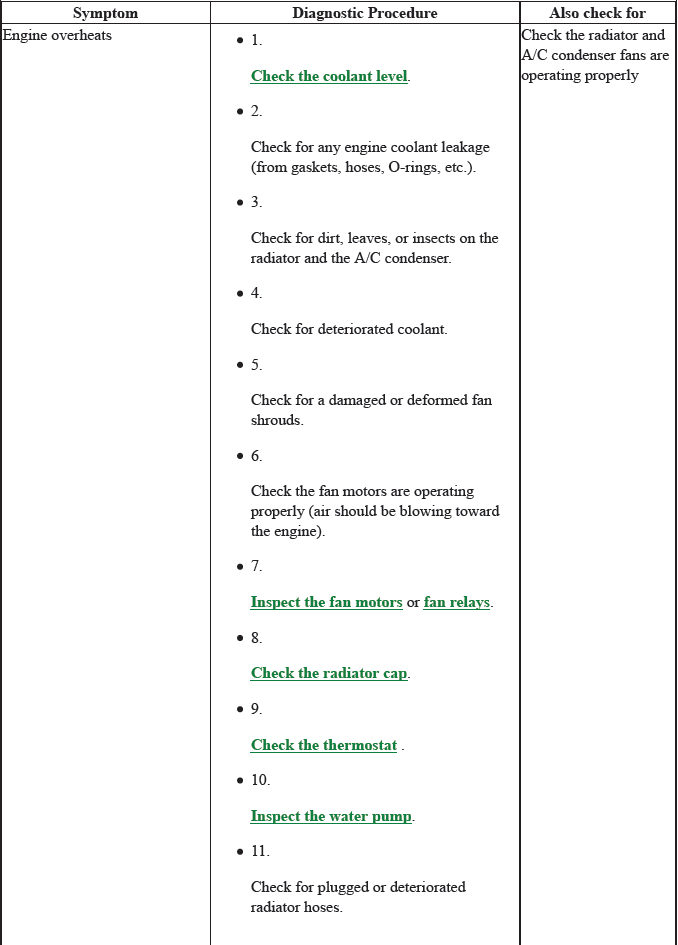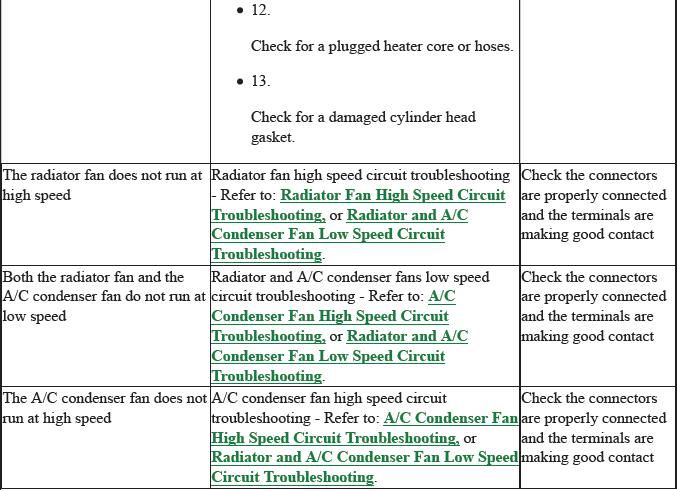 ENGINE OVERHEATS
Diagnostic Procedure
1. Coolant Check
2. Check for any engine coolant leakage (from gaskets, hoses, O-rings, etc.).
3. Check for dirt, leaves, or insects on the radiator and the A/C condenser.
4. Check for deteriorated coolant.
5. Check for a damaged or deformed fan shrouds.
6. Check the fan motors are operating properly (air should be blowing toward the engine).
7. Radiator and A/C Condenser Fan Motor Test
8. Radiator Cap Test
9. Thermostat Removal, Installation, And Test
10. Water Pump Inspection
11. Check for plugged or deteriorated radiator hoses.
12. Check for a plugged heater core or hoses.
13. Check for a damaged cylinder head gasket.
Also check for
Check the radiator and A/C condenser fans are operating properly
THE A/C CONDENSER FAN DOES NOT RUN AT HIGH SPEED
Diagnostic Procedure
The A/C condenser fan does not run at high speed
Also check for
Check the connectors are properly connected and the terminals are making good contact
THE RADIATOR FAN DOES NOT RUN AT HIGH SPEED
Diagnostic Procedure
Radiator Fan High Speed Circuit Troubleshooting
Also check for
Check the connectors are properly connected and the terminals are making good contact
CIRCUIT DIAGRAM
COOLING FAN CONTROLS CIRCUIT DIAGRAM
Without Keyless Access System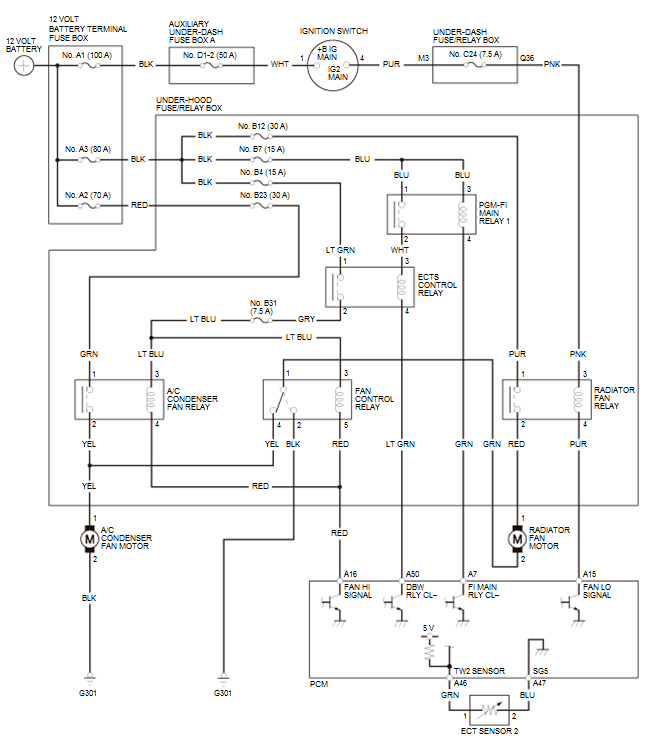 With Keyless Access System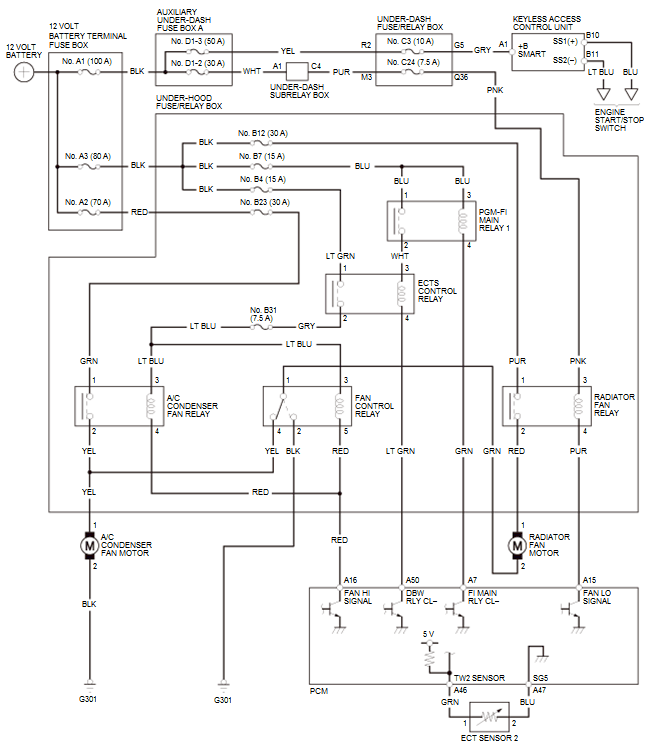 READ NEXT:
1. Fuse check. Check the following fuses. Are the fuses OK? YES Reinstall the fuses, then go to step 2. NO Replace the fuse(s), and recheck. If the fuse(s) blows again, repair the short to ground
NOTE: Do not use this troubleshooting procedure if the A/C compressor is inoperative. Refer to the symptom troubleshooting index - Refer to: Heating and A/C Systems Symptom Troubleshooting Index
SEE MORE:
Overview Motion adaptive-EPS control performs the steering torque correction control coordinated with VSA system for stabilizing the vehicle when the steering is unstable. The EPS system determines the state of the vehicle based on the data calculated by the VSA modulator-control unit, and the dat
Test 1. Vehicle - Lift 2. Engine Undercover - Remove (With 2WD) 3. CVT Lock-Up Clutch Control Solenoid Valve - Test (On Vehicle) Disconnect the connector (A).NOTE: To prevent damage, cover the connector using a shop towel. Check the connector for corrosion, dirt, or oil, and clean or repair