Honda HR-V: Thermostat Removal, Installation, and Test
Removal and Installation
1. Engine Coolant - Drain
2. Thermostat - Remove

Fig. 3: Thermostat - Exploded View With Torque Specifications
Remove the harness bracket (A)
Remove the thermostat.
3. All Removed Parts - Install
Install the parts in the reverse order of removal.

NOTE:

Make sure the pin up when installing the thermostat.
After installing all the removed parts, refill the radiator with engine coolant, and bleed the air from the cooling system.
Test
Replace the thermostat if it is stuck in the open position at room temperature.
1. Thermostat - Test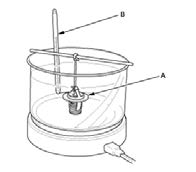 To test a closed thermostat:
Suspend the thermostat (A) in a container of water. Do not let the thermostat and the thermometer (B) touch the bottom of the hot container
Heat the water, then check the temperature with a thermometer. Check the temperature when the thermostat first opens, and when it is fully open
Measure the lift height of the thermostat when it is fully open.
Lift Height: 8.0 mm (0.315 in) min.
Starts Opening: 176-183 ºF (80-84 ºC)
Fully Open: 203 ºF (95 ºC)
READ NEXT:
Removal 1. Engine Coolant - Drain 2. Connector (CMP Sensor) - Disconnect 3. Connector (ECT Sensor 1) - Disconnect - Refer to: ECT Sensor 1 Removal and Installation, or ECT Sensor 2 Removal and Instal
WATER PUMP INSPECTION Inspection 1. Water Pump Pulley Mounting Bolt - Loosen Loosen the bolts (A). 2. Drive Belt - Remove 3. Water Pump Pulley - Remove 4. Water Pump - Inspect Turn the water p
SEE MORE:
FUEL LINE INSPECTION Inspection 1. Fuel Line - Inspect USA and Canada models Check the fuel system lines and hoses for damage, leaks, and deterioration. Replace any damaged parts. Check all clamps, and make sure they are properly positioned and tightened. 2WD AWD Mexico models Check the fuel sy
DTC ADVANCED DIAGNOSTICS: SRS RELATED DTCS NOTE Always check "How to troubleshoot the SRS system" and proceed along each "DTC Troubleshooting" procedure. Make sure the 12 volt battery is fully charged. If not, the results of tests may not be accurate. The SRS indicator will turn on when the