Honda HR-V: A/C Condenser Removal and Installation
Removal & Installation
1. A/C Refrigerant - Recover
2. Front Bumper - Remove
3. Discharge Hose, Receiver Pipe and A/C Condenser - Remove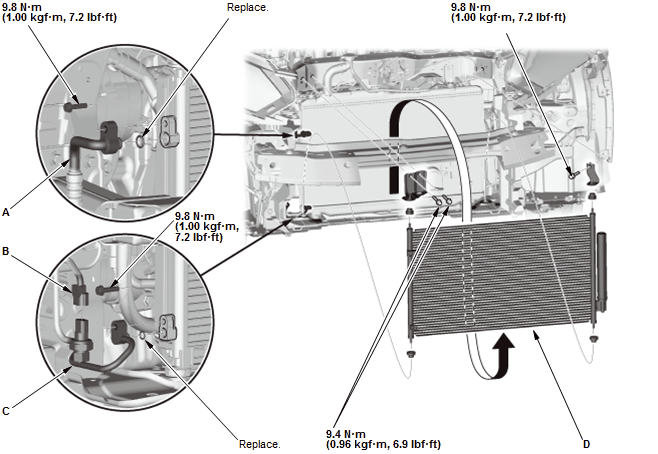 Disconnect the connector (B)
Disconnect the receiver pipe (C)
Remove the A/C Condenser (D).
NOTE : Be careful not to damage the radiator and A/C condenser fins, and receiver line when removing the A/C condenser.
4. All Removed Parts - Install
Install the parts in the reverse order of removal, and note these items:

If you're installing a new A/C condenser, add refrigerant oil
New O-rings should be used at each fitting. Prior to installation, apply a thin coat of the same refrigerant oil used in the A/C compressor. Be sure to use the correct O-rings for HFC-134a (R-134a) to avoid leakage.
Immediately after using the oil, reinstall the cap on the container, and seal it to avoid moisture absorption.
Do not spill the refrigerant oil on the vehicle, because it may damage painted surfaces. If refrigerant oil contacts the paint, wash it off with water immediately.
Charge the system with the specified amount of R-134a refrigerant.
READ NEXT:
Exploded View 1. A/C Line - Remove and Install Fig. 2: A/C System Diagram With Torque Specifications A/C PRESSURE SENSOR REMOVAL AND INSTALLATION Removal & Installation 1. A/C Refrigerant - Recov
*These tools are available through the Honda Tool and Equipment Program; call 888-424-6857 Special Tools Required PAG Oil Injector Robinair ROB18480, commercially available *These tools are availabl
*Available through the Honda Tool and Equipment Program; call 888-424-6857 Special Tools Required Compact Electronic Vacuum Gauge Robinair ROB14777, commercially available R134a A/C Automatic Recover
SEE MORE:
Removal and Installation Front 1. Vehicle - Lift 2. Front Wheels - Remove 3. Front Wheel Speed Sensor - Remove Remove the grommet (A) from the body. Disconnect the connector (B) Remove the wire guide rubbers (C), the clip (D), and the bolt (E) Remove the wheel speed sensor (F). 4. All Removed
Removal & Installation NOTE: SRS components are located in this area. Review the SRS component locations - Refer to: SRS Component Location Index (KA/KC) and the precautions and procedures before doing repairs or service. 1. 12 Volt Battery Terminal - Disconnect NOTE: Wait at least 3 minutes b