Honda HR-V: A/C Refrigerant Oil Replacement
*These tools are available through the Honda Tool and Equipment Program; call 888-424-6857
Special Tools Required
PAG Oil Injector Robinair ROB18480, commercially available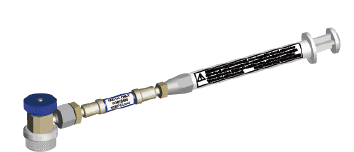 *These tools are available through the Honda Tool and Equipment Program; call 888-424-6857
Replacement
1. A/C Refrigerant Oil - Replace
Recommended PAG oil: DENSO ND-OIL 8
P/N 38897-PR7-A01AH: 120 mL (4 fl oz)
It is important to have the correct amount of refrigerant oil in the A/C system to ensure proper lubrication of the A/C compressor. Too little oil damages the A/C compressor; too much oil reduces the cooling capacity of the system, and can produce high vent temperatures.
To avoid contamination, do not return the oil to the container once dispensed, and never mix it with other refrigerant oils.
Immediately after using the oil, reinstall the cap on the container, and seal it to avoid moisture absorption.
Do not spill the refrigerant oil on the vehicle, because it may damage painted surfaces. If refrigerant oil contacts the paint, wash it off with water immediately.
Add the recommended refrigerant oil in the amount listed if you replace any of the following parts:

NOTE: If no oil was drained from the removed A/C compressor, do not drain more than 50 mL (1 2/3 fl oz) from the new A/C compressor.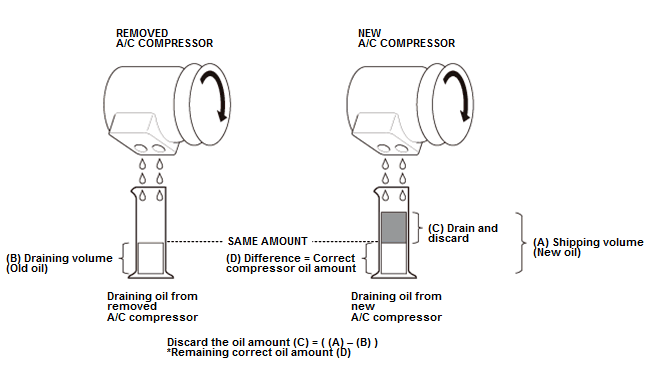 READ NEXT:
*Available through the Honda Tool and Equipment Program; call 888-424-6857 Special Tools Required Compact Electronic Vacuum Gauge Robinair ROB14777, commercially available R134a A/C Automatic Recover
Removal & Installation SRS components are located near the mode control motor and the recirculation control motor. Review the SRS component locations - Refer to: SRS Component Location Index (KA/
Removal & Installation 1. Passenger's Dashboard Undercover - Remove 2. Blower Motor - Remove Disconnect the connector (A) Remove the harness clip (B) Remove the blower motor (C). 3. All Remo
SEE MORE:
The continuously variable transmission (CVT) is an electronically controlled automatic transmission with drive and driven pulleys, steel belt, and new transmission fluid (HCF-2). The CVT provides non-stage speeds forward and non-stage speeds reverse. The entire unit is positioned in line with the
NOTE: Examples used in this article are general in nature and do not necessarily relate to a specific engine or system. Illustrations and procedures have been chosen to guide mechanic through engine overhaul process. Descriptions of processes of cleaning, inspection, assembly and machine shop pract