Honda HR-V: Crankshaft Main Bearing Replacement
Replacement
1. Engine/Transmission - Remove
2. Transmission - Remove
Remove the transmission:
3. Pressure Plate, Clutch Disc, and Flywheel - Remove (M/T)
4. Drive Plate - Remove (CVT)
5. Cylinder Head - Remove
6. Lower Block and Bearing Half - Remove
NOTE: Do not remove the connecting rod cap.
7. Main Bearing Clearance Inspect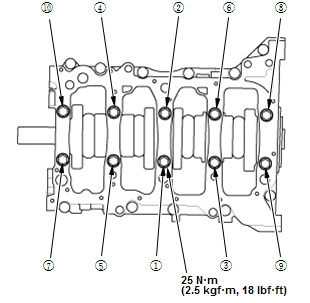 Fig. 5: Main Bearing Cap Removal Sequence With Torque Specifications
Clean each main journal and main bearing half with a clean shop towel
Place one strip of plastigage across each main journal
Reinstall the main bearings and the lower block. Tighten the bolts in three steps; tighten the bolts until the bolts sit on the lower block, tighten the bolts until the liquid gasket is compressed, tighten the bolts to specified torque.
NOTE :

Apply new engine oil to the bolt threads and flanges.
Do not rotate the crankshaft during inspection.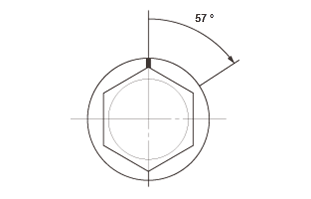 Tighten the bearing cap bolts an additional 57º in the number sequence shown.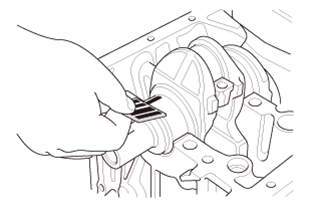 Remove the lower block and the main bearings, and measure the widest part of the plastigage.
Standard (New): 0.018-0.034 mm (0.00071-0.00134 in)
Service Limit: 0.045 mm (0.00177 in)
If the plastigage measures too wide or too narrow, remove the crankshaft, and remove the upper half of the main bearing. Install a new, complete main bearing with the same color code, and recheck the clearance. Do not file, shim, or scrape the main bearings or the caps to adjust clearance.
If the plastigage shows the clearance is still incorrect, try the next larger or smaller main bearing (the color listed above or below that one), and check the clearance again. If the proper clearance cannot be obtained by using the appropriate larger or smaller main bearings, replace the crankshaft and start over.
8. Crankshaft Main Bearing - Select
Block Bore Code Locations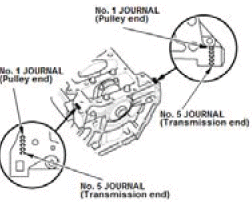 Main Journal Code Locations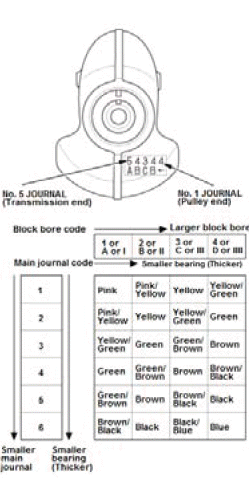 Numbers, letters, or bars have been stamped on either side of the lower block as a code for the size of each of the five main journal bores. Use them, and the numbers stamped on the crankshaft (codes for main journal size), to choose the correct main bearings.
NOTE : If the codes are indecipherable because of an accumulation of dirt and dust, do not scrub them with a wire brush or scraper.

Clean them only with solvent or detergent

Use the block bore codes and the main journal codes to select the appropriate replacement main bearings from the following table.
NOTE:

Color code is on the edge of the bearing.
When using bearing halves of different colors, it does not matter which color is used in the top or bottom.
9. All Removed Parts - Install
Install the parts in the reverse order of removal.
READ NEXT:
Special Tools Required Holder Handle 07JAB-001020B Pulley Holder Attachment, 50 x 39 mm 07MABPY30100 Socket, 19 mm 07JAA-001020A or equivalent Removal 1. Right Front Wheel - Remove 2. Right Front S
Special Tools Required Driver Handle, 15 x 135L 07749-0010000 Bearing Driver Attachment, 24 x 26 mm 07746-0010700 Removal 1. Engine/Transmission - Remove 2. Transmission - Remove Remove the transm
Removal & Installation 1. Transmission Assembly - Remove 2. Drive Plate Assembly - Remove Fig. 10: Drive Plate Bolt With Torque Specifications Remove the drive plate (A) with the washer (B). 3
SEE MORE:
Adjustment NOTE: Connect the HDS to the DLC, and monitor ECT SENSOR 1. Adjust the valve clearance only when the engine coolant temperature is less than 100ºF (38ºC). 1. Cylinder Head Cover - Remove 2. Camshaft Timing - Inspect 3. Valve Clearance Adjustment Select the correct feeler gauge f
NOTE: Do not use this troubleshooting procedure if the A/C compressor is inoperative. Refer to the symptom troubleshooting index - Refer to: Heating and A/C Systems Symptom Troubleshooting Index (Heating/Air Conditioning), or Climate Control System Symptom Troubleshooting Index (Climate Cont