Honda HR-V: In Case of Emergency
Your vehicle may not be able to connect to the operator if the battery level is low, the line is disconnected, or you do not have adequate cellular coverage.
You cannot use this emergency services when:
You travel outside the HondaLink service coverage areas.
There is a problem with the connecting devices, such as the microphones, speakers, or the unit itself.
You cannot operate other phone-related functions using the screen while talking to the operator.
Select Hang Up to terminate the connection to your vehicle.
■ Automatic collision notification
If your vehicle's airbags deploy or if the unit detects that the vehicle is severely impacted, your vehicle automatically will attempt to connect to the HondaLink operator. If connected, information about your vehicle, its location, and its condition will be sent to the operator; you also can speak to the operator when connected.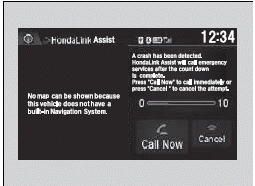 IMPORTANT: For vehicles equipped with HondaLink Assist, owner activation constitutes authorization for Honda to collect information from your vehicle needed to provide the service, and agreement to the Terms of Use at www.hondalink.com/ TermsAndConditions. In a crash, HondaLink Assist will attempt to notify emergency services but NEITHER HONDA NOR ITS SERVICE PROVIDERS GUARANTEE THAT SUCH NOTIFICATION WILL OCCUR.
Honda reserves the right to terminate HondaLink Assist services at any time or for any reason, and in the future may not be able to provide services due to changes in, or obsolescence of, technology integral to the service or changes in governmental regulation.
If the unit fails to connect to the operator, it repeatedly tries until it succeeds.
■ To enable notification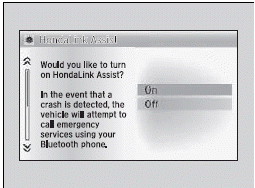 1. Go to the Phone settings screen.
2. Select Phone tab, then HondaLink Assist.
A pop-up menu appears on the screen.
3. Select On or Off.
Setting options:
On: Notification is available.
Off: Disable the feature.
READ NEXT:
Check the following items before you start driving. ■Exterior Checks Make sure there are no obstructions on the windows, door mirrors, exterior lights, or other parts of the vehicle. Remove a
SEE MORE:
Change the shift position in accordance with your driving needs. ■ Shift lever positions Park Used when parking or starting the engine Reverse Used when reversing Neutral Used when idling Drive Used for normal driving Drive (S) Used: For better acceleration To increase engine braking Whe
Check the following items before you start driving. ■Exterior Checks Make sure there are no obstructions on the windows, door mirrors, exterior lights, or other parts of the vehicle. Remove any frost, snow, or ice. Remove any snow on the roof, as this can slip down and obstruct your fi