Honda HR-V: Inputs and Outputs
ELECTRIC PARKING BRAKE CONTROL UNIT CONNECTOR FOR INPUTS AND OUTPUTS
Electric Parking Brake Control Unit Inputs and Outputs for 30P Connector (Connector Disconnected)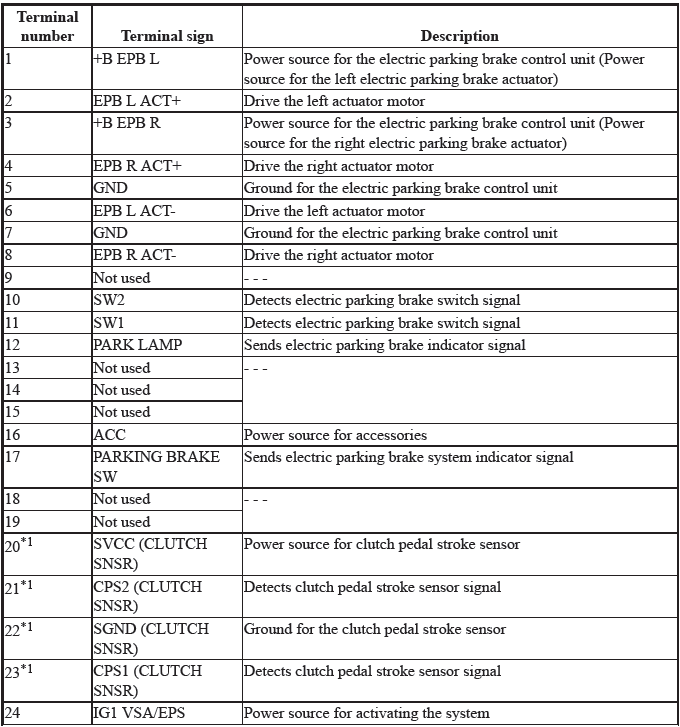 *1: M/T

*1: M/T
ELECTRIC PARKING BRAKE ELECTRONIC WIRING DIAGRAM
Refer to appropriate wiring diagram: System Wiring Diagrams
ELECTRIC PARKING BRAKE FORCED CANCELLATION
Procedure
NOTE:
Forced cancellation is performed when the system is abnormal and the parking brake cannot be released.
Unless otherwise indicated, illustrations used in the procedure are for 2WD model.
1. Vehicle - Lift
2. Rear Wheel - Remove
3. Electric Parking Brake Actuator - Remove
4. Parking Brake - Forced Cancel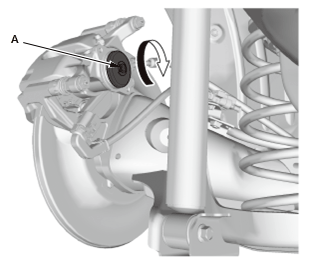 Using a T45 Torx driver, turn the worm shaft (A) 360º clockwise
Make sure the parking brake is released. If not released, turn the worm shaft 360º clockwise again.
LONGITUDINAL ACCELERATION SENSOR NEUTRAL POSITION MEMORIZATION
Procedure
1. HDS - Connect
Turn the vehicle to the OFF (LOCK) mode.
Connect the HDS to the DLC.
Turn the vehicle to the ON mode.
Make sure the HDS communicates with the vehicle. If it does not communicate, go to the DLC circuit troubleshooting.
2. Longitudinal Acceleration Sensor Neutral Position - Memorize
Park the vehicle on a flat and level surface, with the steering wheel in the straight ahead position
Select the ELECTRIC PARKING BRAKE from the BRAKE SYSTEM menu with the HDS, then enter the SENSOR CALIBRATION from the ADJUSTMENT, and follow the screen prompts.

NOTE : See the HDS Help menu for specific instructions.
COMPONENT LOCATION INDEX
ELECTRIC PARKING BRAKE COMPONENT LOCATION INDEX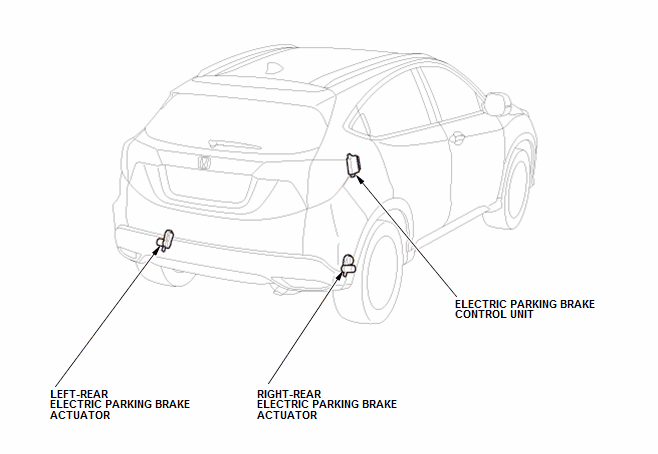 READ NEXT:
HOW TO TROUBLESHOOT THE ELECTRIC PARKING BRAKE System Indicator The electrical parking brake system has two indicators: Electric parking brake system indicator (A) Electric parking brake indicator
Removal and Installation NOTE: SRS components are located in this area. Review the SRS component locations - Refer to: SRS Component Location Index (KA/KC), or SRS Component Location Index (KA/KC), a
SEE MORE:
Removal SRS components are located in this area. Review the SRS component locations - Refer to: SRS Component Location Index (KA/KC), or SRS Component Location Index (KA/KC) and the precautions and procedures before doing repairs or service. NOTE: Removal of the front passenger's weight sensors
Removal 1. Vehicle - Lift 2. Stabilizer Bushing - Remove Installation 1. Stabilizer Bushing - Install Apply silicone spray (P/N 08209-0001) to the new stabilizer bushing. This will ease installation of the bushing into the stabilizer and the axle beam Install the stabilizer bushing (A) into