Honda HR-V: PGM-FI System Description - Components (KA/KC)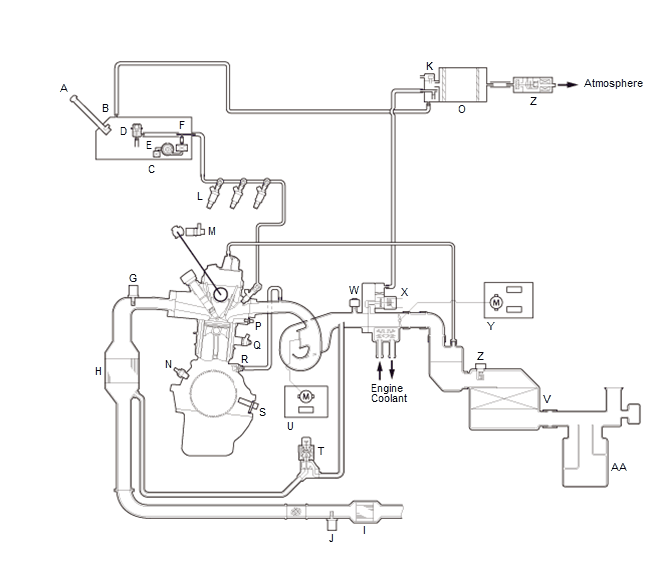 FUEL FILL CAP
FUEL TANK VAPOR/LIQUID SEPARATION VALVE
FUEL TANK
FUEL PRESSURE REGULATOR
FUEL PUMP
FUEL FILTER
AIR FUEL RATIO (A/F) SENSOR (SENSOR 1)
WARM UP THREEWAY CATALYTIC CONVERTER (WU-TWC)
UNDER-FLOOR THREEWAY CATALYTIC CONVERTER (UNDERFLOOR TWC)
SECONDARY HEATED OXYGEN SENSOR (SECONDARY HO2S) (SENSOR 2)
FUEL TANK PRESSURE (FTP) SENSOR
FUEL INJECTOR
CAMSHAFT POSITION (CMP) SENSOR
OIL PRESSURE SWITCH
EVAPORATIVE EMISSION (EVAP) CANISTER
ENGINE COOLANT TEMPERATURE (ECT) SENSOR
KNOCK SENSOR
POSITIVE CRANKCASE VENTILATION (PCV) VALVE
CRANKSHAFT POSITION (CKP) SENSOR
EXHAUST GAS RECIRCULATION (EGR) VALVE and VALVE POSITION SENSOR
INTAKE MANIFOLD TUNING (IMT) VALVE
AIR CLEANER
MANIFOLD ABSOLUTE PRESSURE (MAP) SENSOR
EVAPORATIVE EMISSION (EVAP) CANISTER PURGE VALVE
THROTTLE BODY
MASS AIR FLOW (MAF) SENSOR/INTAKE AIR TEMPERATURE (IAT) SENSOR
EVAPORATIVE EMISSION (EVAP) CANISTER VENT SHUT VALVE
INTAKE AIR RESONATOR
PGM-FI SYSTEM DESCRIPTION - ELECTRONIC CONTROL
The powertrain control module (PCM) consists of a CPU memory (storage unit) and Input/Output that control the fuel injection, injection timing, idling and electronic throttle control system (ETCS).
Fail-Safe Function
When a malfunction occurs in the signal from a sensor or from another control unit, the PCM ignores that signal and substitutes a pre-programmed value that allows the engine to continue running. This causes a Confirmed DTC to be stored and the MIL to come on.
Updated Function
The PCM has a rewritable ROM. The ROM can acquire the latest version of the program using the MVCI.
MIL Bulb Check and Readiness Code Condition
When the vehicle is turned to the ON mode, the PCM turns on the MIL via the F-CAN circuit for about 15 to 20 seconds to check the bulb condition. USA and Canada models: If any readiness codes are not set to complete, the MIL flashes five times. If all readiness codes are set to complete, the MIL goes off.
Self Shut Down (SSD) Mode
After the vehicle is turned to the OFF (LOCK) mode, the PCM stays on for up to an hour. If a PCM connector is disconnected during this time, the PCM may be damaged. To cancel this mode, disconnect the negative cable from the 12 volt battery or jump the SCS line with the HDS after the vehicle is turned to the OFF (LOCK) mode.
Engine Compartment PCM
For serviceability and weight reduction, the wire harness has been shortened. The PCM is now positioned in the engine compartment. To ensure PCM operation in the engine compartment, the PCM main body and the connectors are water-proof. When diagnostic/troubleshooting is done at the PCM connector, use the terminal test port above the terminal you need to check, not the wire side.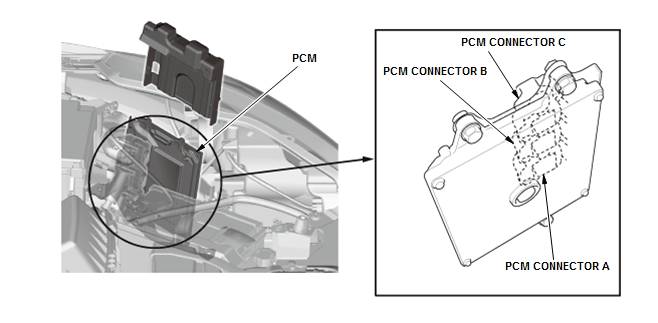 PGM-FI SYSTEM DESCRIPTION - IGNITION TIMING CONTROL
The powertrain control module (PCM) contains the memory for basic ignition timing at various engine speeds and manifold absolute pressures. It also adjusts the timing according to engine coolant temperature and intake air temperature.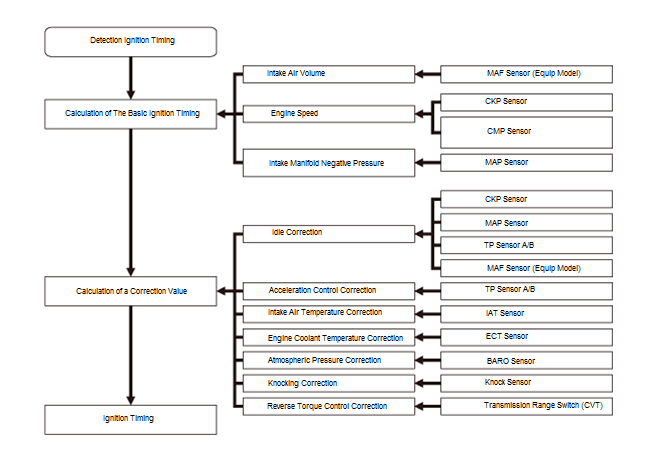 READ NEXT:
Fuel injection controls include fuel injection amount control, fuel cut control and fuel pump control. Adopting PGM-FI (programmed-fuel injection) technology enables accurate fuel controls, which co
Overview For an easy analysis of problems caused by engine stalls and starting problems, the powertrain control module (PCM) uses an on-board snapshot to record the operational conditions at the time
Overview This system improves fuel efficiency and reduces exhaust emissions at all levels of engine speed, vehicle speed, and engine load. The VTEC mechanism changes the valve lift and timing by usin
SEE MORE:
Special Tools Required Fuel Pressure Gauge 07406-004000B Fuel Pressure Gauge Attachment Set 07AAJ-S6MA150 Test 1. Fuel Pressure - Relieve 2. Fuel Pressure - Test NOTE: If you were referred to this procedure from a troubleshooting procedure, test the fuel pressure under the same conditions the ma
Adjusting the Clock Models without navigation system You can adjust the time in the clock display with the ignition switch is in ON (II)*1. ■Adjusting the Time ■ Display audio system 1. Select the (HOME) icon, then select Settings. 2. Select System, Clock, then Clock Adjustment. 3. Adjust t