Honda HR-V: Main & Connecting Rod Bearing Clearance
NOTE: Examples used in this article are general in nature and do not necessarily relate to a specific engine or system. Illustrations and procedures have been chosen to guide mechanic through engine overhaul process. Descriptions of processes of cleaning, inspection, assembly and machine shop practice are included.
Always refer to appropriate engine overhaul article, if available, in the ENGINES section for complete overhaul procedures and specifications for the vehicle being repaired.
Plastigage Method
Plastigage method may be used to determine bearing clearance. Plastigage can be used with an engine in service or during reassembly. Plastigage material is oil soluble.
Ensure journals and bearings are free of oil or solvent. Oil or solvent will dissolve material and false reading will be obtained. Install small piece of Plastigage along full length of bearing journal. Install bearing cap in original location. Tighten bolts to specification.
CAUTION: DO NOT rotate crankshaft while Plastigage is installed. Bearing clearance will not be obtained if crankshaft is rotated.
Remove bearing cap. Compare Plastigage width with scale on Plastigage container to determine bearing clearance. See Fig. 19. Rotate crankshaft 90 degrees. Repeat procedure. This is done to check journal eccentricity. This procedure can be used to check oil clearance on both connecting rod and main bearings.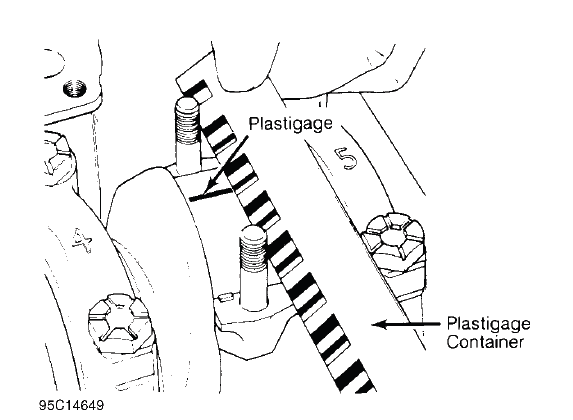 Fig. 19: Measuring Bearing Clearance
Micrometer & Telescopic Gauge Method
A micrometer is used to determine journal diameter, taper and out-of-round dimensions of the crankshaft. See CLEANING & INSPECTION under CRANKSHAFT & MAIN BEARINGS in this article.
With crankshaft removed, install bearings and caps in original location on cylinder block. Tighten bolts to specification. On connecting rods, install bearings and caps on connecting rods. Install proper connecting rod cap on corresponding rod. Ensure bearing cap is installed in original location. Tighten bolts to specification.
Using a telescopic gauge and micrometer or inside micrometer, measure inside diameter of connecting rod and main bearings bores. Subtract each crankshaft journal diameter from the corresponding inside bearing bore diameter. This is the bearing clearance.
READ NEXT:
REMOVAL NOTE: Examples used in this article are general in nature and do not necessarily relate to a specific engine or system. Illustrations and procedures have been chosen to guide mechanic through
NOTE: Examples used in this article are general in nature and do not necessarily relate to a specific engine or system. Illustrations and procedures have been chosen to guide mechanic through engine
SEE MORE:
NOTE: Before you troubleshoot, review the general troubleshooting information. 1. Solenoid operation check: Turn the vehicle to the ON mode. Clear the DTC with the HDS. Turn the vehicle to the OFF (LOCK) mode, then to the ON mode. Wait for 5 seconds. Operate any one of the four solenoids in
If a problem occurs in the airbag system, the SRS indicator will come on. ■Supplemental Restraint System (SRS) Indicator ■ When the ignition switch is turned to ON (II)*1 The indicator comes on for a few seconds, then goes off. This tells you the system is working properly. If the indicator com