Honda HR-V: DTC Advanced Diagnostics Electric Parking Brake Related DTCS
Electric Parking Brake System Related DTCs
NOTE
Review "How to troubleshoot the electric parking brake" before doing the DTC troubleshooting procedure.
Test-drive the vehicle according to local traffic conditions and regulations. Do not test-drive on a lift unless specified.
The possible causes shown may not be a complete list of all potential problems, and it is possible that there may be other causes.
DTC B0050-F0: Driver's Seat Belt Buckle Switch Malfunction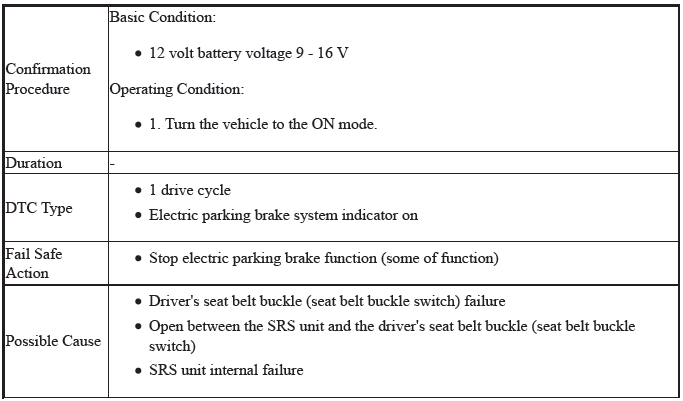 DTC C0031-62: Left-Front Wheel Speed Sensor Malfunction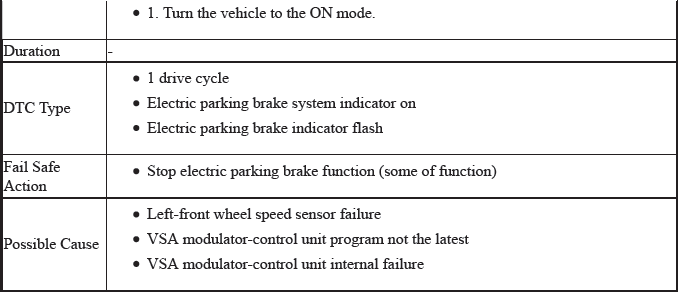 DTC C0034-62: Right-Front Wheel Speed Sensor Malfunction
DTC C0037-62: Left-Rear Wheel Speed Sensor Malfunction


DTC C003A-62: Right-Rear Wheel Speed Sensor Malfunction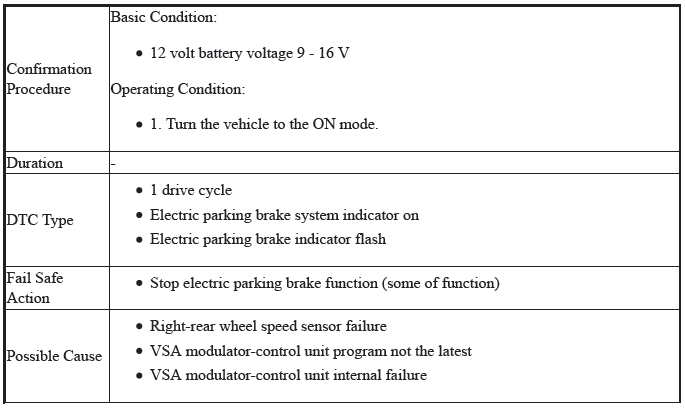 DTC C0062-1C: Longitudinal Acceleration Sensor (Inside of Electric Parking Brake Control Unit) Range/Performance Problem


DTC C0062-54: Longitudinal Acceleration Sensor (Inside of Electric Parking Brake Control Unit) Neutral Position Not Learned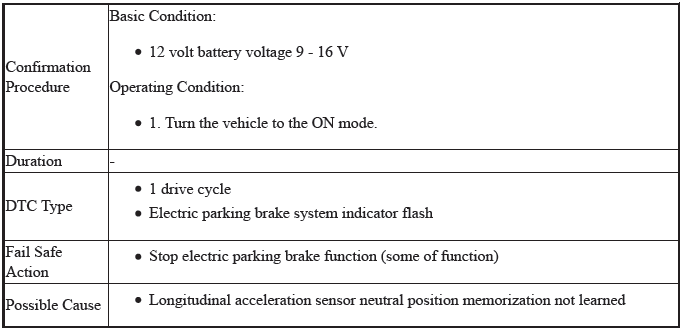 DTC C0062-76: Longitudinal Acceleration Sensor (Inside of Electric Parking Brake Control Unit) Adjustment Condition Incorrect

DTC C1100-53: Electric Parking Brake System in Maintenance Mode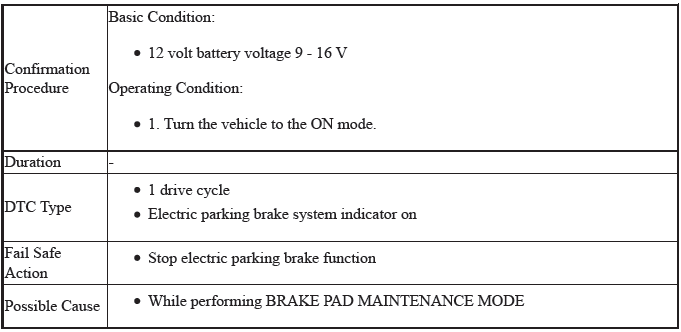 DTC C1100-54: Piston Position Not Learned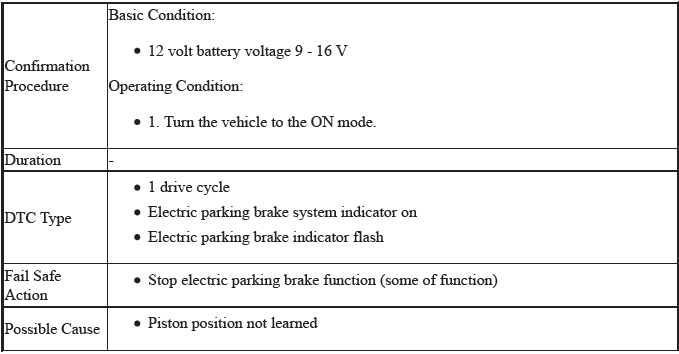 DTC C1100-94: Electric Parking Brake Actuator Malfunction
DTC C1110-11: Left-Rear Electric Parking Brake Actuator Circuit Short to Ground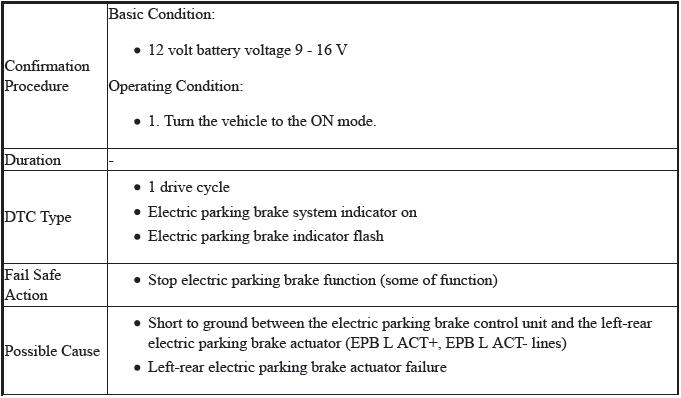 DTC C1110-12: Left-Rear Electric Parking Brake Actuator Circuit Short to Power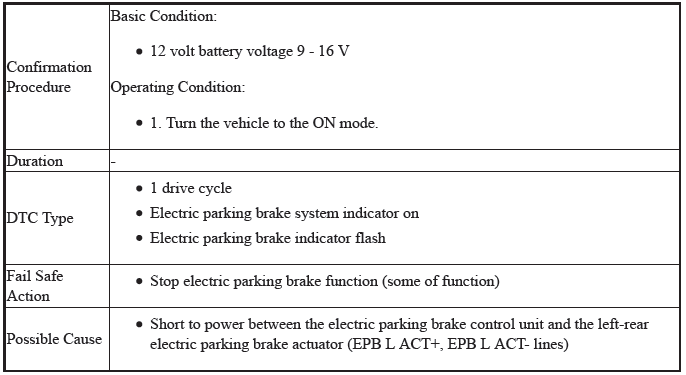 DTC C1110-13: Left-Rear Electric Parking Brake Actuator Circuit Open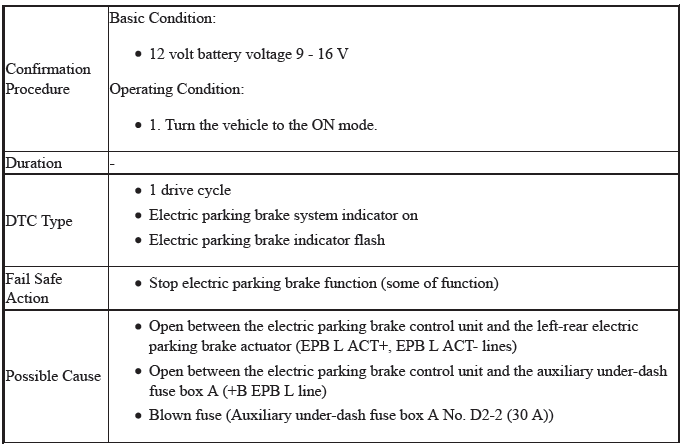 DTC C1110-96: Left-Rear Electric Parking Brake Actuator Malfunction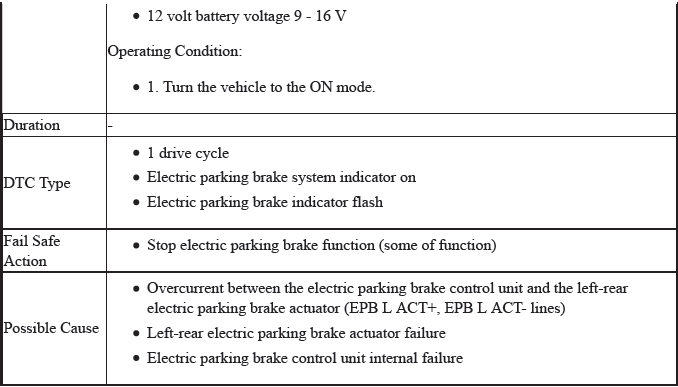 DTC C1111-11: Right-Rear Electric Parking Brake Actuator Circuit Short to Ground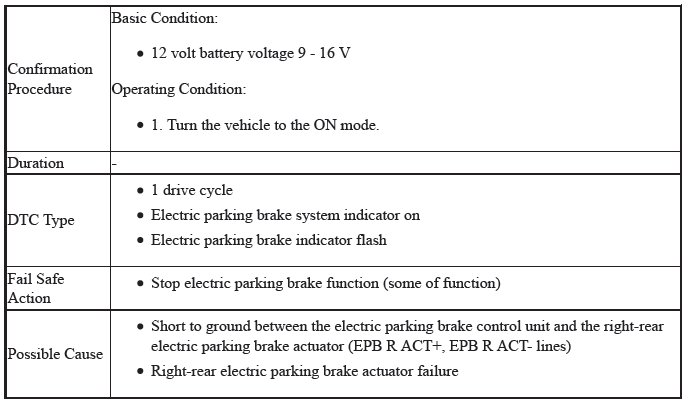 DTC C1111-12: Right-Rear Electric Parking Brake Actuator Circuit Short to Power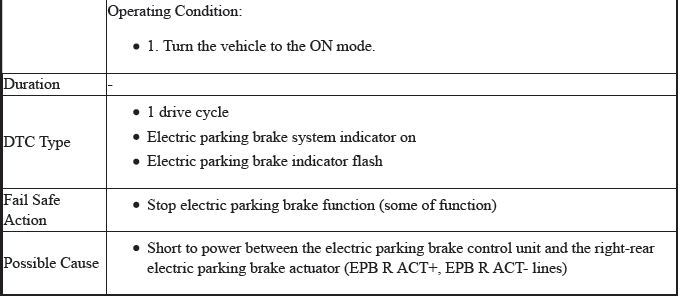 DTC C1111-13: Right-Rear Electric Parking Brake Actuator Circuit Open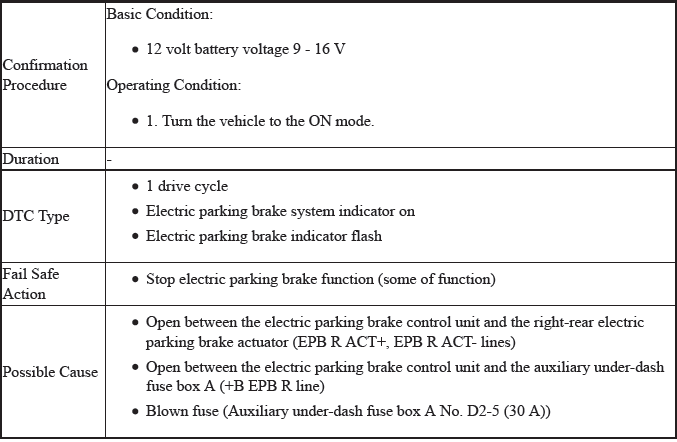 DTC C1111-96: Right-Rear Electric Parking Brake Actuator Malfunction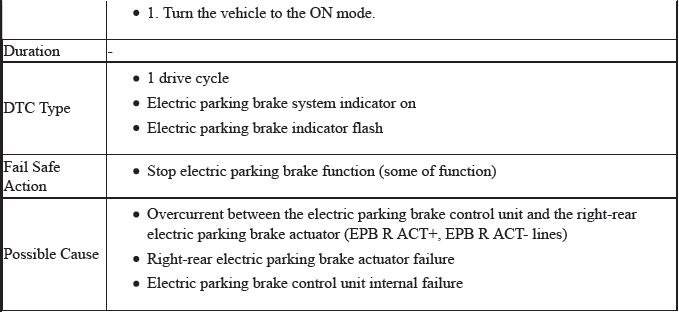 DTC C1120-14: Electric Parking Brake Switch Circuit Malfunction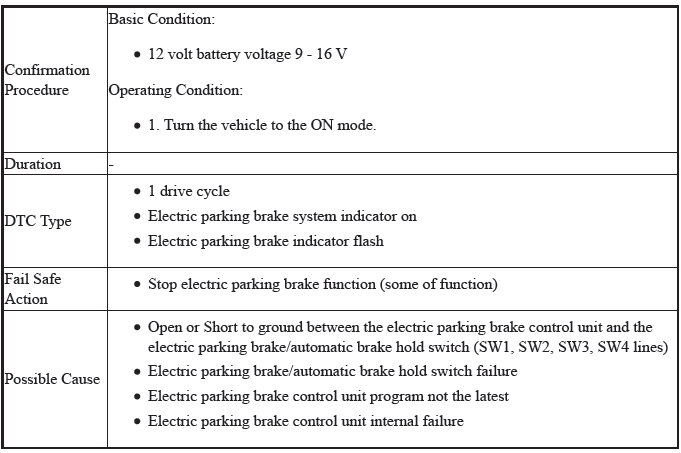 DTC C1120-96: Electric Parking Brake Switch Malfunction


DTC C1130-28: Clutch Pedal Stroke Sensor 0-Point Learning Logic Failure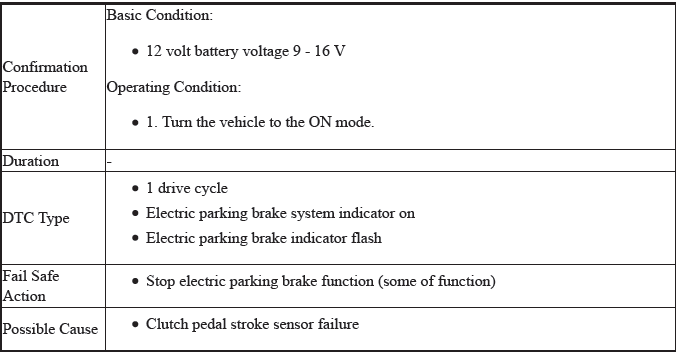 DTC C1130-62: Clutch Pedal Stroke Sensor CPS1/CPS2 Incorrect Voltage Correlation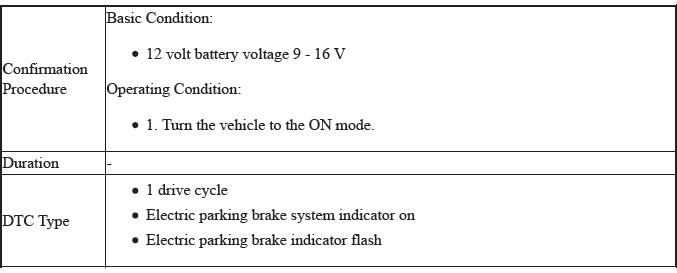 DTC C1130-76: Clutch Pedal Stroke Sensor Mount Position Error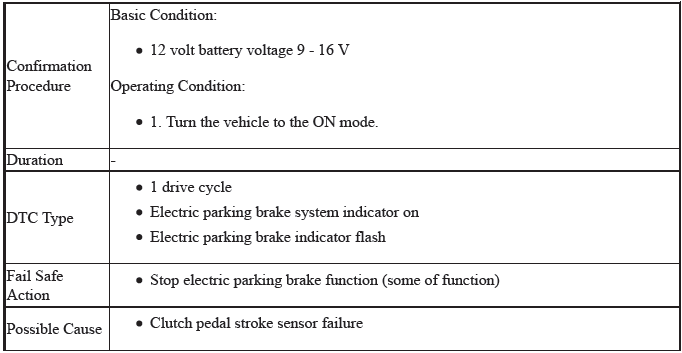 DTC C1131-14: Clutch Pedal Stroke Sensor CPS1/CPS2 Open or Short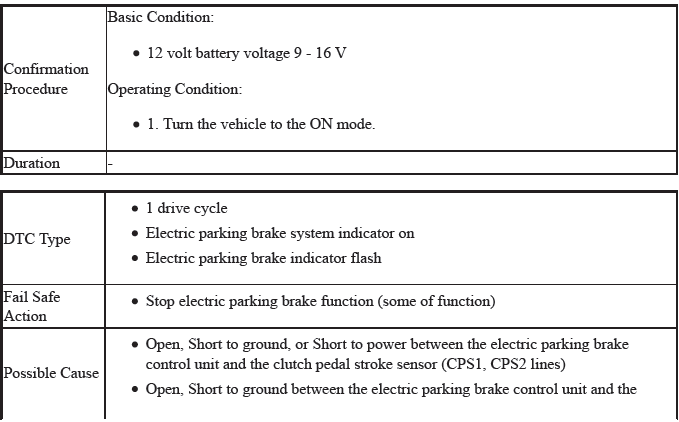 DTC U0029-00: F-CAN Malfunction (Bus-Off)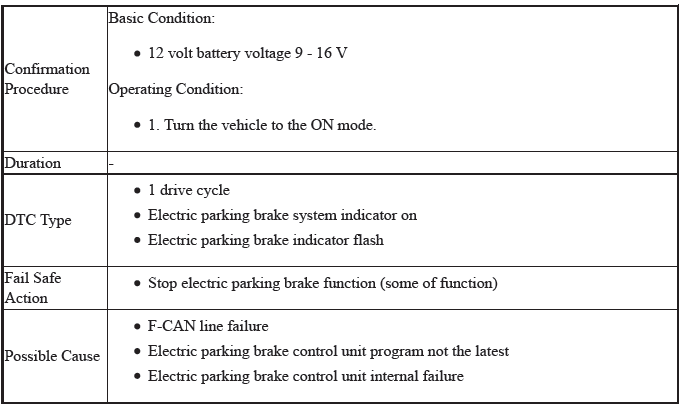 DTC U0100-00: F-CAN Malfunction (Electric Parking Brake Control Unit-PCM)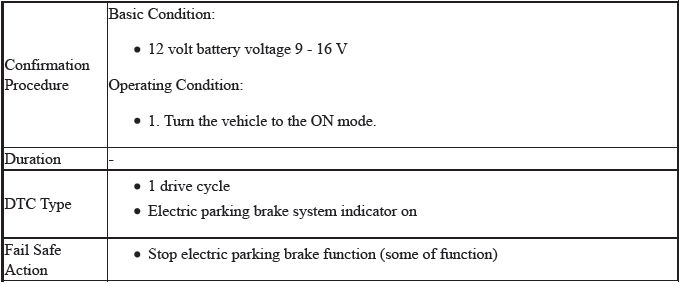 DTC U0101-00: F-CAN Malfunction (Electric Parking Brake Control Unit-TCM)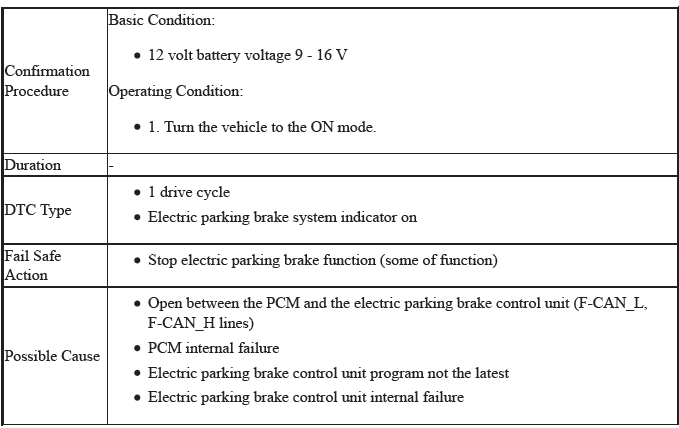 DTC U0122-00: F-CAN Malfunction (Electric Parking Brake Control Unit-VSA Modulator-Control Unit)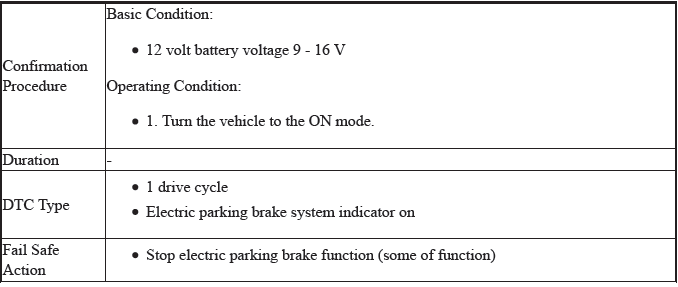 DTC U0151-00: F-CAN Malfunction (Electric Parking Brake Control Unit-SRS Unit)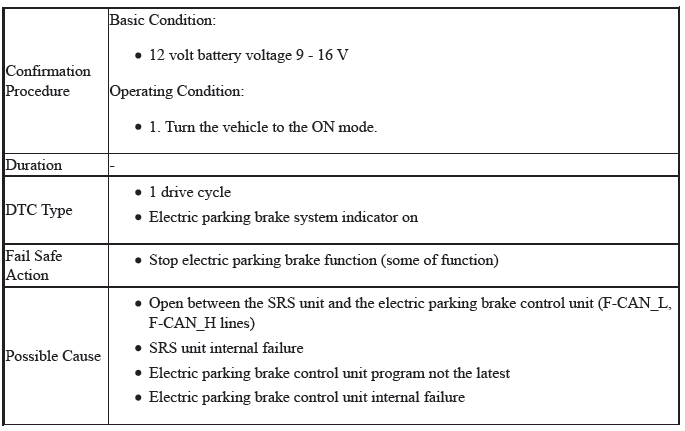 DTC U0155-00: F-CAN Malfunction (Electric Parking Brake Control Unit-Gauge Control Module)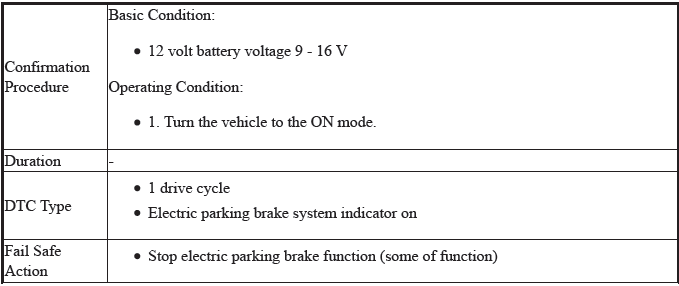 DTC U0401-68: PCM Malfunction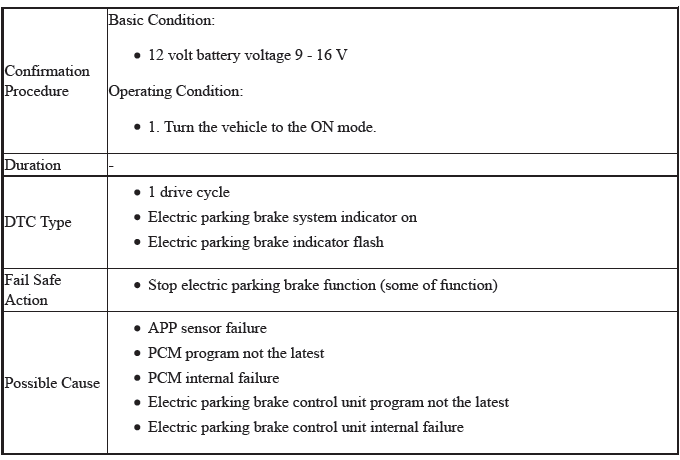 DTC U0402-68: TCM Malfunction


DTC U0416-68: VSA System Malfunction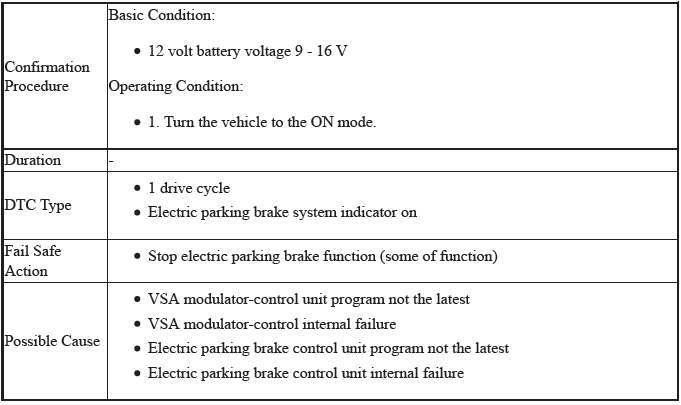 DTC U0416-F8: VSA System Malfunction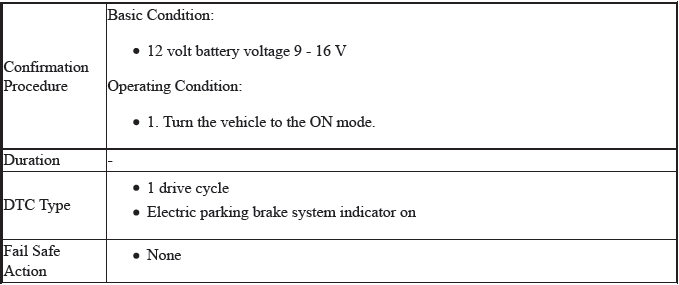 DTC U3000-49: Electric Parking Brake Control Unit Internal Circuit Malfunction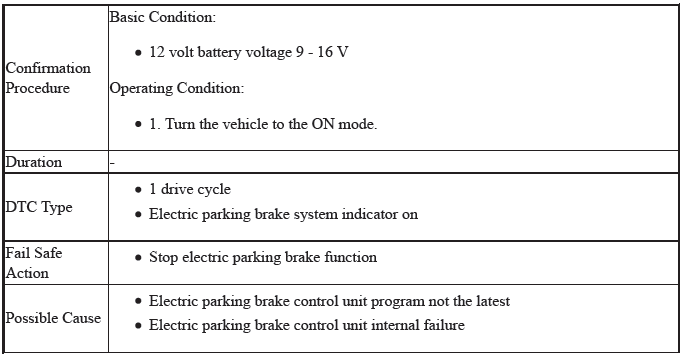 DTC U3000-51: Electric Parking Brake Control Unit Programming Error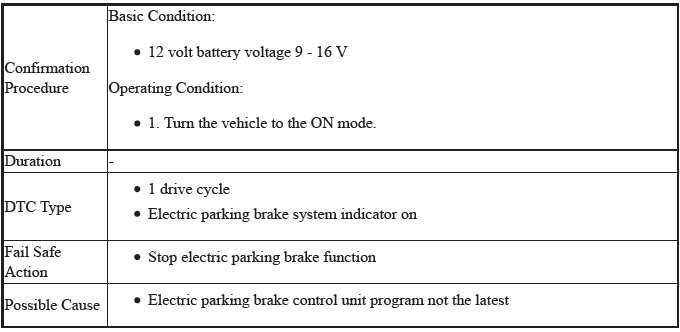 DTC U3003-16: Electric Parking Brake Control Unit Power Source Circuit (+B) Low Voltage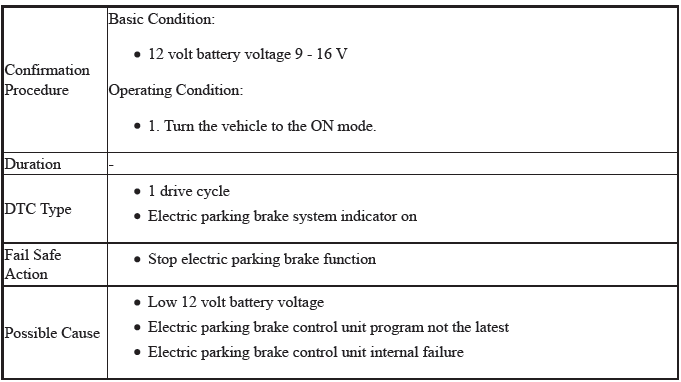 DTC U3003-17: Electric Parking Brake Control Unit Power Source Circuit (+B) High Voltage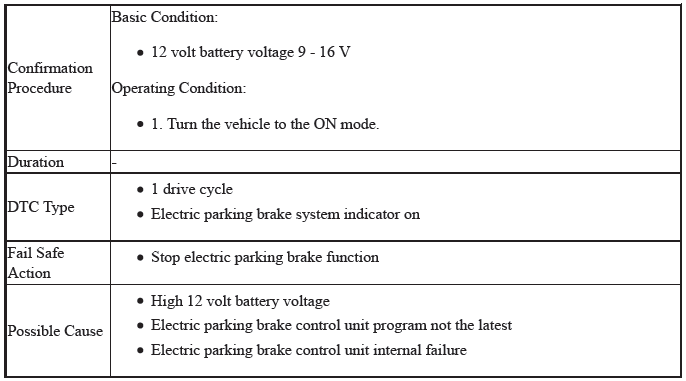 DTC U3003-68: Electric Parking Brake Control Unit Internal Circuit Malfunction (Power Self-Holding Circuit)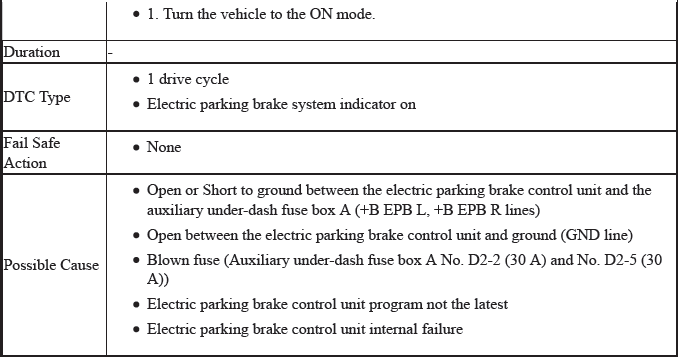 DTC U3006-13: IG1 Circuit Open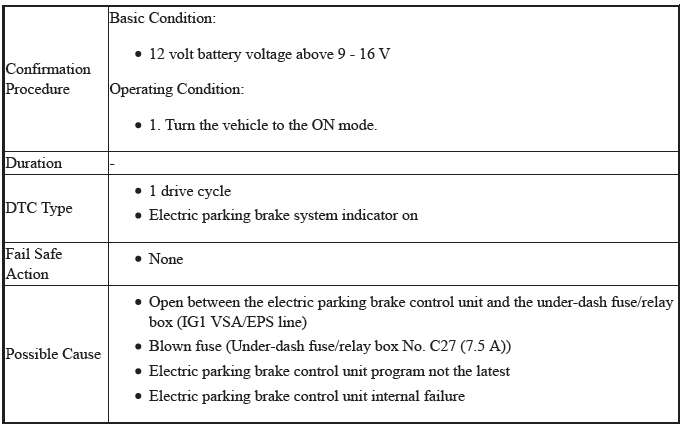 READ NEXT:
NOTE Initial Diagnosis: The initial on-board diagnosis occurs right after the vehicle condition is turned to the ON mode, and the ABS/VSA indicator comes on, and continues until the indicator go
SEE MORE:
Removal and Installation 1. Engine Coolant - Drain 2. Intake Air Duct - Remove 3. Heater Hose and Water Bypass Hose - Disconnect Disconnect the heater hose (A) and the water bypass hose (B). 4. Heater Outlet - Remove Remove the hose clamp bracket Remove the heater outlet. 5. All Removed Pa
*1:Models with the smart entry system have an ENGINE START/STOP button instead of an ignition switch. *1:Models with the smart entry system have an ENGINE START/STOP button instead of an ignition switch. *1:Models with the smart entry system have an ENGINE START/STOP button instead of an ignit