Honda HR-V: Playing a Video Using the HDMI
Your audio system allows you to play videos from an HDMI-compatible device when parked.
Connect the device, using an HDMI cable, then select the HDMI mode.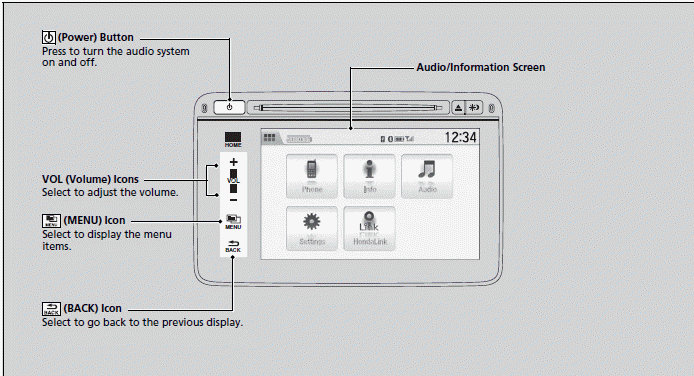 ■Changing the Screen Aspect
1. Select HOME.
2. Select Settings to go to the Settings screen.
3. Select Audio.
4. Select Aspect Ratio Adjustment.
5. Select the setting you want.
6. Select OK.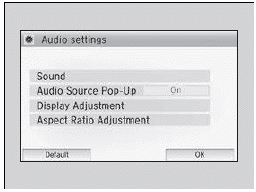 This feature is limited while driving. To play videos, stop your vehicle and apply the parking brake.
Smartphone Apps
You can connect a compatible smartphone to the system to enable integration between the smartphone's approved apps and the vehicle. This allows you to control the phone through the vehicle display. To check smart phone compatibility, download the HondaLink app, and view connection instructions, visit handsfreelink.honda.com. For the latest apps and feature details, check hondalink.com.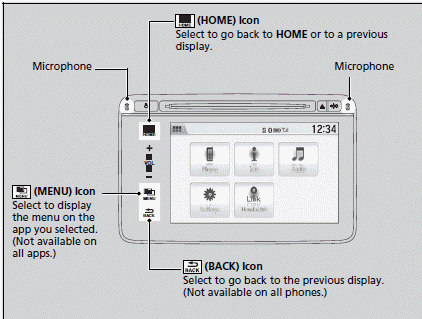 Park in a safe place before connecting your phone and while operating the displayed apps.
Not all phones and apps are compatible with the system. The system does not display all the available apps on smartphone, and some apps need to be preinstalled. Ask a dealer for details.
You need to switch the Bluetooth connection to your smartphone if another electronic device is connected.
The following may vary by phone type:
How to connect a smartphone to the system.
Apps that can be operated on the screen.
Display response time/update time.
We do not support every app operation on the display audio.
Ask the app provider for any questions on the app's features.
Siri Eyes Free
You can talk to Siri using the Talk button on the steering wheel when your iPhone is paired to Bluetooth HandsFreeLink.
Siri is a trademark of Apple Inc.
Check Apple Inc. website for features available for Siri.
When operating the vehicle, only use Siri through the Talk button.
■Using Eyes Free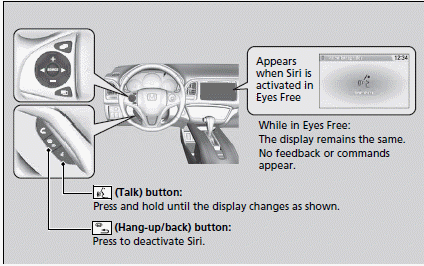 Some commands work only on specific phone features or apps.
READ NEXT:
CD Player If a disc error occurs, you may see the following error messages. *1: Display audio system *2: Color audio system iPod/USB Flash Drive If an error occurs while playing an iPod or USB flash
Recommended CDs Use only high-quality CD-R or CD-RW discs labeled for audio use. Use only CD-R or CD-RW discs on which the recordings are closed. Play only standard round-shaped CDs. A Dual-disc
Use the audio/information screen to customize certain features. When you customize settings: Make sure that the vehicle is at a complete stop. Continuously variable transmission models Shift to (
SEE MORE:
Overview This system improves fuel efficiency and reduces exhaust emissions at all levels of engine speed, vehicle speed, and engine load. The VTEC mechanism changes the valve lift and timing by using more than one cam profile. The VTEC system changes the cam profile (angle) at cruising speeds. (
TESTING ENGINE START/STOP SWITCH TEST Test 1. Dashboard switch Panel - Remove 2. Engine Start/Stop Switch - Test Check the engine start/stop switch (A) according to the table. NOTE: When an LED is located between terminals, check if the LED lights by connecting power and ground to the LE