Honda HR-V: Audio System Basic Operation (Models with display audio system)
Models with display audio system
To use the audio system function, the ignition switch must be in ACCESSORY (I) or ON (II)*1.

: Select to go to the HOME
screen.

: Touch to select any mode.
The available mode includes Change Source, Station List, Save Preset, Radio Text, Music Search, and play modes. Play modes can be also selected from Scan, Random/ Repeat, and so on.
: Select to go back to the
previous display when it is displayed.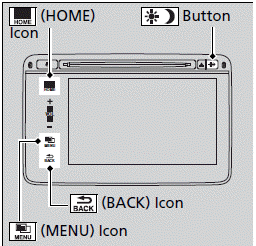 button: Press to change the
audio/ information screen brightness.
Press

once and select


or


to make
an adjustment.
Each time you press , the mode switches between the daytime mode, nighttime mode and OFF mode.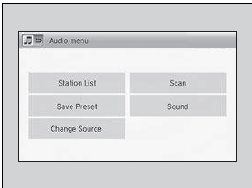 *1: Models with the smart entry system have an ENGINE START/STOP button instead of an ignition switch.
READ NEXT:
Displays the audio status and wallpaper. From this screen, you can go to various setup options. Use simple gestures - including touching, swiping, and scrolling - to operate certain audio functio
1. Select HOME. 2. Select Settings. 3. Select Audio. 4. Select Sound. Select the tabs to adjust the following choices: BASS, TREBLE, FADER, BALANCE, SVC (Speed-sensitive Volume Compensation) The
*1:Some or all of the lists may not be displayed. The ST indicator appears on the display indicating stereo FM broadcasts. Stereo reproduction in AM is not available. Switching the Audio Mode Press
SEE MORE:
POWER RELAY TEST Special Tools Required Relay Puller 07AAC- 000A2A1 or 07AAC- 000A1A0 Relay Socket Extension (5 Pin) 07AGK- 000A2A0 Relay Socket Extension (4 Pin) 07AGK- 000A1A0 Test 1. Power Relay - Test Use this chart to identify the types of the relay, then do the test listed for it. *: Car
Inspection 1. Mainshaft Assembly Clearance - Inspect Support the bearing inner race with an appropriate sized socket (A), and push down on the mainshaft (B) Measure the clearance between 2nd gear (C) and 3rd gear (D) with a feeler gauge (E). If the clearance exceeds the service limit, go