Honda HR-V: Tire Pressure Monitoring System - Service Information
REMOVAL & INSTALLATION
TPMS SWITCH REMOVAL, INSTALLATION, AND TEST
Removal and Installation
1. Driver's Dashboard Lower Cover- Remove
2. TPMS Switch - Remove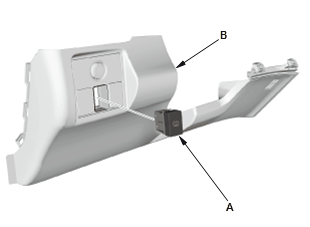 Push out the TPMS switch (A) from the back of the driver's dashboard lower cover (B).
3. All Removed Parts - Install
Install the TPMS switch in the reverse order of removal.
Test
1. TPMS Switch - Test
On the switch side, check for continuity between the connector terminal in each switch position according to the table
If the switch does not work as described in the table, replace the switch.
READ NEXT:
TPMS SYSTEM DESCRIPTION - CALIBRATION A calibration process is required for the TPMS module to learn the peak tire resonance values. The calibration procedure must be performed any time the tire pre
TPMS CALIBRATION Procedure NOTE: Make sure the tire pressure is properly adjusted to the specified tire pressure listed on the doorjamb label before doing the TPMS calibration. The calibration be
SEE MORE:
Your audio system supports audio CDs, CD-Rs, and CD-RWs in either MP3 or WMA, or AAC*1 format. With the CD loaded, press the CD/AUX button. *1:Only AAC format files recorded with iTunes are playable on this unit. ■How to Select a File from a Folder with the Selector Knob (MP3/WMA/AAC) 1. Press t
FUEL LINE/QUICK-CONNECT FITTING PRECAUTIONS (KA/KC) The fuel line/quick-connect fittings (A to I) connect following: A: fuel feed hose (J) to fuel rail (K), fuel feed hose (J) to fuel line (L) B: fuel tank unit (M) to fuel line (N) C: fuel tank unit (M) to fuel suction line (O) D: fuel tank u