Honda HR-V: Torque Specifications
TORQUE SPECIFICATIONS (KA/KC MODELS)
NOTE:
Refer to the appropriate portion of the manual for the precautions and complete procedures.
Refer to the appropriate portion of the manual for the bolts/nuts not indicated here.

1: Parts to be tightened in a particular order.
2: Follow the appropriate manual procedures closely for torque, sequence, and special steps.

Power tools must be used appropriately.

Follow instructions and precautions carefully per the tool's manufacturer.
Do not use power tools for tightening. Only use them during removals of fasteners.

When using some special tools or crowfoot-type wrenches, the torque value changes due to the added leverage. The actual torque applied will be greater than the torque reading shown.

The torque specification given is the actual torque, not the reading on the torque wrench.
To compensate for this additional leverage, use the formula below to calculate the torque value reading on the torque wrench.
Always use the special tool or crowfoot-type wrench in a straight line with the torque wrench, or you will apply improper torque.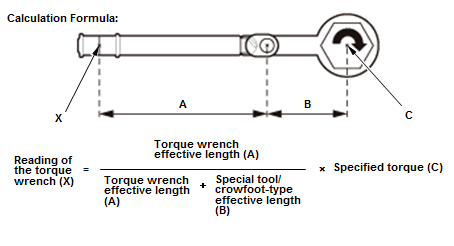 Engine Electrical

Engine Mechanical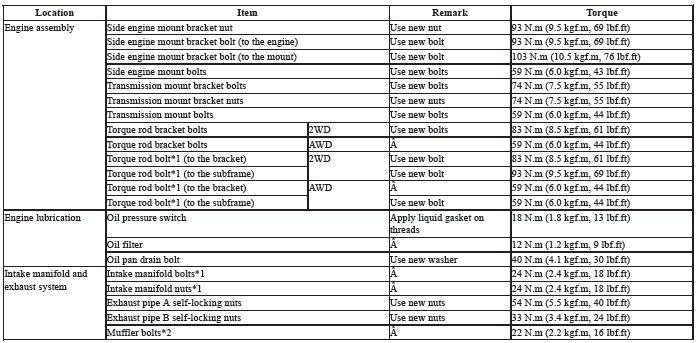 Engine Cooling

Fuel and Emissions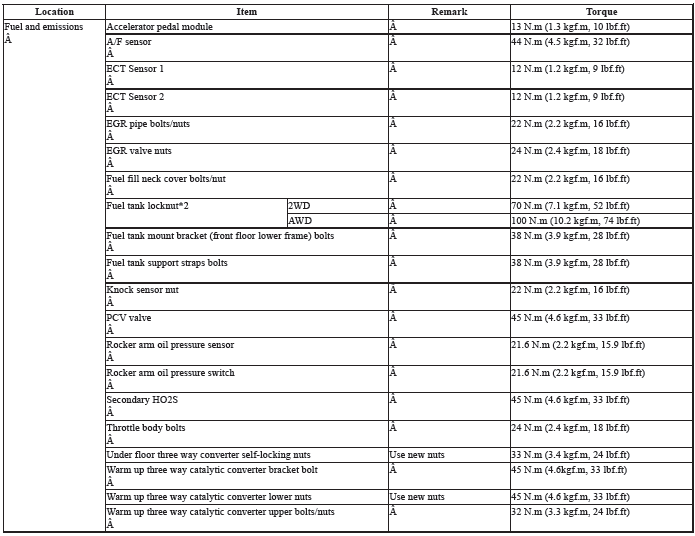 Clutch

Manual Transmission and M/T Differential

CVT and CVT Differential

Rear Differential

Driveline/Axle

Steering

Suspension

Brakes

Body
Heating, Ventilation, and Air Conditioning

Body Electrical


READ NEXT:
* PLEASE READ THIS FIRST * This article is intended for general information purposes only. This information may not apply to all makes and models. If vehicle is equipped with Anti-Lock Brake System (
ATEQ TPMS RESET PROCEDURE WITH INFORMATION DISPLAY NOTE: TPMS cannot be calibrated if a compact spare tire is installed. The calibration process requires approximately 30 minutes of cumulative
Models With Information Display 1. Inflate tires to correct pressure. 2. Apply parking brake. 3. Turn Ignition ON. 4. Press and hold the TPMS button. The MIL will flash. 5. Release parking brake.
SEE MORE:
How to Handle Overheating Overheating symptoms are as follows: The high temperature indicator (red) comes on or the engine suddenly loses power. Steam or spray comes out of the engine compartment. ■ First thing to do 1. Immediately park the vehicle in a safe place. 2. Turn off all accessor
Special Tools Required SRS Inflator Simulator 07SAZ-TB4011A SRS Simulator Lead J 070AZ-SNAA100 SRS Short Canceller 070AZ-SAA0100 NOTE: Before doing this troubleshooting procedure, find out if the vehicle was in a collision. If so, verify that all the required components were replaced with