Honda HR-V: A/C Compressor Removal and Installation
Removal & Installation
NOTE:
Do not install the A/C compressor into a system unless you are completely sure that the system is free of contamination. Installing the A/C compressor into a contaminated system can result in premature A/C compressor failure.
If the A/C compressor is marginally operable, run the engine at idle speed, and let the air conditioning work for a few minutes, then shut the engine off.
1. A/C Refrigerant - Recover
2. Drive Belt - Remove
3. Connector (Engine Wire Harness) - Disconnect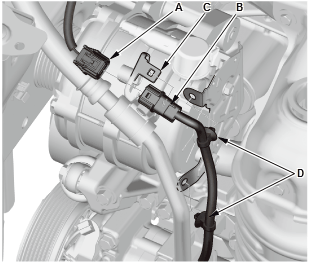 Disconnect the connector (A)
Remove the connector (B) from the bracket (C)
Remove the harness clip (D).
4. Vehicle - Lift
5. Engine Undercover - Remove
6. A/C Compressor - Remove
Disconnect the suction hose (A) and the discharge hose (B).

NOTE: Plug or cap the lines immediately after disconnecting them to avoid moisture and dust contamination.

Fig. 1: A/C Compressor Mounting Bolts Torque Specifications
Remove the A/C compressor (A).
7. All Removed Parts - Install
Install the parts in the reverse order of removal, and note these items:

Inspect the A/C lines for any signs of contamination.
If you are installing a new A/C compressor, you must calculate the amount of refrigerant oil to be removed from it. A new A/C compressor comes with a full charge of oil.
New O-rings should be used at each fitting. Prior to installation, apply a thin coat of the same refrigerant oil used in the A/C compressor. Be sure to use the correct O-rings for HFC-134a (R-134a) to avoid leakage.
To avoid contamination, do not return the oil to the container once dispensed, and never mix it with other kind of refrigerant oils.
Immediately after using the oil, reinstall the cap on the container, and seal it to avoid moisture absorption.
Do not spill the refrigerant oil on the vehicle, because it may damage painted surfaces. If refrigerant oil contacts the paint, wash it off with water immediately.
Charge the system with the specified amount of R-134a refrigerant.
READ NEXT:
Removal & Installation 1. A/C Refrigerant - Recover 2. Front Bumper - Remove 3. Discharge Hose, Receiver Pipe and A/C Condenser - Remove Disconnect the connector (B) Disconnect the receiver pi
Exploded View 1. A/C Line - Remove and Install Fig. 2: A/C System Diagram With Torque Specifications A/C PRESSURE SENSOR REMOVAL AND INSTALLATION Removal & Installation 1. A/C Refrigerant - Recov
*These tools are available through the Honda Tool and Equipment Program; call 888-424-6857 Special Tools Required PAG Oil Injector Robinair ROB18480, commercially available *These tools are availabl
SEE MORE:
System Diagram Power supply circuit: Provided to maintain power when battery voltage is low or in case of power supply damage due to a collision. Front impact G sensor and side impact G sensor: Detects impact to the SRS unit as acceleration, and converts it to electrical signal. Microprocess
U.S. models Compatible phones only Connect a compatible phone through Bluetooth. Pandora, the Pandora logo, and the Pandora trade dress are trademarks or registered trademarks of Pandora Media, Inc., used with permission. Pandora is currently available exclusively in the United States. To find out