Honda HR-V: Check
ENGINE OIL LEVEL CHECK
Check
1. Engine Oil Level - Check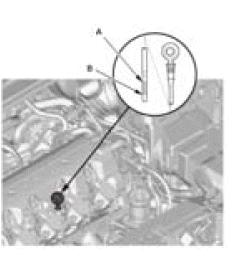 Park the vehicle on level ground, and start the engine. Hold the engine speed at 3, 000 RPM with no load (M/T in neutral, CVT in P or N) until the radiator fan comes on, then turn off the engine, and wait more than 3 minutes.
Remove the dipstick, and wipe off the dipstick, then reinstall the dipstick.
Remove the dipstick and check the engine oil level. It should be between the upper mark (A) and the lower mark (B).
If the engine oil level is near or below the lower mark check for oil leaks, and add engine oil to bring it to the upper mark.
READ NEXT:
ENGINE LUBRICATION SYSTEM SYMPTOM TROUBLESHOOTING - LOW OIL PRESSURE INDICATOR DOES NOT COME ON WITH THE VEHICLE IN THE ON MODE 1. Input signal test: Connect the HDS to the DLC. Turn the vehicle to
REMOVAL & INSTALLATION ENGINE START/STOP SWITCH REMOVAL AND INSTALLATION Removal and Installation 1. Dashboard switch Panel - Remove 2. Engine Start/Stop Switch - Remove 3. All Removed Parts - In
SEE MORE:
NOTE: Before you troubleshoot, review the general troubleshooting information. 1. Problem verification: Turn the vehicle to the ON mode. Clear the DTC with the HDS. Turn the vehicle to the OFF (LOCK) mode, then to the ON mode. Check for DTCs with the HDS. Is DTC 112-11 indicated? YES The fa
TPMS SYSTEM DESCRIPTION - CALIBRATION A calibration process is required for the TPMS module to learn the peak tire resonance values. The calibration procedure must be performed any time the tire pressures are adjusted, or when the tires are rotated or replaced. The TPMS calibration procedure is i