Honda HR-V: Check
POWER STEERING ASSIST CHECK
Check
1. Power Steering Assist - Check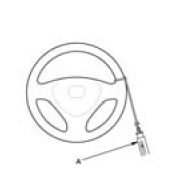 NOTE: This test should be done with original equipment tires and wheels at the correct tire pressure.
Start the engine, and let it idle
Attach a commercially available spring scale (A) to the steering wheel. With the engine idling and the vehicle on a clean, dry floor, pull the scale as shown, and read it as soon as the tires begin to turn.
Initial turning load: 29 N (3.0 kgf, 6.5 lbf) max.
If the scale reads no more than the specification, the power assist is OK. If it reads more, check these items:

Steering linkage
Rack guide adjustment
EPS system
Wheel alignment
STEERING WHEEL ROTATIONAL PLAY CHECK
Check
1. Steering Wheel Rotational Play - Check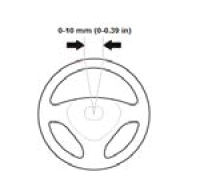 Set the front wheels in the straight ahead position
Measure how far you can turn the steering wheel left and right without moving the front wheels.

If the play is within the limit, the steering gearbox and the steering linkage are OK.
If the play exceeds the limit, adjust the rack guide. If the play is still excessive after rack guide adjustment, inspect the steering linkage and the steering gearbox.
Rotational play: 0-10 mm (0-0.39 in)
READ NEXT:
EPS DTC TROUBLESHOOTING INDEX TESTING EPS CONTROL UNIT UPDATE Special Tools Required MVCI unit with the latest control module (CM) update software installed 1. EPS Control Unit - Update NOTE: Check
NOTE: The indicator comes on when the reprogramming fails. 1. Problem verification: Turn the vehicle to the ON mode. Check the EPS indicator. Does the EPS indicator come on, then go off? YES Inter
SEE MORE:
REMOVAL & INSTALLATION EXHAUST PIPE AND MUFFLER REMOVAL AND INSTALLATION (KA/KC) Removal and Installation NOTE: Use new gaskets and new self-locking nuts when reassembling. 1. Exhaust Pipe and Muffler - Remove and Install 2WD Fig. 1: Exploded View Of Exhaust Pipe and Muffler With Torque Specifi
REMOVAL NOTE: Examples used in this article are general in nature and do not necessarily relate to a specific engine or system. Illustrations and procedures have been chosen to guide mechanic through engine overhaul process. Descriptions of processes of cleaning, inspection, assembly and machine sh