Honda HR-V: M/T Differential Backlash Inspection (M/T)
Inspection
1. Differential Backlash - Inspect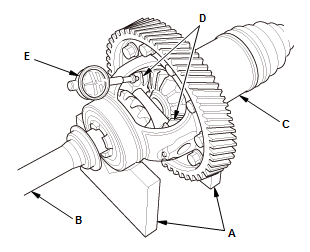 Place the differential assembly on V-blocks (A), and install the intermediate shaft (B) and the left driveshaft (C)
Measure the backlash of both pinion gears (D) with a dial indicator (E). If the backlash is not within the standard, check the differential carrier condition, and replace it if necessary.
Standard: 0.05-0.15 mm (0.0020-0.0059 in)
M/T DIFFERENTIAL THRUST CLEARANCE ADJUSTMENT (M/T)
Driver Handle, 40 mm I.D. 07746-0030100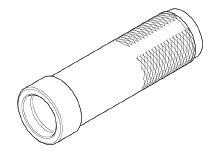 Adjustment
1. Differential Oil Seal - Remove
2. Differential Thrust Clearance - Adjust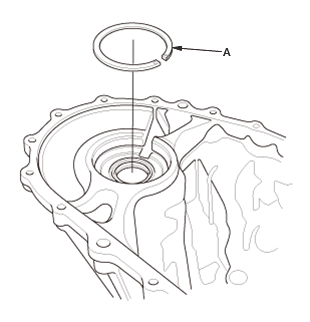 If you removed the 90 mm shim (A) from the transmission housing, reinstall the same sized shim.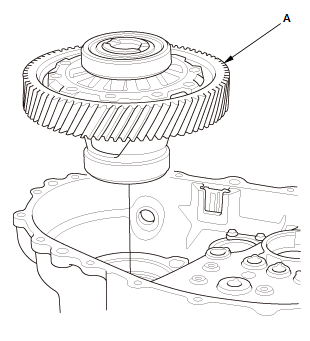 Install the differential assembly (A).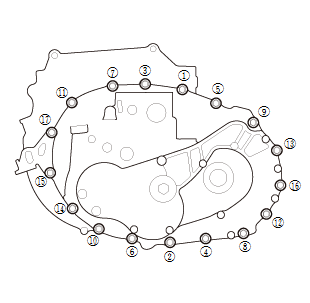 Fig. 2: Transmission Housing Onto The Clutch Housing Tightening Sequence
Install the transmission housing onto the clutch housing, then tighten the 8 mm flange bolts in a crisscross pattern in several steps.
27 N.m (2.8 kgf.m, 20 lbf.ft)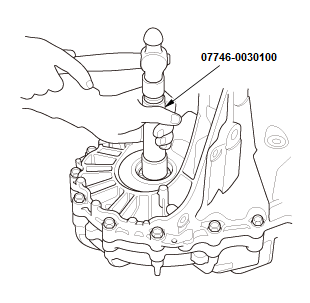 Use the 40 mm I.D. driver handle to bottom the differential assembly in the clutch housing.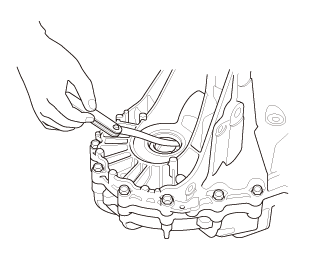 Measure the clearance between the 90 mm shim and the bearing outer race in the transmission housing.
Standard: 0-0.10 mm (0-0.0039 in)
If the clearance exceeds the standard, select a new 90 mm shim from the following table. If the clearance measured in step 5 is within the standard, go to step 9.
90 mm Shim
A - 1.00 mm (0.0394 in)
B - 1.05 mm (0.0413 in)
C - 1.10 mm (0.0433 in)
D - 1.15 mm (0.0453 in)
E - 1.20 mm (0.0472 in)
F - 1.25 mm (0.0492 in)
G - 1.30 mm (0.0512 in)
H - 1.35 mm (0.0531 in)
J - 1.40 mm (0.0551 in)
K - 1.45 mm (0.0571 in)
L - 1.50 mm (0.0591 in)
M - 1.55 mm (0.0610 in)
N - 1.60 mm (0.0630 in)
P - 1.65 mm (0.0650 in)
R - 1.70 mm (0.0669 in)
S - 1.75 mm (0.0689 in)
T - 1.80 mm (0.0709 in)
Remove the transmission housing.
Replace the thrust shim selected in step 6, then recheck the clearance.
Install a new transmission housing side differential oil seal.
READ NEXT:
Inspection 1. Mainshaft Assembly Clearance - Inspect Support the bearing inner race with an appropriate sized socket (A), and push down on the mainshaft (B) Measure the clearance between 2nd ge
Special Tools Required Mainshaft Holder 07GAJ-PG20110 Mainshaft Base 07GAJ-PG20130 Adjustment NOTE: Take measurements at normal room temperature. Clean all parts thoroughly before installation.
Inspection 1. Reverse Shift Lever Clearance - Inspect Measure the clearance between the reverse shift lever (A) and the reverse shift fork (B) with a feeler gauge (C). If the clearance exceeds t
SEE MORE:
Warm Up Three Way Catalytic Converter (WU-TWC), Under-Floor Three Way Catalytic Converter (Under-Floor TWC) The warm up three way catalytic converter (WU-TWC) and the under-floor three way catalytic converter (Under-floor TWC) convert hydrocarbons (HC), carbon monoxide (CO), and oxides of nitroge
Special Tools Required Ball Joint Thread Protector, 14 mm 071AF-SZNA100 Ball Joint Remover, 32 mm 07MAC-SL00102 Removal & Installation 1. Vehicle - Lift 2. Front Wheel - Remove 3. Lower Arm Ball Joint - Disconnect Fig. 9: Lower Ball Joint Mounting Flange With Torque Specifications Remove th