Honda HR-V: DTC Advanced Diagnostics
DTC ADVANCED DIAGNOSTICS EPS RELATED DTCS
NOTE
DTC Advanced Diagnostics
Initial Diagnosis: The initial on-board diagnosis occurs right after the vehicle condition is turned to the ON mode, and the EPS indicator comes on, and continues until the indicator goes off.
Regular Diagnosis: The regular on-board diagnosis begins right after the EPS indicator goes off, and it continues until the vehicle condition is turned to the OFF (LOCK) mode.
Review "How to troubleshoot the EPS system" before doing the DTC troubleshooting procedure.
Test-drive the vehicle according to local traffic conditions and regulations. Do not test-drive on a lift unless specified.
The possible causes shown may not be a complete list of all potential problems, and it is possible that there may be other causes.
DTC C0051-96: Steering Angle Sensor Malfunction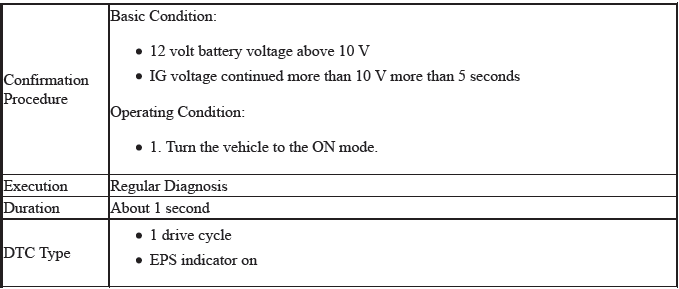 DTC C0063-96: Yaw-Rate Sensor Malfunction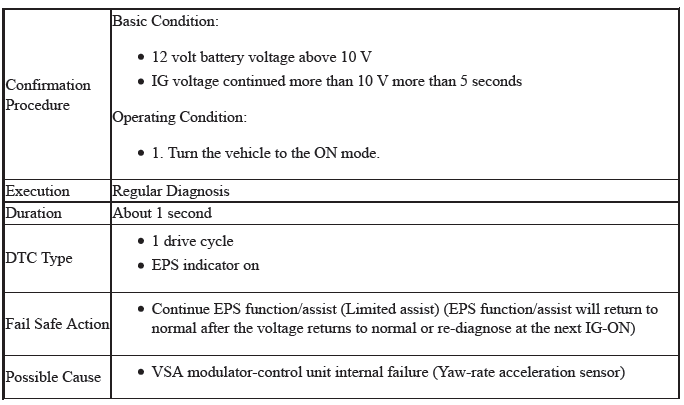 DTC C1400-13: EPS Motor Circuit Open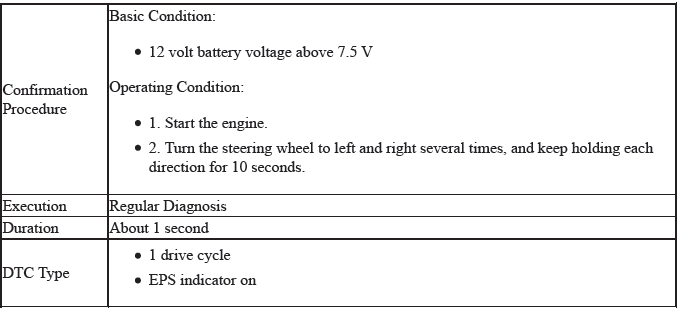 DTC C1400-14: Motor Voltage Malfunction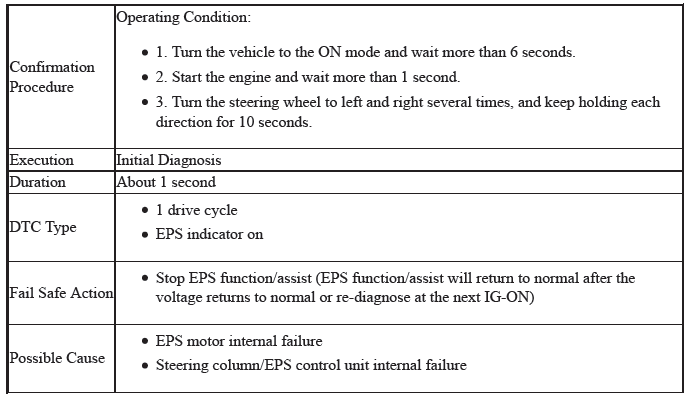 DTC C1400-1D: EPS Motor Current Incorrect Correlation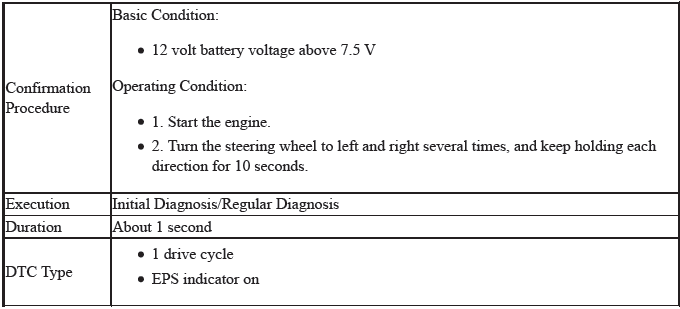 DTC C1403-14: Motor Angle Sensor (SIN/COS) Signals Incorrect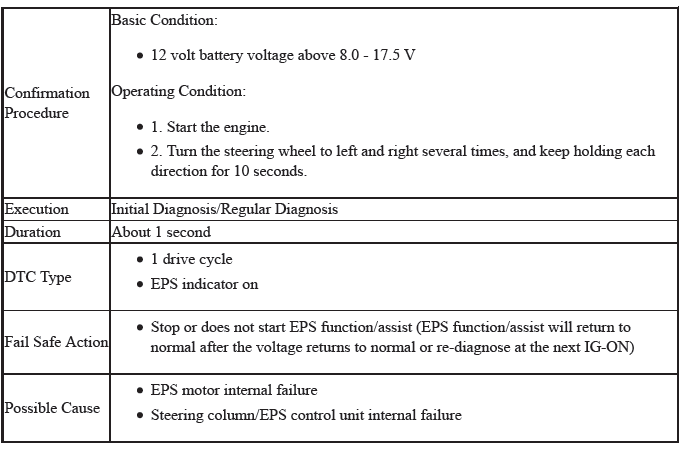 DTC C1403-29: Motor Angle Sensor (SIN/COS) Signals Incorrect Correlation


DTC C1404-11: EPS Motor U Phase Circuit Low Voltage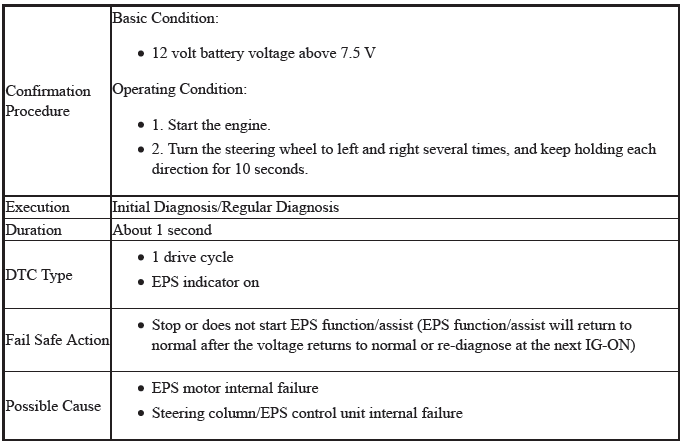 DTC C1404-13: EPS Motor U Phase Circuit High Voltage


DTC C1405-11: EPS Motor V Phase Circuit Low Voltage
DTC C1405-13: EPS Motor V Phase Circuit High Voltage

DTC C1406-11: EPS Motor W Phase Circuit Low Voltage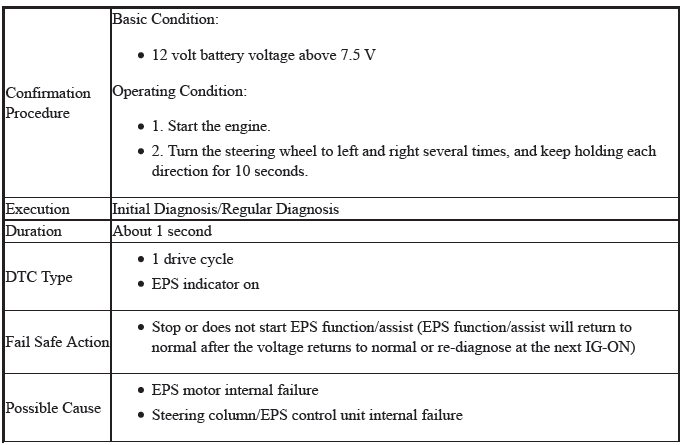 DTC C1406-13: EPS Motor W Phase Circuit High Voltage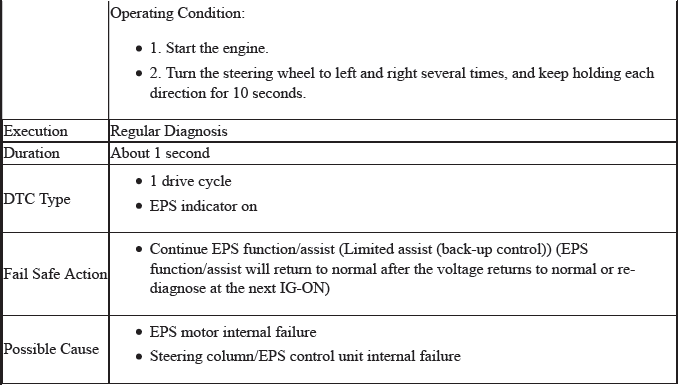 DTC C1420-29: Main Torque Sensor and Sub Torque Sensor Incorrect Correlation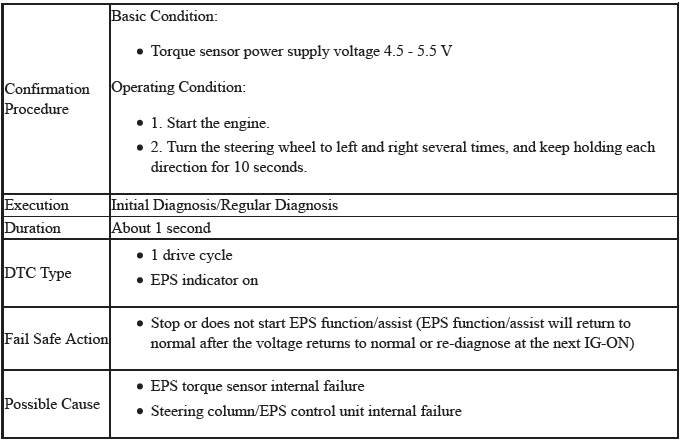 DTC C1421-14: Main Torque Sensor Malfunction

DTC C1422-14: Sub Torque Sensor Malfunction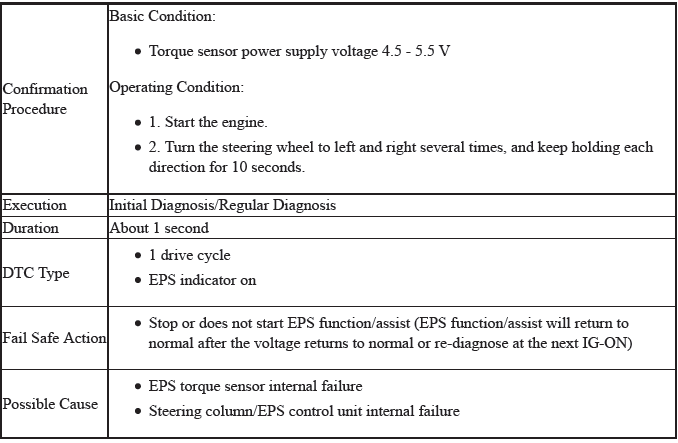 DTC C1423-14: Torque Sensor Power Source Circuit Malfunction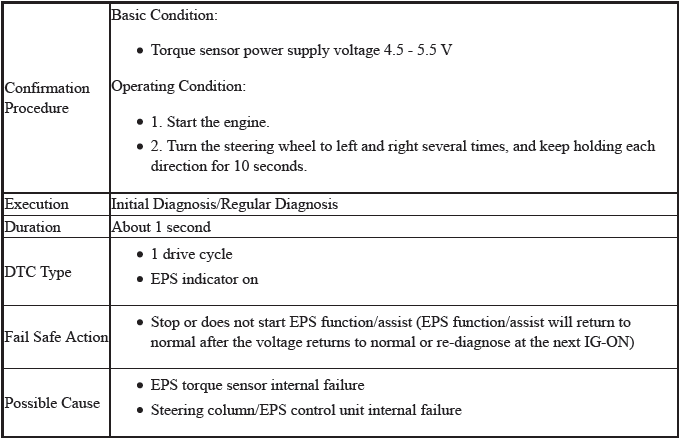 DTC C1432-62: Vehicle Speed and the Engine Speed Incorrect Correlation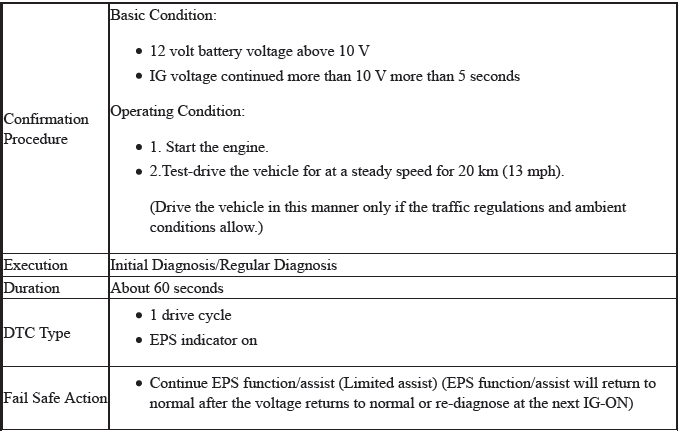 DTC U0029-00: F-CAN Malfunction (Bus-Off)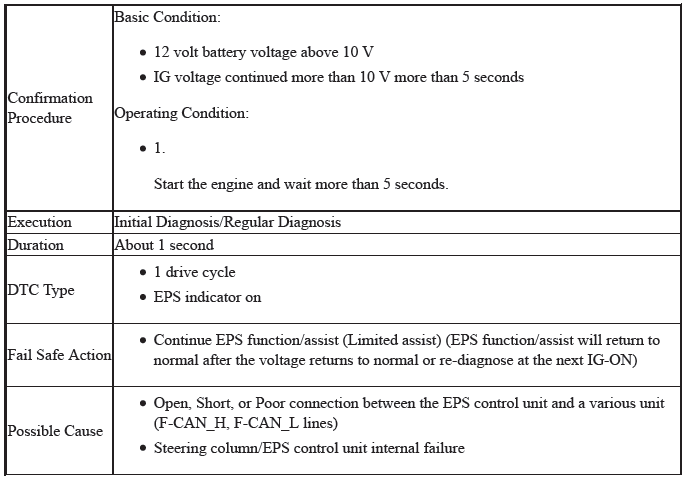 DTC U0100-00: F-CAN Malfunction (EPS Control Unit-PCM)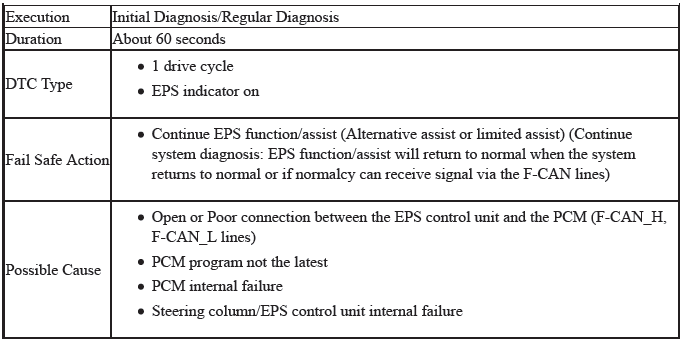 DTC U0122-00: F-CAN Malfunction (EPS Control Unit-VSA Modulator-Control Unit)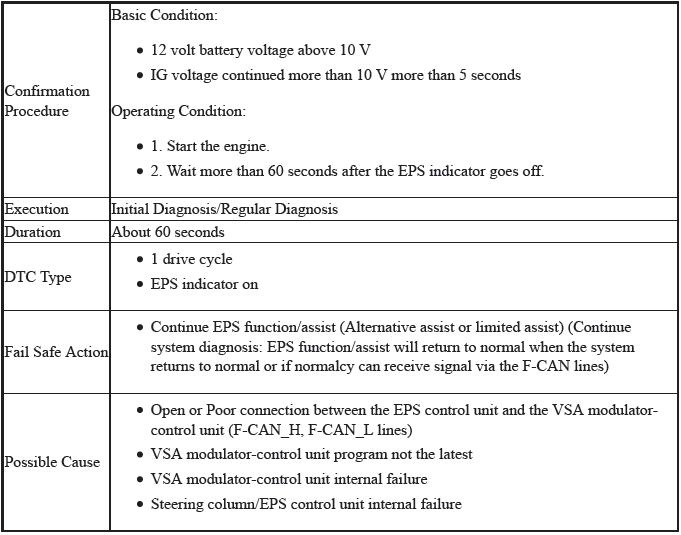 DTC U0126-00: F-CAN Malfunction (EPS Control Unit-Steering Angle Sensor)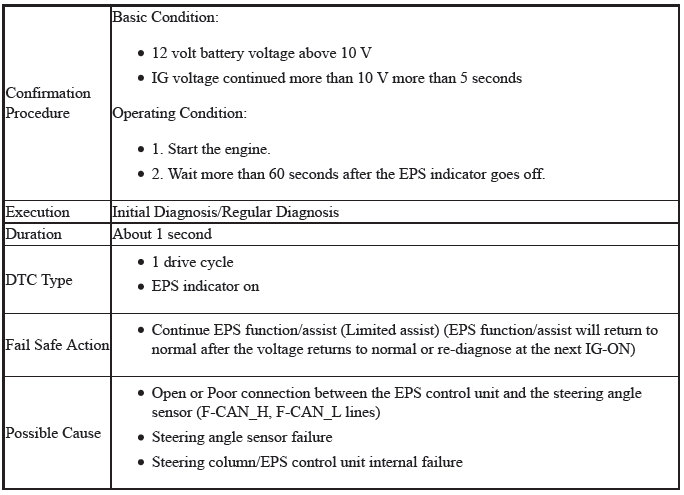 DTC U0416-68: VSA System Malfunction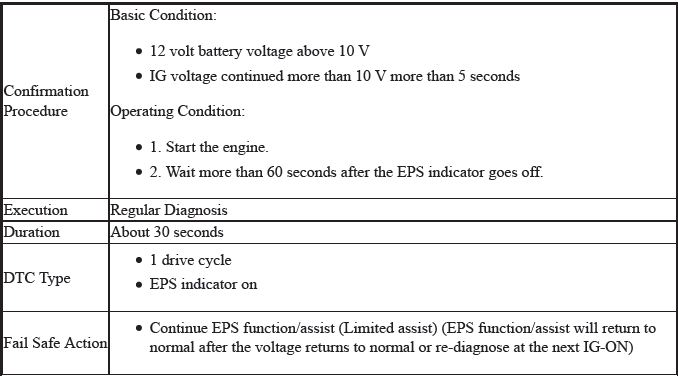 DTC U3000-49: EPS Control Unit Internal Circuit Malfunction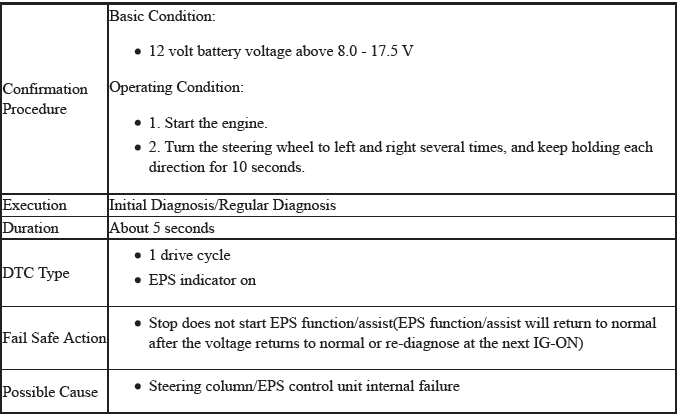 DTC U3000-55: EPS Control Unit Internal Malfunction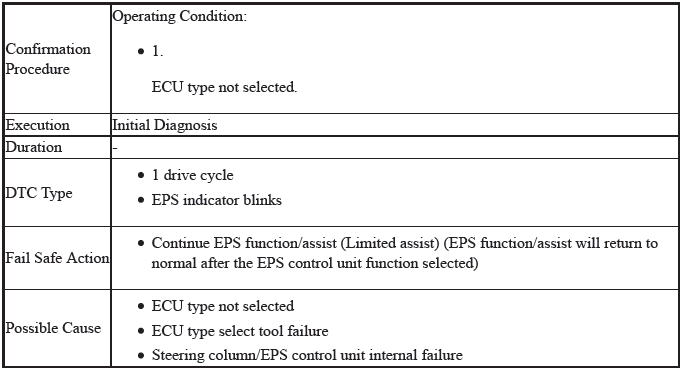 DTC U3003-16: Battery Voltage Low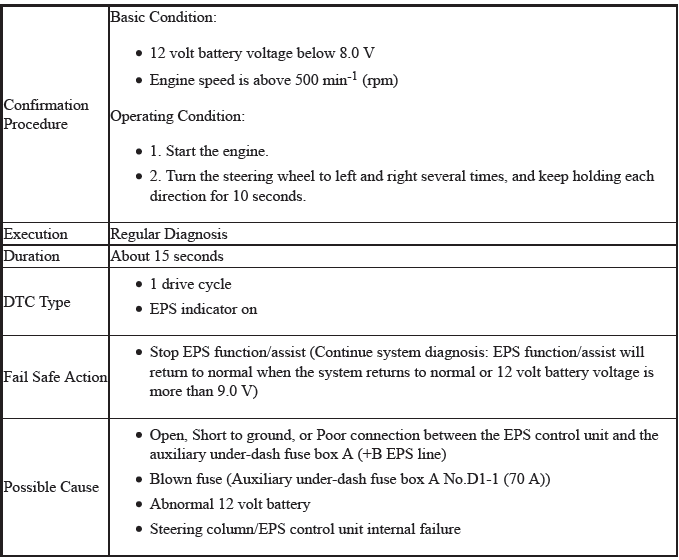 DTC U3003-17: Battery Voltage High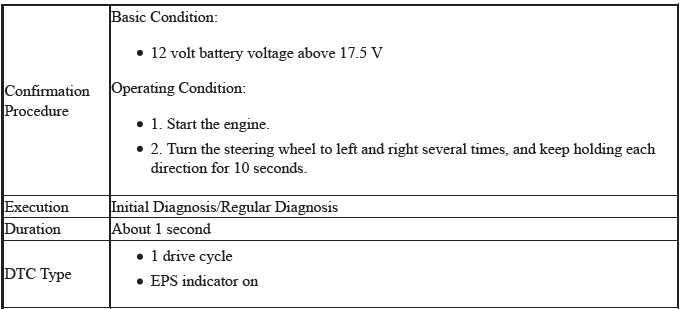 READ NEXT:
REMOVAL & INSTALLATION EPS MOTOR/CONTROL UNIT REMOVAL AND INSTALLATION Removal 1. Steering Column/EPS Control Unit - Remove 2. EPS Motor/Control Unit - Remove Disconnect the connector (A) Remo
DESCRIPTION EPS SYSTEM DESCRIPTION - STEERING COLUMN The steering force from the steering wheel is sent to the column shaft. The torque sensor measures the difference between the force applied to the
SEE MORE:
* PLEASE READ THIS FIRST * NOTE: This is GENERAL information. This article is not intended to be specific to any unique situation or individual vehicle configuration. For model-specific information see appropriate articles where available. INTRODUCTION NOTE: This is GENERAL information. This articl
*1: Except U.S. models with continuously variable transmission Turn Signals The turn signals can be used when the ignition switch is in ON (II)*1. ■ One-touch turn signal When you lightly push up or down and release the turn signal lever, the exterior turn signals and turn signal indicator blink