Honda HR-V: DTC Advanced Diagnostics
DTC ADVANCED DIAGNOSTICS SRS RELATED DTCS
NOTE
Always check "How to troubleshoot the SRS system" and proceed along each "DTC Troubleshooting" procedure.
Make sure the 12 volt battery is fully charged. If not, the results of tests may not be accurate.
The SRS indicator will turn on when the battery voltage becomes below 10 volts.
The possible causes shown may not be a complete list of all potential problems, and it is possible that there may be other causes.
DTC 81-51, 81-52, 81-53: Internal Failure of the Front Passenger's Weight Sensor Unit

DTC 81-54: Short to Power in the Front Passenger's Weight Sensor Power Circuit

DTC 81-55: Short to Ground in the Front Passenger's Weight Sensor Power Circuit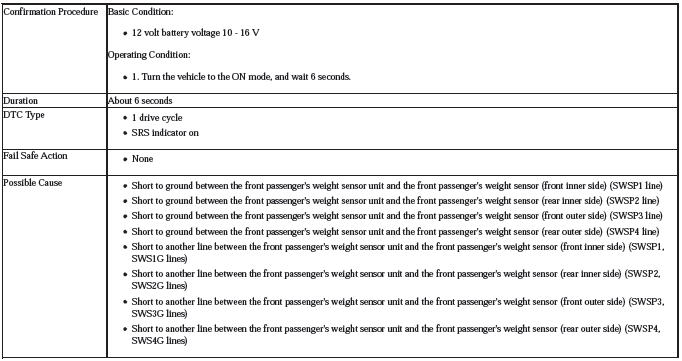 DTC 81-56: Internal Failure of the Front Passenger's Weight Sensor

DTC 81-61, 84-81: Wrong Combination with the SRS Unit


DTC 81-71: Front Passenger's Weight Sensor Output Check Failure
DTC 84-92: Front Passenger's Weight Sensor Calibration Failure

DTC 82-11, 82-12: Internal Failure of the Front Passenger's Weight Sensor (front inner side)

DTC 82-13: No Signal From the Front Passenger's Weight Sensor (front inner side)

DTC 82-21, 82-22: Internal Failure of the Front Passenger's Weight Sensor (rear inner side)

DTC 82-23: No Signal From the Front Passenger's Weight Sensor (rear inner side)
DTC 83-31, 83-32: Internal Failure of the Front Passenger's Weight Sensor (front outer side)

DTC 83-33: No Signal From the Front Passenger's Weight Sensor (front outer side)


DTC 83-41, 83-42: Internal Failure of the Front Passenger's Weight Sensor (rear outer side)

DTC 83-43: No Signal From the Front Passenger's Weight Sensor (rear outer side)

DTC 84-91: Front Passenger's Weight Sensor Not Calibrated

DTC 84-93: Different Serial ID of the Front Passenger's Weight Sensor (front inner side)


DTC 84-94: Different Serial ID of the Front Passenger's Weight Sensor (rear inner side)

DTC 84-95: Different Serial ID of the Front Passenger's Weight Sensor (front outer side)

DTC 84-96: Different Serial ID of the Front Passenger's Weight Sensor (rear outer side)

READ NEXT:
Removal and Installation NOTE: SRS components are located in this area. Review the SRS component locations - Refer to: SRS Component Location Index (KA/KC), or SRS Component Location Index (KA/KC) an
Removal and Installation NOTE: SRS components are located in this area. Review the SRS component locations - Refer to: SRS Component Location Index (KA/KC), or SRS Component Location Index (KA/KC) an
SEE MORE:
Special Tools Required Driver Handle, 40 mm I.D. 07746-0030100 Bearing Driver Attachment, 30 mm I.D. 07746-0030300 Snap Ring Pliers 07LGC-0010100 Removal 1. Secondary Drive Gear - Remove Remove the snap ring (A) using the snap ring pliers. Remove the cotter retainer (A) and the cotters (B
* PLEASE READ THIS FIRST * NOTE: This article is intended for general information purposes only. It does not apply specifically to one make or model. PURPOSE NOTE: This article is intended for general information purposes only. It does not apply specifically to one make or model. WHY USE THE SYMPT