Honda HR-V: Heater Outlet Removal and Installation
Removal and Installation
1. Engine Coolant - Drain
2. Intake Air Duct - Remove
3. Heater Hose and Water Bypass Hose - Disconnect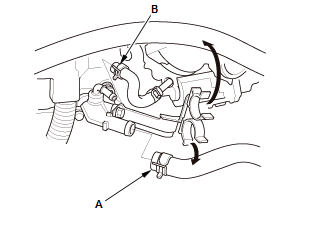 Disconnect the heater hose (A) and the water bypass hose (B).
4. Heater Outlet - Remove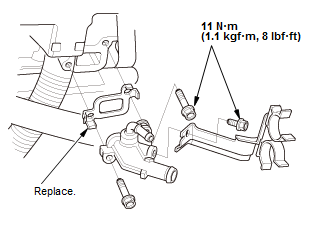 Remove the hose clamp bracket
Remove the heater outlet.
5. All Removed Parts - Install
Install the parts in the reverse order of removal.

NOTE: After installing all the removed parts, refill the radiator with engine coolant, and bleed the air from the cooling system.
READ NEXT:
Removal and Installation 1. Engine Coolant - Drain 2. Engine Undercover - Remove (With Engine Undercover) 3. Lower Radiator Hose and Connector (ECT Sensor 2) - Disconnect Disconnect the lower radia
Removal and Installation 1. 12 Volt Battery - Remove 2. Front Grille Cover - Remove 3. Air Intake Duct - Remove 4. Front Grille Center Stay - Remove 5. Hood Latch - Remove NOTE: Do not disconnect th
Removal and Installation 1. Engine Coolant - Drain 2. Connector (A/F Sensor and Secondary HO2S Sensor) - Disconnect Disconnect the connectors (A) Remove the connector clamps (B) and the harness cl
SEE MORE:
NOTE: To determine the appropriate reset procedure, refer to MAINTENANCE SERVICE REMINDER RESET INDEX. MAINTENANCE REQUIRED REMINDER LIGHT RESET INDEX MAINTENANCE SERVICE REMINDER RESET - PROCEDURE 1 1. At each 7500 mile service interval, the MAINTENANCE REQUIRED light will change from Green to Y
P Position Hydraulic pressure is not applied to the forward clutch and the reverse brake. Power is not transmitted to the secondary drive gear. The driven pulley is locked by the park pawl interlocking the park gear. N Position Engine power transmitted from the torque converter drives the input sh