Honda HR-V: Radiator Removal and Installation
Removal and Installation
1. Engine Coolant - Drain
2. Engine Undercover - Remove (With Engine Undercover)
3. Lower Radiator Hose and Connector (ECT Sensor 2) - Disconnect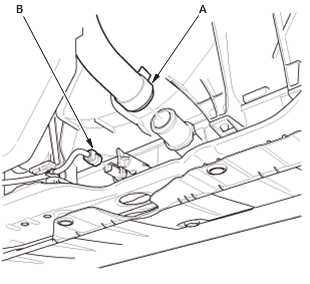 Disconnect the lower radiator hose (A) and the connector (B).
4. Radiator Fan Shroud Assembly and A/C Condenser Fan Shroud Assembly - Remove
5. Upper Radiator Hose - Disconnect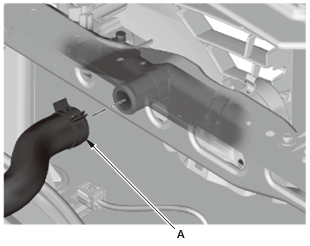 Disconnect the upper radiator hose (A).
6. Coolant Reservoir Hose and Coolant Filler - Remove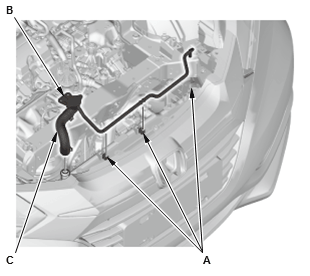 Remove the coolant reservoir hose from the clamps (A)
Remove the coolant filler (B) with the coolant filler hose (C).
7. Radiator - Remove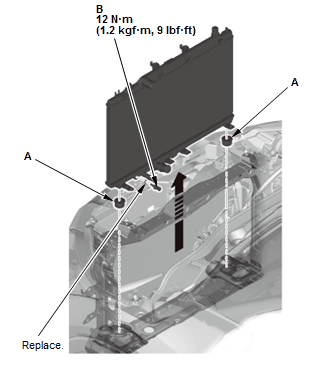 Pull up the radiator
Remove the lower cushions (A) and ECT sensor 2 (B).
8. All Removed Parts - Install
Install the parts in the reverse order of removal.

NOTE:

When the radiator installed. Make sure the lower cushions are set securely.
After installing all the removed parts, refill the radiator with engine coolant, and bleed the air from the cooling system.
READ NEXT:
Removal and Installation 1. 12 Volt Battery - Remove 2. Front Grille Cover - Remove 3. Air Intake Duct - Remove 4. Front Grille Center Stay - Remove 5. Hood Latch - Remove NOTE: Do not disconnect th
Removal and Installation 1. Engine Coolant - Drain 2. Connector (A/F Sensor and Secondary HO2S Sensor) - Disconnect Disconnect the connectors (A) Remove the connector clamps (B) and the harness cl
Removal and Installation 1. Engine Coolant - Drain 2. Thermostat - Remove Fig. 3: Thermostat - Exploded View With Torque Specifications Remove the harness bracket (A) Remove the thermostat. 3. Al
SEE MORE:
Removal and Installation SRS components are located in this area. Review the SRS component locations - Refer to: SRS Component Location Index (KA/KC), or SRS Component Location Index (KA/KC) and the precautions and procedures before doing repairs or service. 1. 12 Volt Battery Terminal - Disconnec
Test 1. Heater Control Panel - Remove 2. Heater Fan Switch - Test Check for continuity between the terminals in each switch position according to the table. If the continuity could not found between the indicated terminals, replace the heater fan switch. 3. All Removed Parts - Install Inst