Honda HR-V: Rear Axle Beam Removal and Installation (2WD)
Removal & Installation
1. Vehicle - Lift
2. Rear Wheels - Remove
3. Parking Brake - Release
4. Hub Bearing Unit - Remove - Refer to: Rear Hub Bearing Unit Removal and Installation (2WD), or Rear Hub Bearing Unit Removal and Installation (AWD)
5. Rear Spring Seat Lower Cover - Remove (USA and Canada models)
6. Wire Harness Mounting Bolt - Remove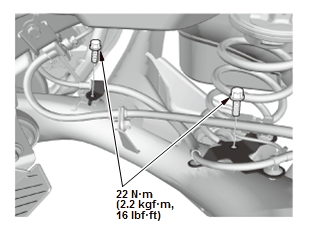 7. Brake Hose - Remove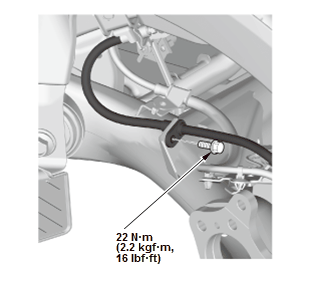 Fig. 17: Brake Hose Mounting Bracket Torque Specifications
8. Spring - Remove - Refer to: Rear Spring Removal and Installation (2WD), or Rear Spring Removal and Installation (AWD)
9. Axle Beam - Remove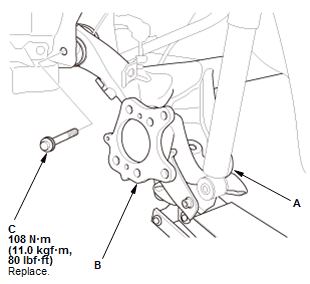 Fig. 18: Axle Beam Mounting Bolt With Torque Specifications
Place a floor jack under the lower spring seat (A) on both sides of the axle beam (B), and support it by raising the floor jack. Do not place the floor jack under the center of the axle beam
Remove the bolts (C)
Lower the jack slowly, then remove the axle beam.
NOTE : Use the new axle beam mounting bolt during reassembly.
10.All Removed Parts - Install
Install the axle beam in the reverse order of removal, and note these items:

Loosely install nuts and/or bolts to install the bushings, load the suspension with the vehicle's weight, and then tighten the nuts and/or bolts to the specified torque.
After installing the brake hose, the wheel speed sensor wire, and the electric parking brake wire, check interference and twisting to other parts.
Before installing the rear brake disc, clean the mating surfaces of the hub bearing unit and the inside of the brake disc.
11.Wheel Alignment - Check
READ NEXT:
Removal & Installation 1. Vehicle - Lift 2. Rear Wheels - Remove 3. Parking Brake - Release 4. Rear Wheel Speed Sensor - Remove 5. Rear Brake Calliper - Remove 6. Rear Brake Disc - Remove 7. Hub B
Exploded View 1. Rear Damper - Exploded View Exploded View Removal NOTE: Unless otherwise indicated, illustrations used in the procedure are for 2WD model. 1. Vehicle - Lift 2. Rear Wheel - Remove 3
Exploded View 1. Hub Bearing Unit - Exploded View Exploded View Fig. 24: Rear Hub bearing Exploded View With Torque Specifications Removal & Installation NOTE: Refer to the Exploded View as neede
SEE MORE:
SPECIFICATION TABLE STANDARDS AND SERVICE LIMITS Engine Electrical Compression Cylinder Head Engine Block Engine Lubrication Cooling System Fuel and Emissions Clutch Manual Transmission and M/T Differential CVT and CVT Differential Rear Differential Steering Suspension Brakes Ai
Special Tools Required Slide Hammer 5/8"-18 UNF, commercially available Threaded Adapter, 22 x 1.5 mm 07XAC-001010A Boot Band Clamp Tool Kent-Moore J-35910 or equivalent, commercially available CV Boot Clamp Pliers 30500, commercially available Exploded View 1. Driveshaft - Exploded View Fig. 3