Honda HR-V: Safety Messages
Your safety, and the safety of others, is very important. To help you make informed decisions, we have provided safety messages, and other safety information throughout this manual. Of course, it is not practical or possible to warn you about all the hazards associated with servicing this vehicle. You must use your own good judgment.
You will find important safety information in a variety of forms including:
Safety Labels - on the vehicle.
Safety Messages - preceded by a safety alert symbol (Honda Caution Symbol) and one of three signal words, DANGER, WARNING, or CAUTION.

Instructions - how to service this vehicle correctly and safely
All information contained in this manual is based on the latest product information available at the time of printing. We reserve the right to make changes at anytime without notice. No part of this publication may be reproduced, or stored in a retrieval system, or transmitted, in any form by any means, electronic, mechanical, photocopying, recording, or otherwise, without the prior written permission of the publisher. This includes text, images, and tables.
As you read this manual, you will find information that is preceded by a (NOTICE) symbol. The purpose of this message is to help prevent damage to your vehicle, other property, or the environment.

COMPONENT LOCATION INDEX
EPS COMPONENT LOCATION INDEX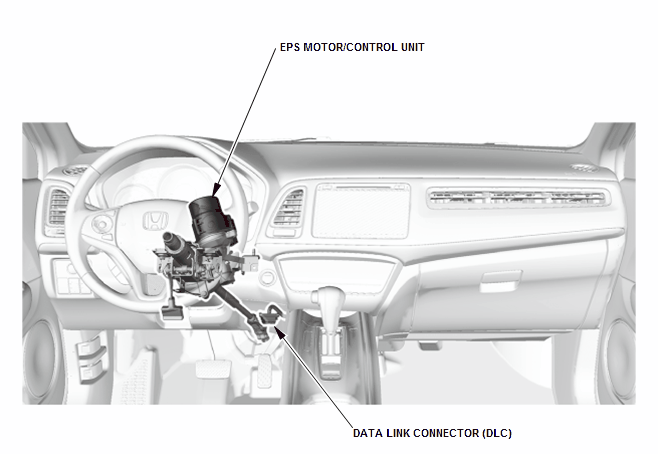 READ NEXT:
SPECIFICATION TABLE STANDARDS AND SERVICE LIMITS Engine Electrical Compression Cylinder Head Engine Block Engine Lubrication Cooling System Fuel and Emissions Clutch Manual Transmission and
TORQUE SPECIFICATIONS (KA/KC MODELS) NOTE: Refer to the appropriate portion of the manual for the precautions and complete procedures. Refer to the appropriate portion of the manual for the bolts
* PLEASE READ THIS FIRST * This article is intended for general information purposes only. This information may not apply to all makes and models. If vehicle is equipped with Anti-Lock Brake System (
SEE MORE:
NOTE: Before you troubleshoot, review the general troubleshooting information. 1. Wheel speed sensor performance check: Test-drive the vehicle in a straight line at 6 mph (10 km/h) or more. NOTE: Drive the vehicle on the road, not on a lift. Check the parameter(s) below with the HDS. Are a
Your audio system allows you to listen to music from your Bluetooth-compatible phone. This function is available when the phone is paired and connected to the vehicle's Bluetooth HandsFreeLink (HFL) system. Not all Bluetooth-enabled phones with streaming audio capabilities are compatible with th