Honda HR-V: Synchro Sleeve and Hub Disassembly, Reassembly, and Inspection (M/T)
Inspection
1. Synchro Sleeve and Hub - Inspect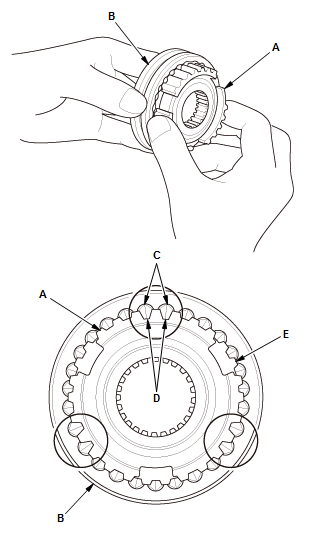 Inspect the gear teeth on all synchro hubs and synchro sleeves for wear (rounded off corners)
Install each synchro hub (A) in its mating synchro sleeve (B), and check for free movement. Make sure to match the three sets of longer teeth (C) (120 degrees apart) on the synchro sleeve with the three sets of deeper grooves (D) in the synchro hub.

NOTE:

Do not install the synchro sleeve with its longer teeth in the synchro hub slots (E) because it will damage the spring ring.
If replacement is required, always replace the synchro sleeve and the synchro hub as a set.
READ NEXT:
NOTE: Before you troubleshoot, review the General Troubleshooting Information for the AWD with intelligent control system. 1. Determine possible failure area (electrical circuit problem, hydraulic
SEE MORE:
NOTE: Examples used in this article are general in nature and do not necessarily relate to a specific engine or system. Illustrations and procedures have been chosen to guide mechanic through engine overhaul process. Descriptions of processes of cleaning, inspection, assembly and machine shop pract
ENGINE OIL REPLACEMENT REMINDER RESET - PROCEDURE 1 NOTE: For Civic and CR-V, this procedure is for models with the Information Display. For 2013-15 Civic and CR-V models with i-MID, see PROCEDURE 11. For 2014-16 CR-V with i-MID, see PROCEDURE 12. 1. Turn ignition switch to ON (II). 2. Press SELEC