Honda HR-V: Tire Pressure Monitor System Reminder
NOTE: To determine the appropriate reset procedure, refer to TPMS REMINDER RESET INDEX.
TPMS REMINDER RESET INDEX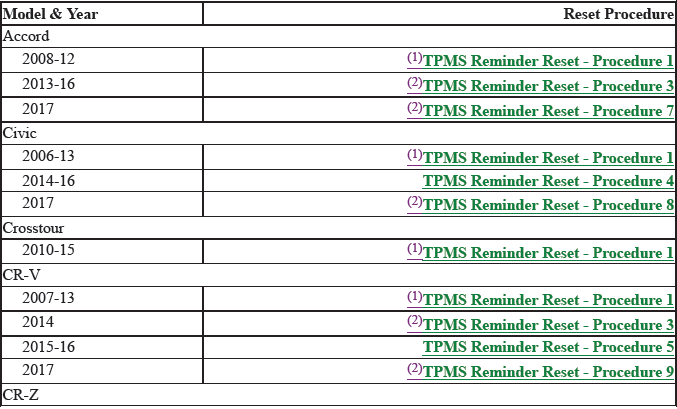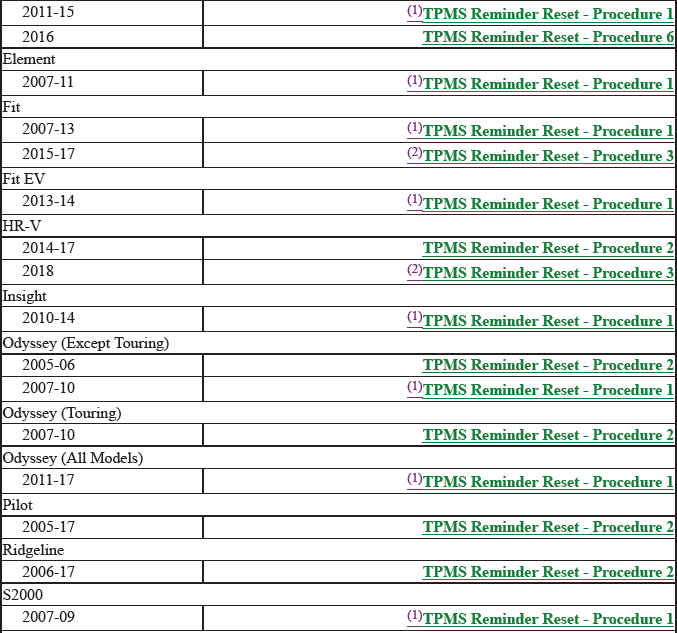 (1) There are no TPMS reset procedures required for these models. Ensure tires are inflated to recommend pressure. Tire pressure sensor IDs need to be memorized if new sensor or TPMS control unit is installed.
(2) This vehicle is equipped with an Indirect TPMS that does not use tire-mounted pressure sensors.
READ NEXT:
TPMS REMINDER RESET - PROCEDURE 1 NOTE: There is no TPMS reset procedure when re-inflating tires to the correct specification. Ensure tires are inflated to recommend pressure, and the TPMS indicator
TPMS REMINDER RESET - PROCEDURE 5 NOTE: Make sure the tire pressure is properly adjusted to the specified tire pressure listed on the doorjamb label before doing the TPMS calibration. The calibration
SEE MORE:
NOTE: Before doing this troubleshooting procedure, find out if the vehicle was in a collision. If so, verify that all the required components were replaced with new components of the correct part number, and that they were properly installed. Before doing this troubleshooting procedure, rev
U.S. models Compatible phones only Connect a compatible phone through Bluetooth. Pandora, the Pandora logo, and the Pandora trade dress are trademarks or registered trademarks of Pandora Media, Inc., used with permission. Pandora is currently available exclusively in the United States. To find out