Honda HR-V: Audio System Basic Operation (Models with color audio system)
Models with color audio system
To use the audio system, the ignition switch must be in ACCESSORY (I) or ON (II).
Use the selector knob or MENU/CLOCK button to access some audio functions.
Press

to switch between the normal
and extended display for some functions.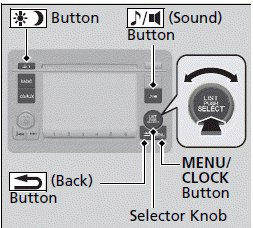 Selector knob: Rotate left or right to scroll through the available choices. Press

to set
your selection.
MENU/CLOCK button: Press to select any mode.
The available mode includes the wallpaper, display, clock, language setup, and play modes. Play modes can be also selected from scan, random, repeat, and so on.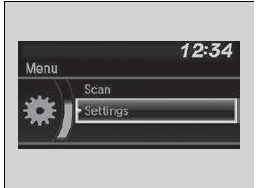 (Back) button: Press to go back
to the previous display.

button: Press to select the sound
setting mode.

button: Press to change the
audio/information screen brightness.
Press

, then adjust the brightness
using

.
Each time you press , the
mode switches between the daytime mode, nighttime mode and OFF mode.
These indications are used to show how to operate the selector knob.
Rotate

to select.
Press

to enter.
Press the SOURCE,

,


,


or


button on the
steering wheel to change any audio setting.
One of the operating system used in this unit is eCos.
For software license terms and conditions, visit their website (eCos license URL: http:// ecos.sourceware.org/license-overview.html)
For source code disclosure and other details regarding eCos, visit: http:// www.hondaopensource2.com
READ NEXT:
Displays the audio status and wallpaper. From this screen, you can go to various setup options. ■Switching the Display ■ Audio Shows the current audio information. ■ Clock/Wallpaper Shows a cl
Press the (sound) button, and rotate to scroll through the following choices: Rotate to adjust the sound setting, then press . The SVC has four modes: Off, Low, Mid, and High. SVC adjusts the
The ST indicator appears on the display indicating stereo FM broadcasts. Stereo reproduction in AM is not available. You can store 6 AM stations and 12 FM stations into the preset memory. Switchin
SEE MORE:
Your audio system allows you to listen to music from your Bluetooth-compatible phone. This function is available when the phone is paired and connected to the vehicle's Bluetooth HandsFreeLink (HFL) system. *1: Depending on the Bluetooth device you connect, some or all of the lists may not be d
Special Tools Required Fuel Pressure Gauge Attachment Set 07AAJ-S6MA150 Vacuum Pump/Gauge, 0-30 inHg Snapon YA4000A or equivalent, commercially available Inspection 1. Center Console - Remove 2. Shift Lever - Remove NOTE: The shift cable is attached to the shift lever. M/T: Remove the shift leve