Honda HR-V: AWD System Symptom Troubleshooting - Will Not Go Into AWD Mode, Poor Traction, Poor Acceleration (AT Start), Poor Climbing Ability (AWD)
1. Rear differential clutch check.
Do the rear differential clutch test.
Is the test result OK?
YES
Check the following items.
Check the rear differential fluid level and the fluid condition.
Check for rear differential fluid leaks.
Do the OIL PRESSURE CONTROL TEST in the FUNCTIONAL TEST with the HDS.
Do the rear differential fluid pressure sensor test.
NO
Do the repair depending on the test result.
AWD SYSTEM INDICATOR DOES NOT COME ON (AWD)
Remedy
AWD System Symptom Troubleshooting - AWD system indicator does not come on (AWD)
AWD SYSTEM INDICATOR DOES NOT GO OFF, AND NO DTCS ARE STORED (AWD)
Remedy
AWD System Symptom Troubleshooting - AWD system indicator does not go off, and no DTCs are stored (AWD)
AWD SYSTEM IS STUCK IN AWD MODE (AWD)
Remedy
AWD System Symptom Troubleshooting - AWD system is stuck in AWD mode (AWD)
AWD WITH INTELLIGENT CONTROL SYSTEM SYMPTOM TROUBLESHOOTING INDEX (AWD)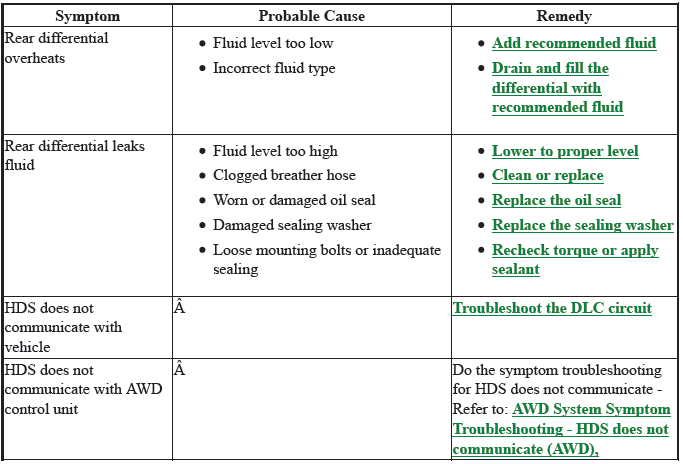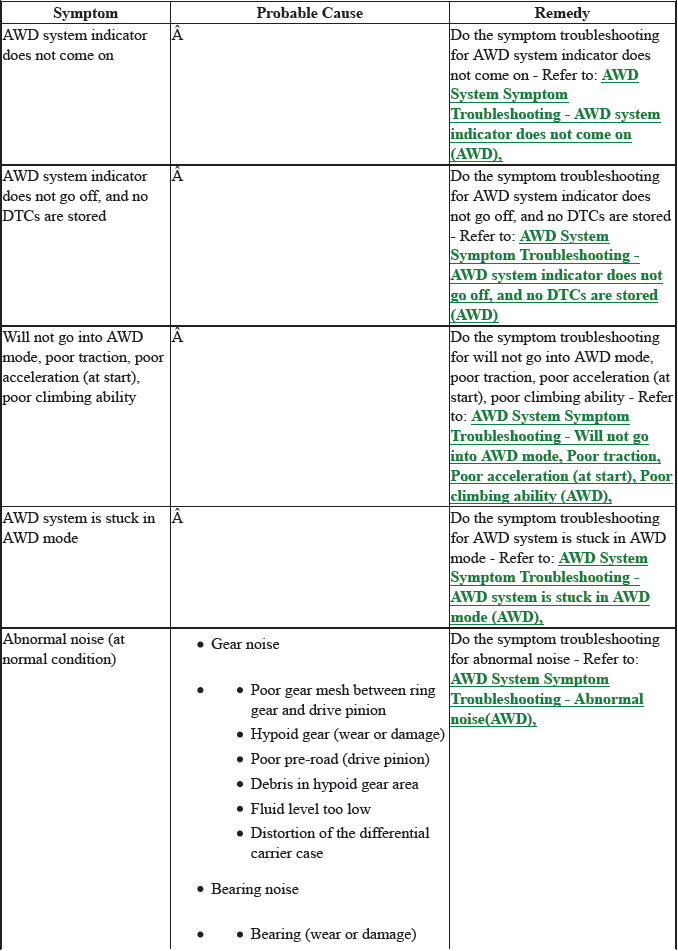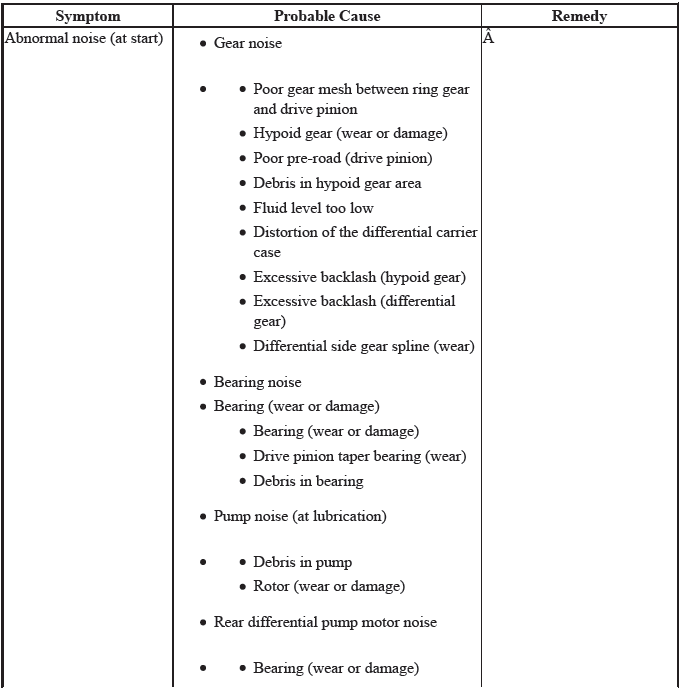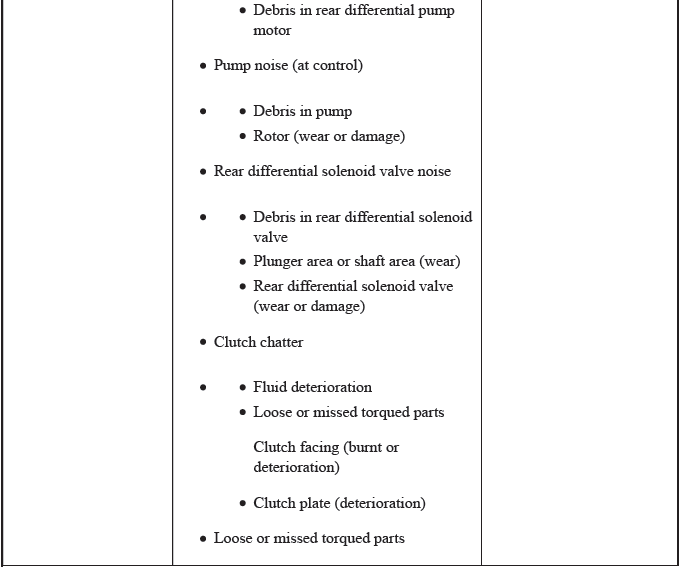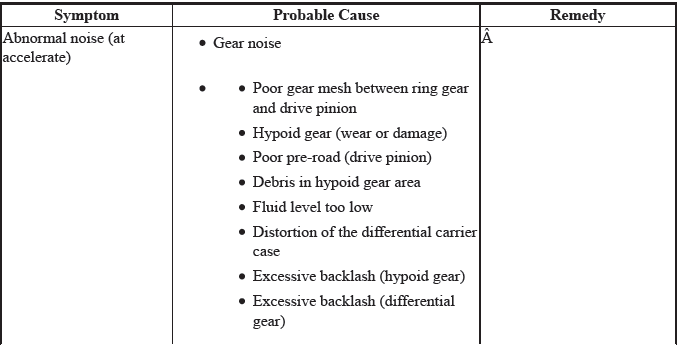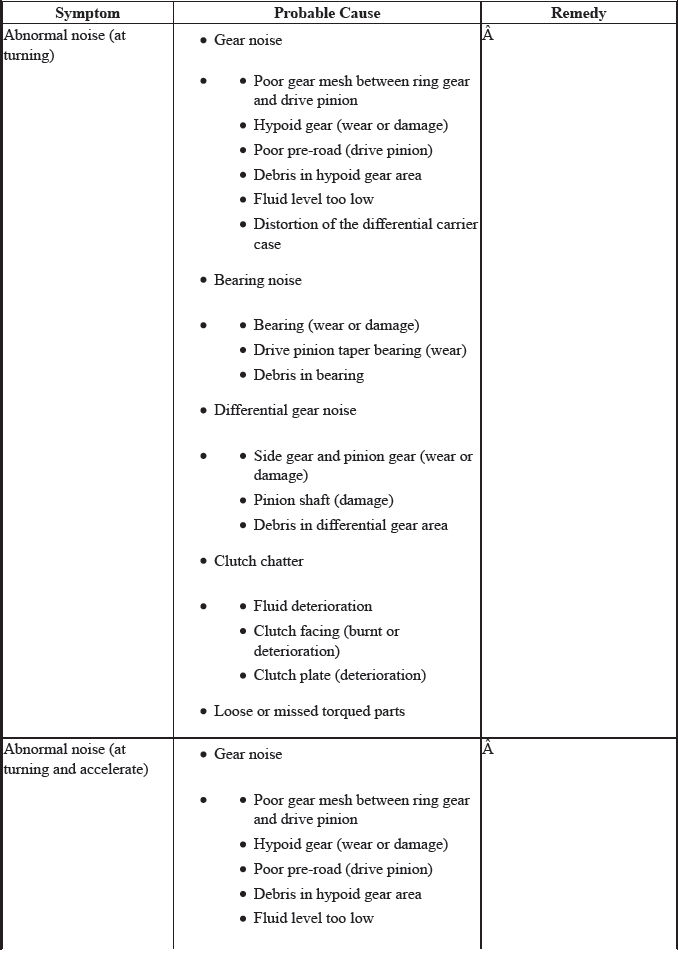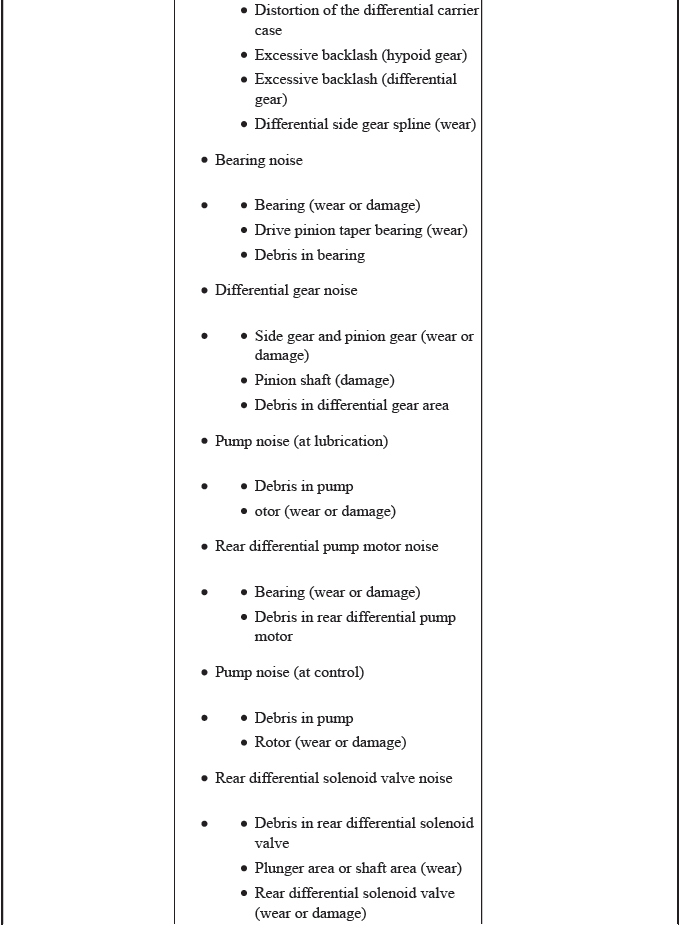 READ NEXT:
Probable Cause Gear noise Poor gear mesh between ring gear and drive pinion Hypoid gear (wear or damage) Poor pre-road (drive pinion) Debris in hypoid gear area Fluid level too low Distortion o
Remedy AWD System Symptom Troubleshooting - HDS does not communicate (AWD) HDS DOES NOT COMMUNICATE WITH VEHICLE (AWD) Remedy Dlc Circuit Troubleshooting REAR DIFFERENTIAL LEAKS FLUID (AWD) Probable C
SEE MORE:
Models with display audio system To use the audio system function, the ignition switch must be in ACCESSORY (I) or ON (II)*1. : Select to go to the HOME screen. : Touch to select any mode. The available mode includes Change Source, Station List, Save Preset, Radio Text, Music Search, and play mod
Test 1. Vehicle - Lift 2. Engine Undercover - Remove (With 2WD) 3. CVT Clutch Pressure Control Solenoid Valve - Test Disconnect the connector (A).NOTE: To prevent damage, cover the connector using a shop towel. Check the connector for corrosion, dirt, or oil, and clean or repair if necessa