Honda HR-V: Description
SRS SYSTEM DESCRIPTION - SEAT BELT OUTER LAP TENSIONER
The seat belt outer lap tensioner is located on the side of the driver's seat. In the event of a collision, the seat belt outer lap tensioner coordinates with the seat belt tensioner, instantaneously retracts the seat belt, and ensures the seat belt ability to restrain and protect the occupant at the chest and waist by firmly securing the occupant to the seat.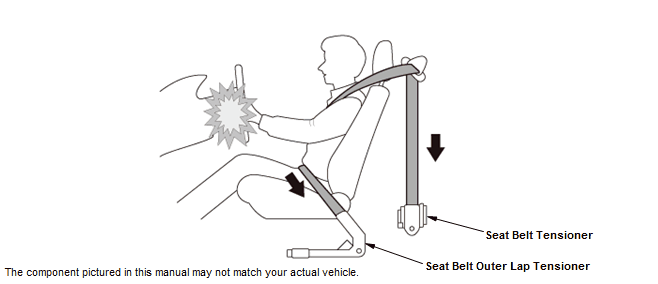 When the seat belt outer lap tensioner operates, a gas generator creates gas pressure, which moves a piston within the cylinder that is coupled to a wire. When the piston moves, it pulls the wire, and an anchor is retracted. After the retraction is complete, the anchor and wire are pulled out by the forward movement of the occupant, a ball locks into the cylinder and locks the wire.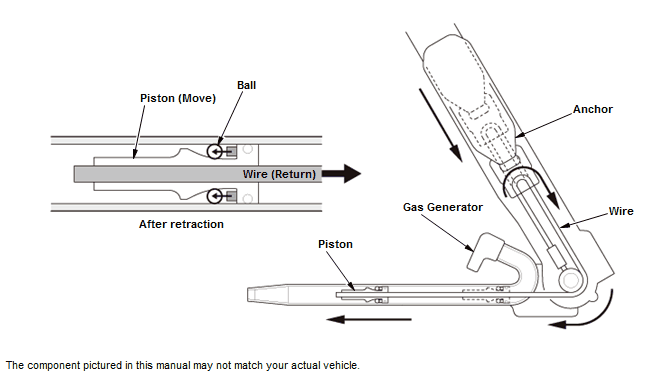 SRS SYSTEM DESCRIPTION - SEAT BELT TENSIONER
ELR Seat Belt Tensioner With Load Limiter
The ELR seat belt tensioner with load limiter is composed of a gas generator, a ring gear, a pinion, an ELR locker, and a spool. When the seat belt tensioner operates, it quickly tightens the seat belt, and improves the occupant's initial restraining effect (preventing the occupant's body being moved forward). When the load exceeds the preset value, the load limiter keeps the restraining effect while sending out the seat belt, to protect the chest of the passenger.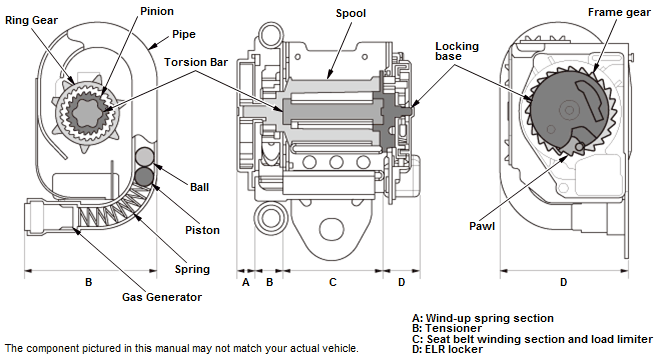 Operation of Seat Belt Tensioner
1. The gas pressure in the gas generator circulates the ball in the pipe, and presses it against the ring gear. This connects the ring gear to the pinion.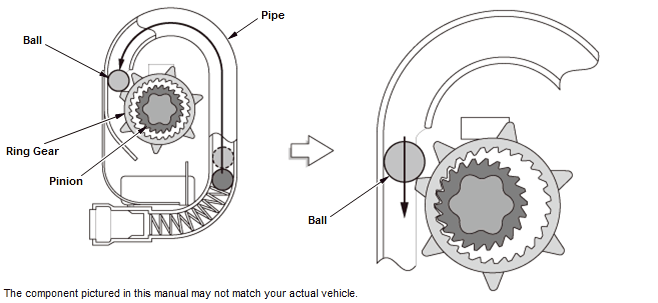 2. When the ball reaches the ring gear, it presses the ring gear against the pinion so the gear turns with the pinion. The spool that is connected to the pinion rewinds the seat belt.
Operation of Load Limiter
3. If the seat belt is rapidly pulled out, like an occupant sliding forward during a collision, the seat belt operates the lock mechanism, engaging the pawl to the frame gear. That locks the locking base and its integrated torsion bar and spool.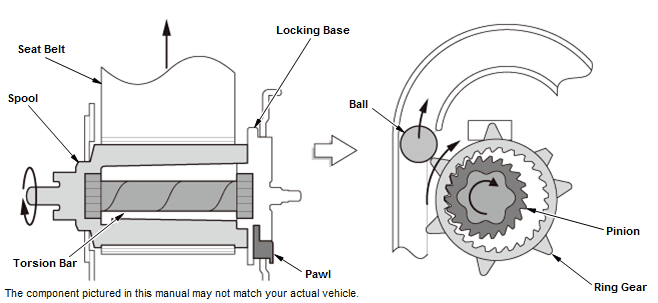 4. When a certain amount of load is added to the seat belt when the locking base is locked, the torsion bar is twisted, and the spool is rotated, allowing the seat belt to be pulled out
5. When the seat belt is pulled out, the ring gear pushes back the ball, and the ring gear is released from the pinion.
COMPONENT LOCATION INDEX
SEAT BELTS COMPONENT LOCATION INDEX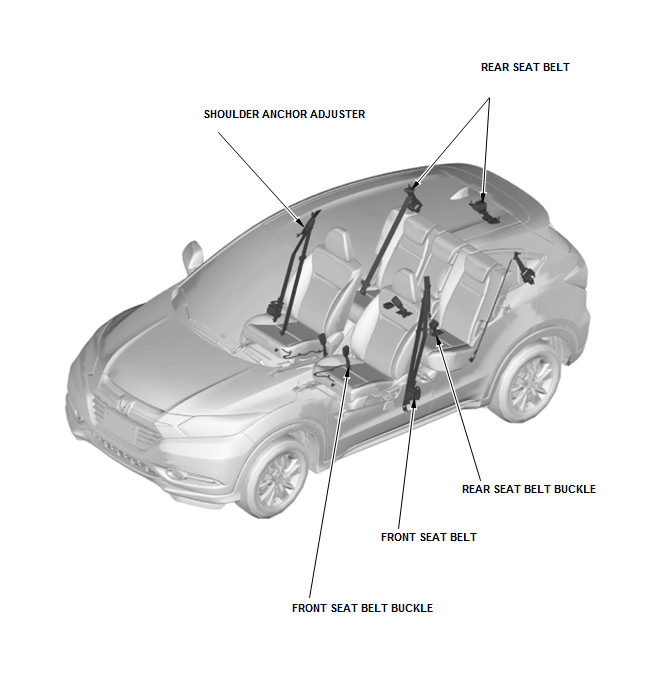 READ NEXT:
Removal SRS components are located in this area. Review the SRS component locations - Refer to: SRS Component Location Index (KA/KC), or SRS Component Location Index (KA/KC) and the precautions and
Removal and Installation SRS components are located in this area. Review the SRS component locations - Refer to: SRS Component Location Index (KA/KC), or SRS Component Location Index (KA/KC) and the
SEE MORE:
SRS PRECAUTIONS AND PROCEDURES (KA/KC) General Precautions NOTE: Some systems store data in memory that is lost when the 12 volt battery is disconnected. Before disconnecting the 12 volt battery, refer to 12 volt battery Terminal Disconnection and Reconnection. Please read the following precaution
Helps to stabilize the vehicle during cornering if the vehicle turns more or less than what was intended. It also assists in maintaining traction on slippery surfaces. It does so by regulating engine output and selectively applying the brakes. ■VSA Operation When VSA activates, you may notice th