Honda HR-V: Driver's Airbag Removal and Installation (KA/KC)
Removal and Installation
SRS components are located in this area. Review the SRS component locations - Refer to: SRS Component Location Index (KA/KC), or SRS Component Location Index (KA/KC) and the precautions and procedures before doing repairs or service.
NOTE: If replacing the driver's airbag after deployment, refer to Component Replacement/Inspection After Deployment for a complete list of other parts that must also be replaced.
1. 12 Volt Battery Terminal - Disconnect
NOTE: Wait at least 3 minutes before starting work.
2. Driver's Airbag - Remove
Remove the bolts (A).

Pull up on both locking tabs (B) to disconnect the connectors (C).

NOTE: Be careful not to damage the connectors

Disconnect the connector (D)
Remove the driver's airbag (E).
3. All Removed Parts - Install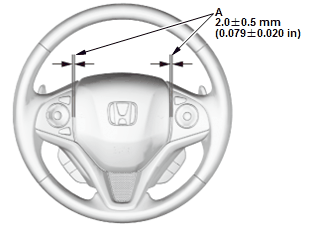 Install the parts in the reverse order of removal.

NOTE:

During installation, install the new bolts to the specified torque.
Make sure the clearance (A) between the steering wheel and horn pad is the specified value.
After connecting the negative cable to the 12 volt battery, make sure the horn works properly.
4. SRS Operation - Confirm
Do the 12 volt battery terminal reconnection procedure, turn the vehicle to the ON mode, and check that the SRS indicator comes on for about 6 seconds and then goes off.
READ NEXT:
Removal and Installation SRS components are located in this area. Review the SRS component locations - Refer to: SRS Component Location Index (KA/KC), or SRS Component Location Index (KA/KC) and the
Removal and Installation SRS components are located in this area. Review the SRS component locations - Refer to: SRS Component Location Index (KA/KC), or SRS Component Location Index (KA/KC) and the
Removal and Installation SRS components are located in this area. Review the SRS component locations - Refer to: SRS Component Location Index (KA/KC), or SRS Component Location Index (KA/KC) and the
SEE MORE:
Improving Fuel Economy Fuel economy depends on several conditions, including driving conditions, your driving habits, the condition of your vehicle, and loading. Depending on these and other conditions, you may or may not achieve the rated fuel economy of this vehicle. Direct calculation is the r
Adjustment 1. Steering Joint Cover - Remove 2. Driver's Side Front Door Sill Trim - Remove - Refer to: Interior Trim Removal and Installation - Door Areas, or Interior Trim Removal and Installation - Tailgate Areas, or Interior Trim Removal and Installation - Rear Side Area, or Interior Trim Remov