Honda HR-V: How to Information
HOW TO TROUBLESHOOT THE TPMS
Control Unit
The vehicle is equipped with TPMS (tire pressure monitoring system) and the system is controlled by the VSA modulator-control unit.
System Indicator
The TPMS has the low tire pressure/TPMS indicator (A).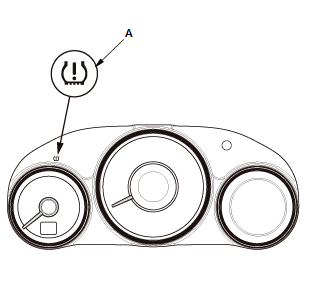 The Low Tire Pressure/TPMS Indicator
If the system detects low tire pressure in any of the four tires, the low tire pressure/TPMS indicator comes on. It will stay on until calibration procedure starts.
CHECK SYSTEM (TPMS)
If a problem in the system is detected, the VSA indicator comes on and the low tire pressure/TPMS indicator comes on after blinking for about 75 seconds.
If VSA falls into error mode, TPMS also falls into error mode and stops all operation. If TPMS is calibrating, the calibration will be suspended.
If the system is OK, the low tire pressure/TPMS indicator should come on when you turn the vehicle to the ON mode, and then go off 2 seconds later. If they don't, there is a problem with the system.
Conditions for Data Rejection
Even if the system is normal, calibration or deflation detection cannot be done during the following conditions.
The brake pedal is pressed.
The vehicle is stopping.
The vehicle is going slower than 16 mph (25 km/h).
Short turn, rapid acceleration, hard braking.
Conditions where the right and left wheels are rotating at different speeds like when driving on sand, loose gravel, snow, ice or extremely rough roads.
When the ABS, EBD, TCS, or VSA systems are operating.
Cornering radius of less than 492 ft (150 m).
Driving on a steep slope
Conditions Where TPMS Can Not Operate Normally
In the following cases, false warning might occur or deflation might not be detected.
Non-recommended tires are used.
Tires with different wear level, different brand, model, type or different sizes are used.
All four tires are not replaced to the recommended tires at once.
Calibrated with non-recommended tire pressure.
Temporary spare tires or tire chains are mounted.
Driving on sand, loose gravel, snow, ice or extremely rough roads.
With trailer towing.
With a roof carrier.
With a very heavy load.
With an extremely unbalanced load.
Rapid deflation like a tire burst.
Change of The Tire Pressure Threshold
When changing tire/wheel size, it may be necessary to adjust the tire pressure threshold using the HDS. If it is not adjusted, the system may not operate normally. This operation can be done through the ABS/TCS/VSA menu in HDS.
READ NEXT:
INSPECTION & ADJUSTMENT WHEEL ALIGNMENT Check 1. Pre-Alignment - Check For proper inspection and adjustment of the wheel alignment, do these checks: Release the parking brake to avoid an incorr
SEE MORE:
Removal & Installation 1. Front Accessory Power Socket - Remove Gently press the tabs (A), and remove the front accessory power socket (B). Gently press the tabs (A), and remove the housing (B). Note the location of the indexing tab (C). 2. All Removed Parts - Install Install the par
1. A/C compressor clutch condition check. Start the engine, and let it idle. Turn the blower switch on. Turn the A/C switch on. Check the parameter(s) below with the HDS. Do the current condition(s) match the threshold? YES Go to step 2. NO Do the A/C system test. 2. A/C system check. Check