Honda HR-V: HVAC Unit Removal and Installation
Removal & Installation
SRS components are located in this area. Review the SRS component locations - Refer to: SRS Component Location Index (KA/KC) and the precautions and procedures before doing repairs or service.
1. 12 Volt Battery Terminal - Disconnect
2. A/C Refrigerant - Recover
3. Engine Coolant - Drain
4. A/C Lines, Heater Hose, and Heater Unit Mounting Nut - Remove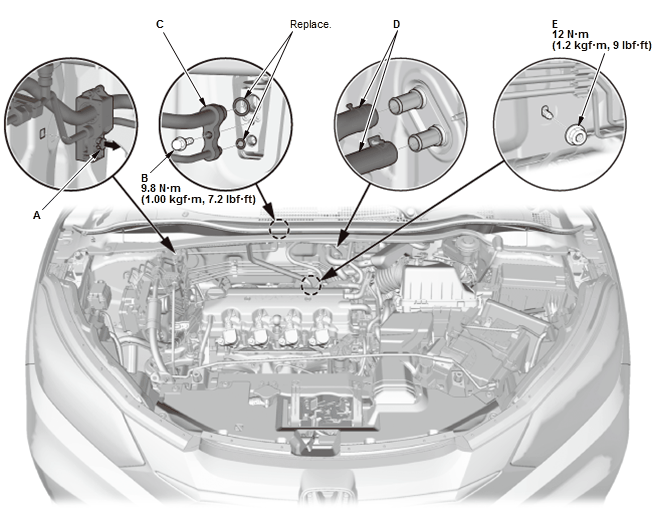 Remove the bolt (B)
Disconnect the A/C Lines (C)
Disconnect the heater hose (D).
NOTE:
Engine coolant will run out when the hoses are disconnected; drain it into a clean drip pan. Be sure not to let coolant spill on the electrical parts or the painted surfaces. If any coolant spills, rinse it off immediately.
Note the layout of the hoses.
Remove the mounting nut (E).

NOTE: Take care not to damage or bend the fuel lines or the brake lines.
5. Expansion Valve - Remove
6. Dashboard/Steering Hanger Beam - Remove
7. HVAC Unit Assembly - Remove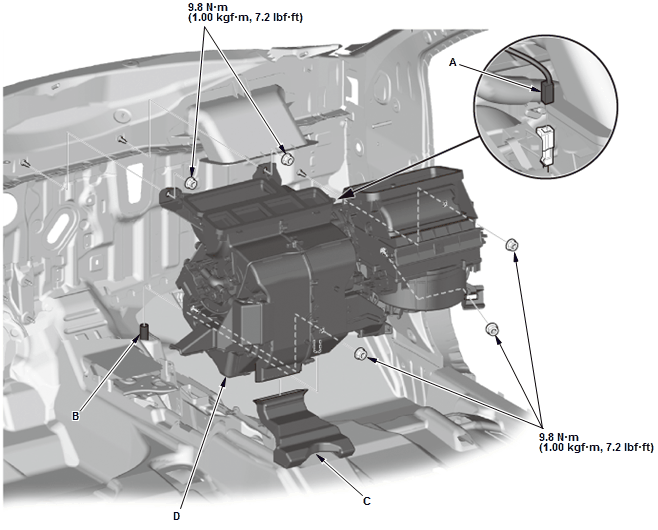 Disconnect the drain hose (B)
Remove the duct (C)
Remove the HVAC unit assembly (D).
8. All Removed Parts - Install
Install the parts in the reverse order of removal, and note these items:

New O-rings should be used at each fitting. Prior to installation, apply a thin coat of the same refrigerant oil used in the A/C compressor. Be sure to use the correct O-rings for HFC-134a (R-134a) to avoid leakage.
Do not interchange the inlet and outlet heater hoses, and install the hose clamps securely.
Make sure that there is no coolant leakage.
Make sure that there is no air leakage.
Make sure that there is no refrigerant leakage.
Do the 12 volt battery terminal reconnection procedure.
Refill the radiator with engine coolant, and bleed the air from the cooling system.
Charge the system with the specified amount of R-134a refrigerant.
READ NEXT:
Removal & Installation SRS components are located in this area. Review the SRS component locations - Refer to: SRS Component Location Index (KA/KC) and the precautions and procedures before doing
Removal & Installation 1. Front Bumper - Remove 2. Outside Air Temperature Sensor - Remove Disconnect the connector (A) Lift the tab (B) to release the lock, then remove the outside air tempe
DTC TROUBLESHOOTING DTC INDICATOR 2 : HVAC CONTROL UNIT INTERNAL ERROR 1. Problem verification: Clear the history DTCs. Do the Self-Diagnostic Function. Checking for DTCs. Does the RECIRCULATION
SEE MORE:
Test SRS components are located in this area. Review the SRS component locations - Refer to: SRS Component Location Index (KA/KC), or SRS Component Location Index (KA/KC) and the precautions and procedures before doing repairs or service. 1. Glove Box - Remove 2. Blower Power Transistor - Test
Special Tools Required Clutch Compressor Attachment 07ZAE-PRP0100 Clutch Compressor Attachment 64 mm 07ZAE-PRP0110 Inspection 1. Forward Clutch Clearance - Inspect Secure the input shaft assembly (A) in a bench vise (B) with wood blocks (C).NOTE: After this procedure, remove any wood chips th