Honda HR-V: Testing, Symptom Troubleshooting
TESTING
ENGINE START/STOP SWITCH TEST
Test
1. Dashboard switch Panel - Remove
2. Engine Start/Stop Switch - Test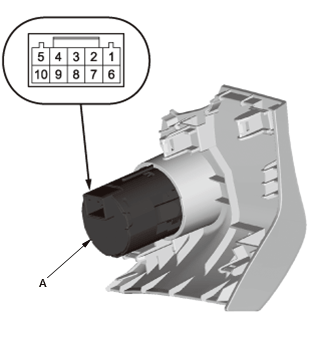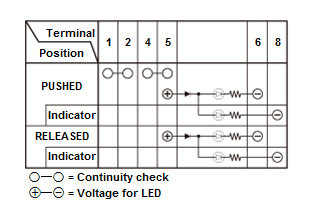 Check the engine start/stop switch (A) according to the table.
NOTE:

When an LED is located between terminals, check if the LED lights by connecting power and ground to the LED.
Make sure the correct test lead (+ or -) is placed on the terminal.
When checking for continuity across the diode, use the diode setting (Diode symbol facing right →) on the digital volt/ohm meter to check the diode bias.
Note this important operating characteristic; diode bias causes a diode to fully conduct electricity in one direction (forward), while not at all in the opposite direction (reverse).

If the result is not as specified, replace the engine start/stop switch.
3. All Removed Parts - Install
Install the parts in the reverse order of removal.
SYMPTOM TROUBLESHOOTING
ENGINE CRANKS SLOWLY
Diagnostic procedure
1. Check for loose 12 volt battery terminals or connections.
2. 12 Volt Battery Test
3. Starter Overhaul
4. Check for excessive drag in the engine.
ENGINE CRANKS, BUT DOES NOT START
Diagnostic procedure
1. How To Troubleshoot The CVT System (CVT)
2. Relay And Control Unit Locations
3. With keyless access system: Immobilizer System Symptom Troubleshooting Index Without keyless access system Immobilizer System Status Log
4. Fuel Pressure Test
5. Fuel Line Inspection
6. Fuel Line Inspection
7. Throttle Body Cleaning
8. Engine Compression Inspection
9. Camshaft Timing Inspection
10. PCM Reset
Also check for
Fuel level in tank
Weak or fouled spark plugs
ENGINE DOES NOT CRANK
Diagnostic procedure
1. Starter System Circuit Troubleshooting (With Keyless Access System) or Starter System Circuit Troubleshooting (Without Keyless Access System)
Also check for
Seized engine
ENGINE IS HARD TO START
Diagnostic procedure
1. Fuel And Emissions Systems Symptom Troubleshooting - Engine Stalls or Fuel And Emissions Systems Symptom Troubleshooting - Engine Will Not Start, Engine Starts But Stalls Immediately, Or Engine Is Hard To Start
Also check for
Weak or fouled spark plugs
STARTING SYSTEM SYMPTOM TROUBLESHOOTING INDEX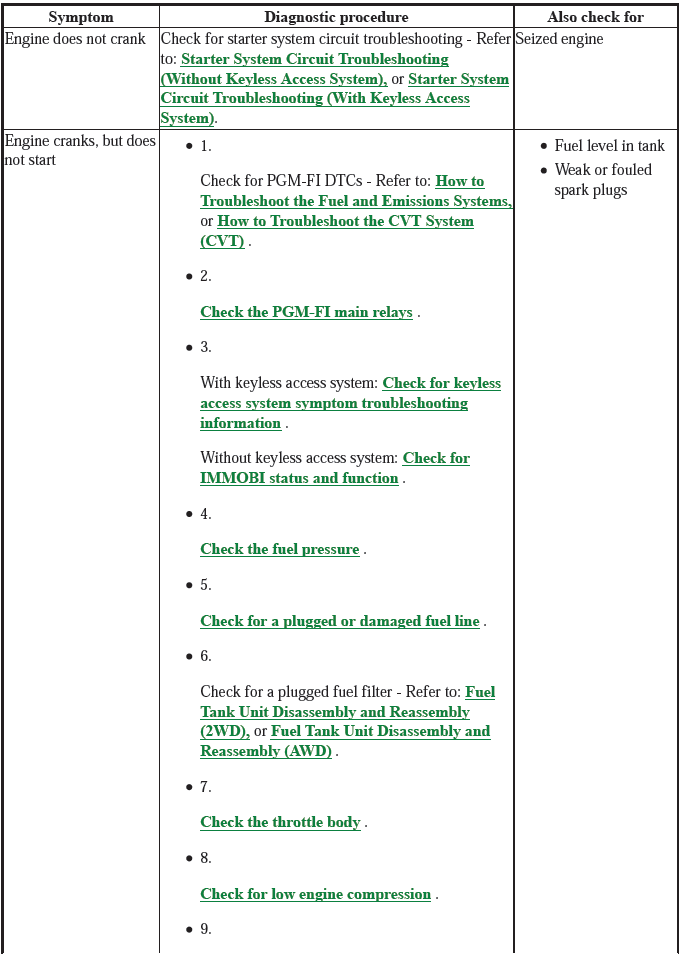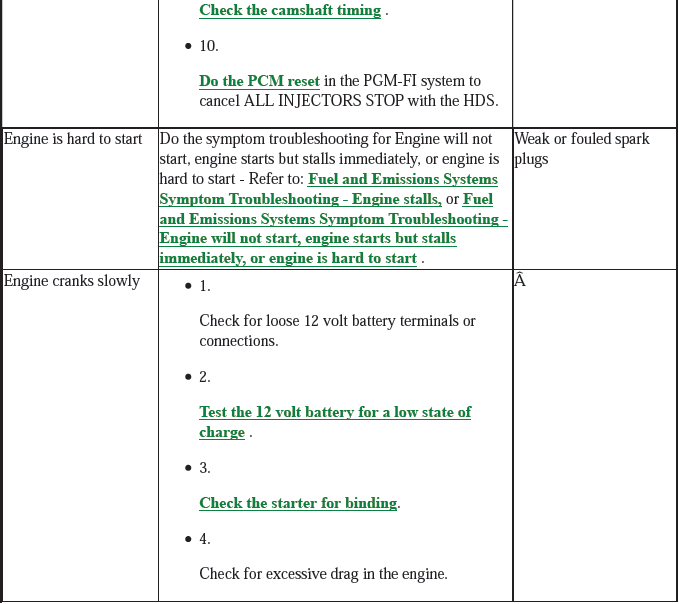 CIRCUIT DIAGRAM
STARTING SYSTEM CIRCUIT DIAGRAM
Without Keyless Access System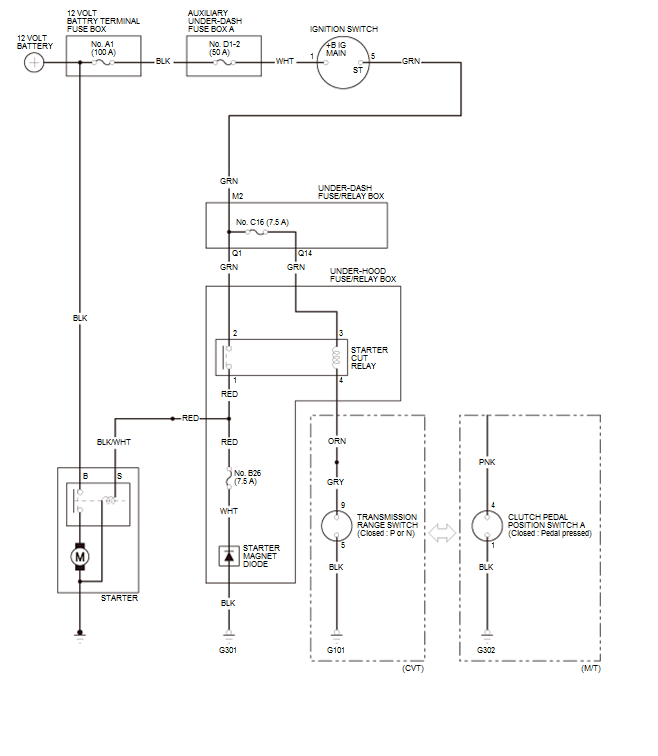 With Keyless Access System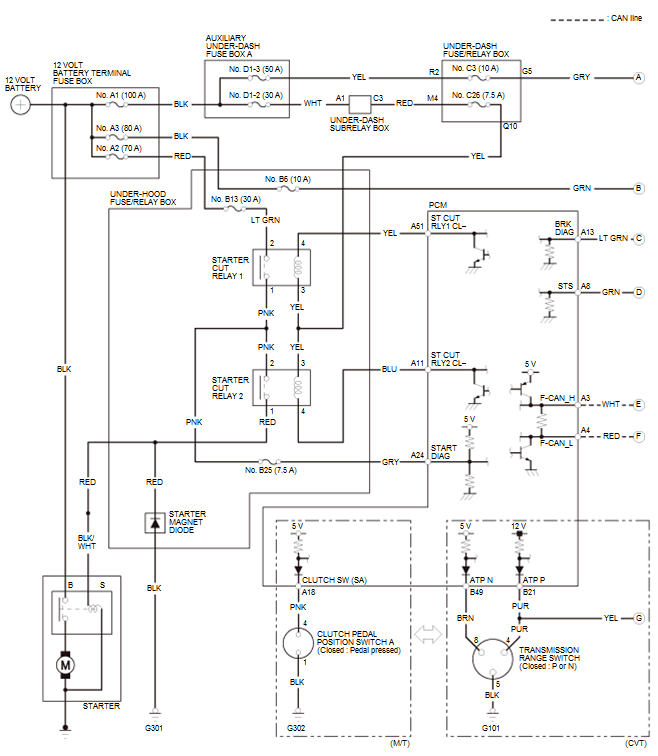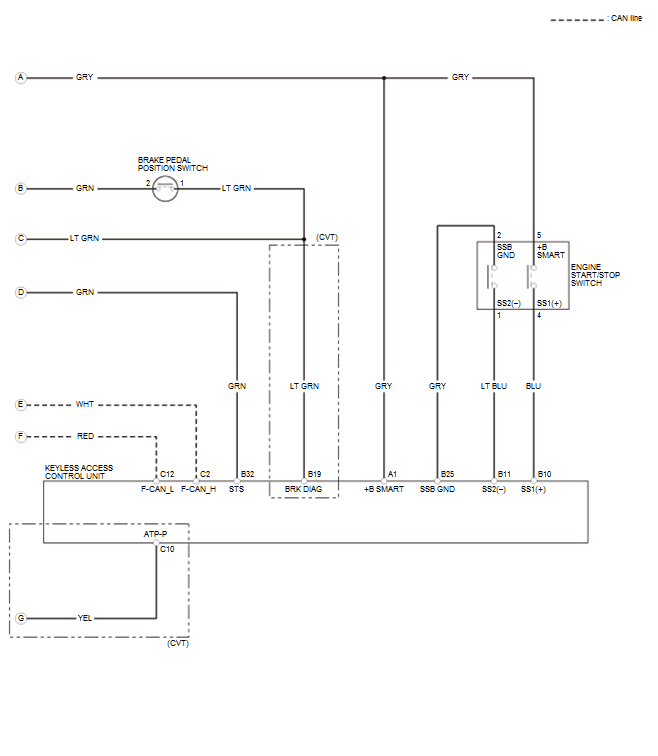 READ NEXT:
NOTE: Air temperature must be between 59-100ºF (15-38ºC) during this procedure. After the inspection, you must reset the PCM. Otherwise, the PCM will continue to stop the fuel injectors
NOTE: Air temperature must be between 59-100ºF (15-38ºC) during this procedure. After the inspection, you must reset the PCM. Otherwise, the PCM will continue to stop the fuel injectors
SEE MORE:
Remedy AWD System Symptom Troubleshooting - HDS does not communicate (AWD) HDS DOES NOT COMMUNICATE WITH VEHICLE (AWD) Remedy Dlc Circuit Troubleshooting REAR DIFFERENTIAL LEAKS FLUID (AWD) Probable Cause Fluid level too high Clogged breather hose Worn or damaged oil seal Damaged sealing washer
System Indicators Gauges Information Display Hazard Warning Button Audio/Information Screen Audio System Navigation System Heating and Cooling System Climate Control System Rear Window Defogger Heated Mirror Button ENGINE START/STOP Button*1 Ignition Switch Steering Wheel Adjus