Honda HR-V: Rear Safing Sensor Removal and Installation
Removal and Installation
SRS components are located in this area. Review the SRS component locations - Refer to: SRS Component Location Index (KA/KC), or SRS Component Location Index (KA/KC) and the precautions and procedures before doing repairs or service.
1. 12 Volt Battery Terminal - Disconnect
NOTE: Wait at least 3 minutes before starting work.
2. Center Console Rear Trim - Remove
3. Rear Safing Sensor - Remove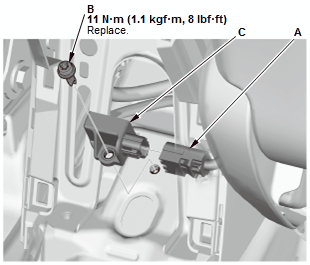 Fig. 6: Rear Safing Sensor With Torque Specifications
Disconnect the connector (A)
Remove the bolt (B), then remove the rear safing sensor (C).
4. All Removed Parts - Install
Install the parts in the reverse order of removal.
NOTE:
During installation, install the new bolt to the specified torque.
Before installing the center console rear trim, make sure the SRS indicator works normally.
5. SRS Operation - Confirm
Do the 12 volt battery terminal reconnection procedure, turn the vehicle to the ON mode, and check that the SRS indicator comes on for about 6 seconds and then goes off.
READ NEXT:
Removal and Installation SRS components are located in this area. Review the SRS component locations - Refer to: SRS Component Location Index (KA/KC), or SRS Component Location Index (KA/KC) and the
Removal and Installation SRS components are located in this area. Review the SRS component locations - Refer to: SRS Component Location Index (KA/KC), or SRS Component Location Index (KA/KC) and the
Removal and Installation SRS components are located in this area. Review the SRS component locations - Refer to: SRS Component Location Index (KA/KC), or SRS Component Location Index (KA/KC) and the
SEE MORE:
NOTE: Refer to the Exploded View as needed during this procedure. Keep all foreign particles out of the transmission. 1. Transfer Assembly - Remove (With AWD) Remove the transfer (A) with the O-ring (B) Remove the dowel pin (C). 2. Transmission Range Switch - Remove Turn the control leve
"F" FBC Feedback Carburetor FCOV Fuel Change Over Valve FF Flex Fuel FF-CKV Fuel Fill Check Valve FF-FCV Fuel Tank Fuel Cut-Off Valve FF-FLVV Fuel Tank Fill Limit Vent Valve FFC-PVRV Fuel Fill Cap Pressure Vacuum Relief Valve FGOV Fuel Gravity/Overflow Valve FGVV Fuel Gravity Vent Valve FI Fuel Inje