Honda HR-V: SRS Unit Removal and Installation
Removal and Installation
SRS components are located in this area. Review the SRS component locations - Refer to: SRS Component Location Index (KA/KC), or SRS Component Location Index (KA/KC) and the precautions and procedures before doing repairs or service.
1. 12 Volt Battery Terminal - Disconnect
NOTE: Wait at least 3 minutes before starting work.
2. Center Console - Remove
3. Front Console Panel - Remove
4. SRS Unit - Remove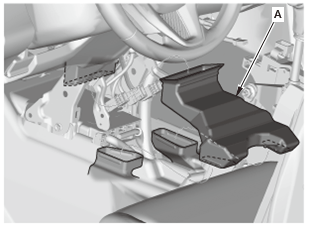 Remove the duct (A).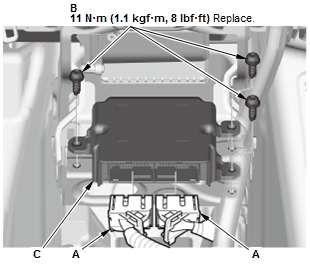 Fig. 7: SRS Unit With Torque Specifications
Disconnect the connectors (A).

NOTE: The SRS unit connectors have lever locks. Release the locks before disconnecting the connectors.

Remove the bolts (B).2
Remove the SRS unit (C).
5. All Removed Parts - Install
Install the parts in the reverse order of removal.

NOTE:

During installation, install the new bolts to the specified torque.
Before installing the center console, make sure the SRS indicator works normally.
Make sure the SRS unit has the latest software. If it does not have the latest, update the software in the SRS unit.
6. SRS Operation - Confirm
Do the 12 volt battery terminal reconnection procedure, turn the vehicle to the ON mode, and check that the SRS indicator comes on for about 6 seconds and then goes off.
READ NEXT:
Removal and Installation SRS components are located in this area. Review the SRS component locations - Refer to: SRS Component Location Index (KA/KC), or SRS Component Location Index (KA/KC) and the
Removal and Installation SRS components are located in this area. Review the SRS component locations - Refer to: SRS Component Location Index (KA/KC), or SRS Component Location Index (KA/KC) and the
Removal and Installation SRS components are located in this area. Review the SRS component locations - Refer to: SRS Component Location Index (KA/KC), or SRS Component Location Index (KA/KC) and the
SEE MORE:
OBD On-Board Diagnostic System PBD (F)/(P) Full/Partial On-Board Diagnostic OC Oxidation Catalytic Converter OHC Overhead Cam ORVR On-Board Refueling Vapor Recovery ORVR-COV ORVR Cut-Off Valve ORVR-CV ORVR Control Valve ORVR-FAV ORVR Fresh Air Valve ORVR-FMV ORVR Flow Management Valve ORVR-FTVCV ORV
COMPONENT LOCATION INDEX REAR DIFFERENTIAL COMPONENT LOCATION INDEX (AWD) DESCRIPTION REAR DIFFERENTIAL SYSTEM DESCRIPTION - AWD SYSTEM (AWD) Overview Adopts the All Wheel Drive (AWD) as the rear differential. The AWD features a built-in real-time controlling mechanism that distributes the rear w