Honda HR-V: Side Curtain Airbag Removal and Installation
Removal and Installation
SRS components are located in this area. Review the SRS component locations - Refer to: SRS Component Location Index (KA/KC), or SRS Component Location Index (KA/KC) and the precautions and procedures before doing repairs or service.
NOTE:
1. 12 Volt Battery Terminal - Disconnect
NOTE: Wait at least 3 minutes before starting work.
2. Headliner - Remove
3. Side Curtain Airbag - Remove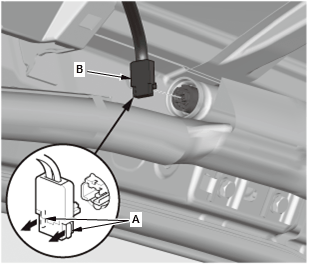 Pull up on both locking tabs (A) to disconnect the connector (B).

NOTE: Be careful not to damage the connector.

Remove the side curtain airbag mounting bolts (A), the mounting bolts (B), the clips (C).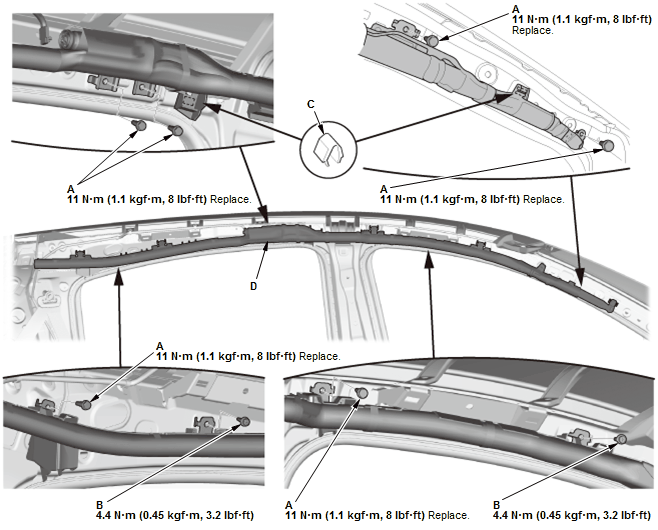 Fig. 8: Side Curtain Airbag Mounting Bolts With Torque Specifications
Remove the side curtain airbag (D).
4. All Removed Parts - Install
Install the parts in the reverse order of removal.

NOTE:

During installation, install the new side curtain airbag mounting bolts to the specified torque.
If the side curtain airbag is frayed, or has any other visible damage, replace it. Do not attempt to repair an airbag.
When you install the side curtain airbag, make sure it is not twisted, and that it is not caught between the inflator bracket by the bracket bolts.
Make sure that the side curtain airbag inflator retainer is installed properly. Otherwise the side curtain airbag could incorrectly deploy and cause damage or injuries.
If there is any damage to the side curtain airbag, do not try to repair it. Replace any damaged side curtain airbag.
Before installing the headliner, make sure the SRS indicator works normally and the headliner and the pillar trim overlap properly.
5. SRS Operation - Confirm
Do the 12 volt battery terminal reconnection procedure, turn the vehicle to the ON mode, and check that the SRS indicator comes on for about 6 seconds and then goes off.
6. Headliner/Pillar Trim Overlap - Confirm
READ NEXT:
Removal and Installation SRS components are located in this area. Review the SRS component locations - Refer to: SRS Component Location Index (KA/KC), or SRS Component Location Index (KA/KC) and the
Removal and Installation SRS components are located in this area. Review the SRS component locations - Refer to: SRS Component Location Index (KA/KC), or SRS Component Location Index (KA/KC) and the
SEE MORE:
NOTE: This diagnosis is applied to the audio unit (without navigation) only. Refer to the navigation system section for audio-navigation unit System Diagnostic Mode. The screens detail indicated may change depending on equipment or specification. Start-Up Procedure and Diagnostic Menu NOTE
NOTE: Before doing this troubleshooting procedure, find out if the vehicle was in a collision. If so, verify that all the required components were replaced with new components of the correct part number, and that they were properly installed. Before doing this troubleshooting procedure, rev