Honda HR-V: A/C Compressor Clutch Check
Check
1. A/C Compressor Clutch Clearance - Check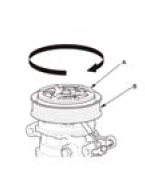 Check the armature plate (A) for discoloration, peeling, or other damage. If there is damage, replace the clutch set.
Check the pulley (B) bearing play and drag by rotating the pulley by hand. Also check for grease leakage from the bearing. Replace the clutch set with a new one if it is noisy, has excessive play/drag, or has bearing grease contamination on the clutch faces.

NOTE: The pulley and the armature plate were mated at the factory by a burnishing operation. Always replace the pulley and the plate as a set. Replacing only one part of the clutch set will cause clutch slippage.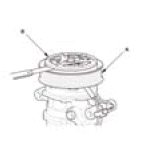 Measure the clearance between the pulley (A) and the armature plate (B) all the way around. If the clearance is not within specified limits, remove the armature plate and add or remove shims as needed to increase or decrease clearance. Clearance: 0.25-0.50 mm (0.0098-0.0197 in).

NOTE: The shims are available in three thicknesses: 0.1 mm, 0.3 mm, and 0.5 mm.
2. A/C Compressor Clutch Field Coil - Check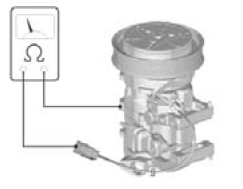 Measure the resistance of the field coil. If resistance is not within specifications, replace the field coil. Field Coil Resistance: 3.40-3.80 Ω at 68 ºF (20 ºC)
3. A/C Compressor Clutch Oil Leak Check
Remove the armature plate, and inspect the armature plate and pulley friction surface for wear. If there is excessive wear, roughness, or scoring, replace the clutch set.
Inspect the friction surfaces and the A/C compressor shaft hub for excess oil. If excess oil is present and it is not from the engine or other system, the A/C compressor shaft seal is leaking. In that case, replace the A/C compressor.
READ NEXT:
*These tools are available through the Honda Tool and Equipment Program; call 888-424-6857 Special Tools Required R134a A/C Automatic Recovery, Recycle, Recharge Machine ROB48920T, commercially avail
Check Air conditioning refrigerant or lubricant vapor can irritate your eyes, nose, or throat. Be careful when connecting service equipment. Do not breathe refrigerant or vapor. The A/C system
CLIMATE CONTROL SYSTEM SYMPTOM TROUBLESHOOTING INDEX (CLIMATE CONTROL) HEATING AND A/C SYSTEMS SYMPTOM TROUBLESHOOTING INDEX (HEATING/AIR CONDITIONING) CIRCUIT DIAGRAM CLIMATE CONTROL SYSTEM
SEE MORE:
Special Tools Required Snap Ring Pliers 07LGC- 0010100 Replacement NOTE: Apply a light coat of clean transmission fluid on all parts before installation. 1. Torque Converter Housing Bearing - Remove While expanding the snap ring (A) using the snap ring pliers, remove the torque converter housi
NOTE: Examples used in this article are general in nature and do not necessarily relate to a specific engine or system. Illustrations and procedures have been chosen to guide mechanic through engine overhaul process. Descriptions of processes of cleaning, inspection, assembly and machine shop pract